Awards aren't everything, but The Age does win a lot of them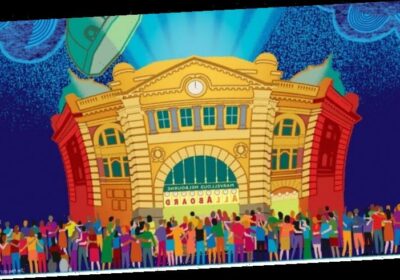 I was brought up to believe that boasters were bores, but I hope you will indulge me this once. I am also sceptical that awards are the measure of success or excellence in any field. Certainly in journalism the work we do every day that proves useful to our readers will rarely receive a trophy. The stories about our courts, councils and the decisions of governments and corporations (along with the COVID-19 blog we ran for months) aren't always glamorous, but they form the backbone of The Age.
All the same, it was nice for The Age to receive 34 nominations for awards at next Friday's Quills. I say nice, but really I was THRILLED! It was an extraordinary effort across the newsroom.
Thirty-two nominations are for Quill categories that celebrate excellence in Victorian journalism. As well, sports writer Greg Baum is a finalist for the Harry Gordon Australian sports journalist of the year for an outstanding body of work in 2020, including this piece.
The Graham Perkin Australian journalist of the year is the most prestigious individual award in journalism. Nick McKenzie is a finalist for investigations for The Age and 60 Minutes into wrongdoing at Crown Resorts, atrocities in Afghanistan and branch stacking in political parties. Jacqueline Maley and Kate McClymont are employed by our sister masthead, The Sydney Morning Herald, and The Age publishes their work with pride. They are nominated for reports on former High Court judge Dyson Heydon, accused of sexual harassment.
The other two finalists for the Perkin are Lorena Allam from Guardian Australia for coverage of Indigenous affairs and the ABC's Mark Willacy for investigations into alleged war crimes.
Award nights are a chance to dress up and gossip, and at their best celebrate innovative work, exceptional creativity and people who have overcome obstacles to pursue stories in the face of powerful interests.
Two of our journalists are nominated for best feature, and both stories are worth reading if you haven't done so already. Our chief reporter Chip Le Grand's two-part series, How We Beat COVID, took us inside the decisions, the disagreements, the politics and the luck – both good and bad – in the months before and after Melbourne's second lockdown. Nick McKenzie's Good Weekend profile of Dusty Miller, one of a small number of whistleblowers to speak out about unlawful killings of Afghans by Australian soldiers, was outstanding.
Another feature is nominated in the reporting on multicultural affairs category. Konrad Marshall's profile of Richmond football star Bachar Houli, a devout Muslim, is revelatory and moving.
Like everything else, journalism has been upended by technological change in recent decades. We are always looking for different ways to tell stories, and reporter Rachael Dexter and photographer Justin McManus produced a beautiful portrait of human isolation during the early days of COVID-19. It's nominated for innovation in journalism.
Our online team is a finalist in the best coverage of an issue or event for its daily coverage of the pandemic, from live blogs, to live-streaming 100-plus days of the Premier's press conferences, to detailed infographics explaining the latest news.
Veteran crime reporter John Silvester, along with Anu Hasbold, Margaret Gordon and Tom McKendrick, is nominated in the podcast category, for the popular Naked City podcast.
I can't fit everyone in, but please read the full list here. A shoutout to Wendy Tuohy for pursuing stories on serious sexual harassment and discrimination in Ambulance Victoria. Also, to our terrific business journalists Sarah Danckert and Adele Ferguson for nominations in the business category.
I don't want to forget our visual people. The Age is dominant in all these categories, including design, cartooning and photography, and I am not surprised. We have exceptionally creative people at The Age. I can't do them all justice, but look at this artwork by Jim Pavlidis commissioned to celebrate our fragile city as we emerged from lockdown.
Credit: Jim Pavlidis
Look at this amusing but too-true cartoon by Matt Golding.
Credit:Matt Golding
And this moving photograph by Chris Hopkins, one of the standout images of the pandemic.
Robyn Becker, pictured with her daughter Alex, and reaching out to her sister Jennifer Cook.Credit:Chris Hopkins
I want to note two more nominees, this time for the Melbourne Press Club's young journalist of the year. In recent years, as The Age has grown, we have hired smart and talented young journalists who have reinvigorated our newsroom. We have two finalists, Paul Sakkal and Michael Fowler, both working in our state politics team. They tell me they are both 25 and going through their "quarter-life crisis". Poor things. I can try to pass on to them my wisdom that awards really don't matter much, but I am not sure they will agree with me.
Of course, none of this would have happened without subscribers like you. You are what powers our newsroom, and without your support this outstanding work wouldn't have been possible.
Good luck to all our nominees.
In need of some good news?
Stories that will brighten your outlook, delivered weekly to your inbox. Sign up for our Greater Good newsletter here.
Most Viewed in National
From our partners
Source: Read Full Article