Australia news LIVE: Albanese to announce 12-month COVID-19 inquiry; No campaign director denies stolen generations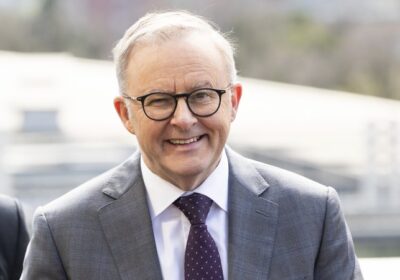 Save articles for later
Add articles to your saved list and come back to them any time.
Key posts
Anti-Voice director has described the stolen generations as a 'mistruth'
Britain delays petrol car ban, weakens net-zero targets
This morning's headlines at a glance
Anti-Voice director has described the stolen generations as a 'mistruth'
A board member of Nyunggai Warren Mundine's anti-Voice outfit has declared that an Indigenous Voice to parliament would force white people to pay to live in Australia, while describing the stolen generations as a "mistruth".
Kerry White, who is helping to lead the Recognise a Better Way referendum group, is scheduled to speak about the Voice at Adelaide's "world freedom rally" which, as this masthead reported on Tuesday, is linked to a prominent Australian pro-Kremlin and anti-vaccine activist.
Kerry White is on the board of Recognise a Better Way.
White, a former One Nation candidate, this year denied the accepted history on the stolen generations, a systematic policy of child removal and forced assimilation for which the Australian government formally apologised in 2007.
"The stolen generation is a mistruth," she said at a referendum event in Adelaide in June headlined by One Nation leader Pauline Hanson and fellow No campaign leader Gary Johns.
"Back in the early 1950s and 1960s, mixed race children were being removed and placed in institutions for their own safety."
Read the full exclusive here. 
Britain delays petrol car ban, weakens net-zero targets
In other overseas, news, Britain will delay its ban on the sale of new petrol and diesel cars and relax a transition away from gas and oil heaters in homes amid cost of living fears and a looming electoral wipe-out for the ruling Conservatives next year.
Prime Minister Rishi Sunak announced a series of U-turns on key targets to tackle climate change on Wednesday, claiming his "pragmatic, proportionate and realistic" approach to reaching Britain's 2050 target for net-zero greenhouse gas emissions would protect vulnerable households.
British Prime Minister Rishi Sunak has rolled back several climate change commitments.Credit: AP
In a press conference at Downing Street he said that the country's present approach would "impose unacceptable costs" on the poorest families and lead to the collapse of the national consensus on tackling climate change.
Polling from YouGov released after the announcement found 50 per cent of Britons supported the government's proposal to push back the ban on the sale of new petrol and diesel cars, 34 per cent opposed, and 16 per cent didn't know.
About 44 per cent supported delaying or dropping some commitments, while 38 per cent said the government should stick to its plans and its 2050 commitment.
Here's more on the issue.
This morning's headlines at a glance
Good morning, and thanks for your company.
It's Thursday, September 21. I'm Caroline Schelle, and I'll be anchoring our live coverage for the first half of the day.
Here's what you need to know before we get started:
An inquiry into price gouging will examine skyrocketing grocery prices, higher energy bills and soaring airfares.
Prime Minister Anthony Albanese will announce the long-awaited inquiry into Australia's response to the COVID-19 pandemic today.
An anti-Voice campaign director says white people will have to pay to live in Australia if the referendum succeeds on October 14.
Prime Minister Anthony Albanese is set to announce an inquiry into the country's COVID-19 response. Credit: Chris Elfes
Mining magnate Clive Palmer and a United Australia Party senator lost their bid to force the Australian Electoral Commission to count crosses on the Voice ballot as a No vote.
In NSW, fire authorities urged residents to prepare for a bad bushfire season as El Nino conditions could exacerbate dangerous fire weather.
Public housing towers in Melbourne will be torn down and replaced over coming decades as the city's face is remade in response to a housing crisis.
Overseas, sportswear giants Adidas and Nike are facing renewed scrutiny over supply chains in Cambodia where they cannot afford the necessities.
Most Viewed in National
Source: Read Full Article