At least 20 dead after bus carrying workers from De Beers diamond mine smashes into truck in South Africa | The Sun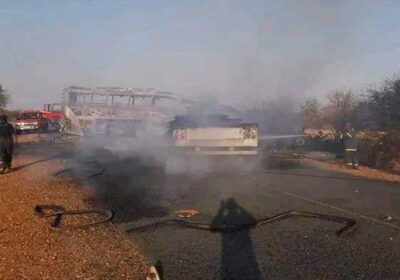 AT LEAST 20 diamond mine workers have been killed in a horror bus crash in South Africa.
Employees of diamond giant De Beers were travelling from a major mine when the bus they were on smashed into a truck on Sunday.
The workers were being driven from the Venetia mine, one of the biggest in the country, at the time of the crash.
Local official Vongani Chauke said the bus collided with a lorry about 15 miles from the mine.
The cause of the accident is not yet known.
The crash occurred in the village of Musia, Limpopo, close to the Zimbabwe and Botswana borders at around 6pm.
READ MORE WORLD NEWS
Kim Jong Un wears Russian hat as he shakes hands with Putin's defence minister
Island dubbed 'fisherman's paradise' for sale – but it comes with a warning
De Beers, the world's biggest diamond mining company, has run the Venetia mine for over 30 years.
It extracts over 40 per cent of the country's annual diamond production, employing more than 4,300 staff including many local people.
De Beers invested over £1.6 billion in a huge project at the Venetia mine to harvest jewels buried further underground, which started in July.
The mining giant now aims to produce four million carats from its flagship mine each year.
Most read in The Sun
ICING ON THE CAKE
Paul Hollywood, 57, soaks up sun as he prepares to marry girlfriend, 39
'HE WENT TOO FAR'
Dannii Minogue calls Russell Brand 'vile predator' after incident on show
Goggleboxer on Ice
Legendary Gogglebox star joins Dancing on Ice in bombshell move
AIRPORT CLOSED
UK airport forced to close after flooding in terminal with flights cancelled
While South Africa has one of the most developed road networks on the continent, it also has one of the worst road safety records.
In February another 20 people were killed and almost 70 injured when a tour bus collided head on with a van.
The crash, which also happened in Limpopo, occurred when a bus rolled off the motorway and over a bridge into a river.

Source: Read Full Article