Architecture was his life and passion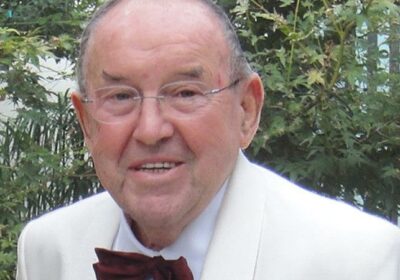 J. Dale Fisher FRAIA August 28, 1931-August 7, 2021
Born in Richmond, James Dale Fisher began architectural studies at the Royal Melbourne Technical College (now RMIT) and then completed the evening course at the Melbourne University Architectural Atelier. Awarded honours in six subjects, he received his diploma of architecture in 1955. While still a student, he joined the highly regarded office of Seabrook Hunt & Dale in Little Collins Street and remained there after graduation, rising to the position of senior architectural assistant by 1956. During that time, he became registered as an architect in Victoria, and an associate of the RAIA.
It was also in 1956 that he won the Robert and Ada Haddon Travelling Scholarship, a coveted biennial prize of £450 that was then one of the valuable of its kind in the world. Winning the competition with a scheme for a shopping centre at Nunawading, he duly set sail for work and study abroad.
Settling in the UK, he spent six months working in the London office of Riches & Blythin. He was duly joined by his fianccée and fellow MTC architecture student Marjorie Drew who had been at Hassell McConnell Architects and Bates Smart and McCutcheon; the couple married in Wimbledon in early 1957. They subsequently travelled and worked in Europe, Canada and the US.
He spent 18 months in the office of Edmond George Good junior and Marjorie worked at Lawrie and Green Architects in Pennsylvania before moving on to California, where the couple completed their final studies. In Los Angeles they lived in the Hollywood Hills, Dale worked at the practice of Arnold A. Aveis while Marjorie worked for Pereira and Luckman as a designer of specialised commercial kitchens, including those for the iconic Theme Building at Los Angeles Airport. While both had green cards to stay and live in America, they were committed to return to Australia, and did so in 1960.
Back in Melbourne, they set up private practice from the front room of their rented bungalow in Camberwell. Their first significant project was a new service station and enlarged car showroom on the Nepean Highway at Elsternwick for Reg Hunt, an old client from the Seabrook, Hunt & Dale days.
They went on to design the Albert Park Squash Centre (1961), the Tidal River Apartments at Wilsons Promontory (1962), followed by several churches for the Seventh Day Adventists in Melbourne and Geelong and many unbuilt schemes for bowling centres, country motels and restaurant complexes. Their early work in the residential sphere included stylish modernist dwellings from Brighton and Beaumaris to Balwyn and Ivanhoe, and further afield to Portsea, Apollo Bay and beyond.
In 1964, the practice relocated to Queens Road, Melbourne, soon receiving a milestone commission for the Mount Dandenong Sky High Observatory and Restaurant (1965-70). A simple design with a plan of overlapping circles and expression of timber structure, glazing and stonework, Dale considered it his most significant project and it would eventually be classified by the National Trust.
Another memorably foray into hospitality design was the new Hawthorn Tea Gardens (1970-71), later renamed Leonda-on-the-Yarra, a multi-purpose function centre starkly expressed as a brick volume with parabolic arches and cantilevered steel-framed entry canopy. Other memorable projects to emanate from the Queens Road office included the Sandringham Hotel on Beach Road (1967) and the Sebel showrooms on St Kilda Road (1968), the latter with prominent white steel columns, cantilevered three-storey canopy and symmetrical glazed façade.
Dale Fisher: maintained dignity and pride in the profession of architecture.
In 1970, the practice relocated to a pair of remodelled maisonettes in Wallace Avenue, Toorak, where it continues to this day under Dale and Marjorie's son, Dale junior. During this time, the practice undertook an enviable range of work nationwide that included office towers, hotels, motels, function centres, shopping centres, ski lodges, churches, restaurants, industrial and commercial depots, laboratories, land subdivisions, parks and gardens as well as residential work.
Dale made a memorable foray into Melbourne's CBD with his bold design for Mutual Acceptance House at 30 Collins Street (1973-75), with its sawtooth facade of bronze mirrored glazing offering differing views internally and externally. From the late 1970s, a key client was the Melbourne Metropolitan Board of Works (MMBW), for whom the firm designed new office headquarters at Werribee (1980) and the Northern Regional Depot in Mill Park (1984). Both buildings were elegantly expressed with monumental rock walls, mirrored glazing and reflective ponds, in carefully landscaped settings.
During the 1980s and '90s, Dale designed more than 1000 shops across Australia for leading retailers such as Sportsgirl, Lacoste, Sportscraft and Bradmans, characterised by fastidious joinery and material selection, and deference for the customer experience.
At its peak, the practice employed 20 architects. Dale upheld discipline in his office, with staff expected to deliver quality and consistency, evidenced by the fastidious nature of drawings and specifications. He was firm but fair, maintaining that the client must always be protected through the entire process. He was highly regimented, and contractors knew who the man in the bow tie was, and what he represented.
Throughout his long life, he maintained great dignity and pride in the profession of architecture. Widely respected and a mentor to many, he pursued what he perceived as perfection in design, quality in material selection, and buildings that would stand the test of time. A perfectionist at heart, he always offered suggestions. In later years, he spoke of the dynamic and breathtaking buildings he came to him in dreams, always inspired perhaps for more that he had to offer: an architect literally living the dream.
James Dale Fisher passed away in the house on the Yarra River at Toorak that he and Marjorie had designed more than five decades before. He is survived by his wife of 65 years, three daughters (one an architect) as well as an architect son who continues to run the practice.
Simon Reeves is an architect and historian and architect James Dale Fisher jnr is J. Dale Fisher's son.
Most Viewed in National
From our partners
Source: Read Full Article