Andrews breaks his radio silence, as long as you aren't calling in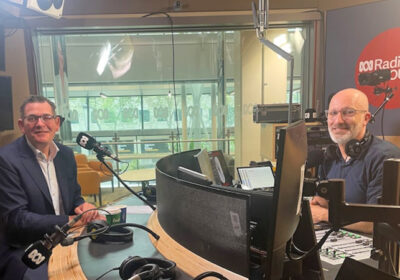 Save articles for later
Add articles to your saved list and come back to them any time.
It's a rare day indeed when Melbourne morning radio listeners hear the dulcet tones of Premier Daniel Andrews in an on-air interview.
Andrews' years-long boycott of Neil Mitchell's 3AW morning slot has been sufficiently well documented that it need not detain us long. The premier also put Mitchell's erstwhile ABC rival Virginia Trioli in the deep freeze for much of her past couple of years in Radio Melbourne's breakfast chair. The announcer made no effort to disguise her deep irritation at the snubbing.
Daniel Andrews joins Raf Epstein in the studio for the former Drive presenter's first day in his new role.
So imagine our surprise on Monday when Andrews bobbed up for Trioli replacement Raf Epstein's first morning in charge.
The on-air chat covered the housing crisis, the recent uptick in gangland crime, Ombudsman Deborah Glass' persistent criticism of the government, the late great Ron Barassi and other bits and pieces.
Now, if Epstein was feeling a bit pleased with himself for scoring the interview that has for so long eluded his fellow hosts, he was gracious enough not to mention it.
There is this, though. There was a notable lack of talk-back calls – which often feature in party leaders' radio interviews – taken during the 24-minute chin-wag between Andrews and Epstein.
It led some to wonder if "no calls" was a condition imposed by Andrews' people in return for granting the premier's first radio interview – we think – since last November.
Not so, said Epstein. With so much ground to traverse in just 24 minutes, he made the call to spend that time grilling Andrews without inviting calls from listeners, he said.
But the announcer said he hoped it wouldn't be so long between drinks from here on in, and that talkback callers will get their chance at questioning the premier.
Here's hoping.
Start the day with a summary of the day's most important and interesting stories, analysis and insights. Sign up for our Morning Edition newsletter.
Most Viewed in National
From our partners
Source: Read Full Article