Alphabet shares fall 4% as Samsung considers replacing Google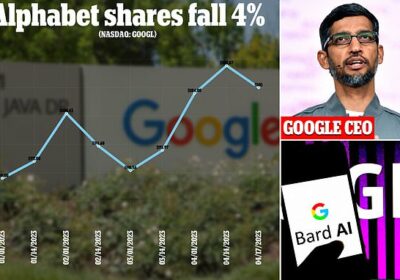 Alphabet shares fall 4% after Samsung considers replacing Google with Bing as its default search engine on its devices amid fears of search engines ability to compete in the AI arms race
Google's parent company lost market value Monday morning after a weekend report that Samsung may be looking to switch search engine providers 
There has been broad market worry that Google is falling behind its competitors in the field of Artificial Intelligence  
While Microsoft's Bing has integrated ChatGPT's underlying technology, Google is still tinkering with its AI chatbot, Bard 
Google parent company Alphabet Inc. shares fell nearly 4 percent on Monday following a report over the weekend that Samsung Electronics was considering replacing Google's search engine with Microsoft's Bing on its devices.
The New York Times report emphasizes the ongoing challenges Google is facing as artificial intelligence grows in prominence as a tool competitors are utilizing. AI has been touted as the future of development for search engines.
The report indicated that Google's internal reaction to the news was 'panic.' The massive company earns close to $3billion in annual revenue from the contract with Samsung.
A similar contract, worth $20billion, tying Google to Apple is also up for renewal this year.
On Monday morning, Google stock fell to $104.90, erasing $50billion in Alphabet's market cap. Microsoft, on the other hand, outperformed the market, rising about one percent.
Google's parent company lost market value Monday morning after a weekend report that Samsung may be looking to switch search engine providers
Recent tracking of Google's market performance indicates there have been several dips in the last few months partially pertaining to the lackluster rollout of its AI chatbot
Microsoft appears to have – at least a temporary – edge on the competition when it comes to AI, despite Google's 80 percent market share in the search engine field.
While Microsoft has integrated the artificial intelligence technology behind ChatGPT into its product, Google's debut of its new chatbot Bard, underwhelmed during a February presentation.
The New York Times report said that Google was racing to build and deploy an all-new AI-powered search engine that will offer a more personalized experience than its current product. 
Further fomenting worry that Google may be falling behind its competitors in terms of its AI capabilities, CEO Sundar Pichai recently admitted to not completely understanding their AI technology's capabilities.
One of the big problems discovered with Google's Bard is something that Pichai called 'emergent properties,' or AI systems having taught themselves unforeseen skills. 
Google's AI program was able to, for example, learn Bangladeshi without training after being prompted in the language.
'There is an aspect of this which we call – all of us in the field call it as a 'black box.' You know, you don't fully understand,' Pichai said. 
'And you can't quite tell why it said this, or why it got wrong. We have some ideas, and our ability to understand this gets better over time. But that's where the state of the art is.'
Google's CEO Sundar Pichai (pictured) admitted he doesn't 'fully understand' how the company's new AI program Bard works, as a new expose shows some of the kinks are still being worked out
Pichai was straightforward about the risks of rushing the new technology.
He said Google has 'the urgency to work and deploy it in a beneficial way, but at the same time it can be very harmful if deployed wrongly.'
Pichai admitted that this worries him.
'We don't have all the answers there yet, and the technology is moving fast,' he said. 'So does that keep me up at night? Absolutely.' 
When DailyMail.com tried it out, Google's Bard enthusiastically created a scenario where LaMDA, its underlying technology, takes over Earth. 
Source: Read Full Article