'Absolutely disgusting': Father in induced coma after hit-run in Deer Park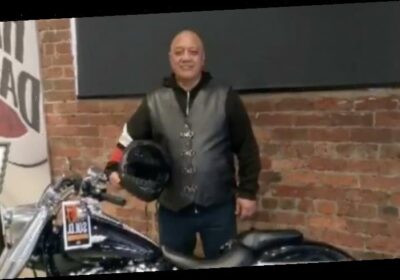 A Melbourne father has been placed in an induced coma after he was seriously injured in a hit-run collision on New Year's Day in the city's western suburbs.
Nick Topia, 55, was riding his motorbike to visit his daughter when he was hit by a silver SUV that was travelling north in Station Road, Deer Park, about 10.50am.
Nick Topia was seriously injured after a hit-run in Deer Park. Credit:Nine News
The driver of the car was attempting to do a U-turn when it hit Mr Topia. The car then reversed and drove north on Station Road.
Police are appealing for public help to identify the car. They believe there were two females in the vehicle.
Mr Topia, from Albanvale, suffered severe leg injuries and underwent surgery on Sunday.
Police have released an image of the SUV, possibly a Ford Territory, which investigators believe may have had two female occupants at the time of the incident. Credit:Nine News
"It's been a horrible, horrible couple of days," his daughter Tiffany Topia told Nine News.
Mr Topia video-called his daughters while he was waiting for help.
Nick Topia's daughter Tiffany. Credit:Nine News
"It was heartbreaking hearing my dad screaming for help, asking me to come and help him. It just broke my heart," Ms Topia said.
His other daughter, Nikkia, called on the driver to come forward.
"Own up; you've possibly ruined my dad's whole life," she said.
Mr Topia is in an induced coma. Credit:Nine News
Senior Constable Zach Baker said the car, possibly a Ford Territory, fled the scene before witnesses rushed to help.
"We've had witnesses, luckily, who have seen the incident rushing to the rider's aid and could have saved his life with the severe blood loss," he said.
"It's absolutely disgusting for someone to flee the scene, whether they've seen what they've done or not you definitely would have felt it, and to not go to the rider's aid like all the witnesses have done on this occasion, it's disgusting."
Senior Constable Zach Baker said the driver fled the scene. Credit:Nine News
Mr Topia was dragged about 100 metres from the point of impact.
Anyone with information or who has dash-cam footage of the vehicle in Deer Park on January 1 is urged to contact Crime Stoppers on 1800 333 000 or submit a confidential crime report at www.crimestoppersvic.com.au
Most Viewed in National
Source: Read Full Article