'A threshold was crossed': Pelosi calls to impeach Trump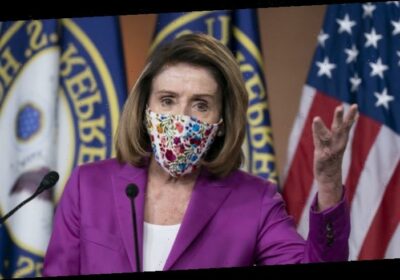 Washington: Lawmakers of both parties have raised the prospect of ousting President Donald Trump from office, and House Speaker Nancy Pelosi said that if he wasn't removed, the House may move forward with a second impeachment.
Though Trump has less than two weeks in office, members of Congress and even some in his administration began discussing the issue on Thursday morning (AEDT) during the riots, as Trump first refused to forcefully condemn the violent assault on the Capitol by a mob of his supporters and then appeared to excuse it.
Senior Trump administration officials raised the possibility of invoking Section 4 of the 25th Amendment — the forceful removal of Trump from power by his own Cabinet.
Senate Minority Leader Chuck SchumerCredit:Bloomberg
Senate Democratic leader Chuck Schumer also called on Friday AEDT for the the Cabinet to remove him.
In a statement, Schumer said the attack on the Capitol "was an insurrection against the United States, incited by the president". He said Trump "should not hold office one day longer".
Schumer said Pence and the Cabinet should invoke the 25th Amendment and immediately remove Trump from office. Otherwise, he said, it's up to Congress.
"If the Vice-President and the Cabinet refuse to stand up, Congress should reconvene to impeach the President," Schumer said.
As Pelosi suggested impeachment was a possibility, three Democrats on the House Judiciary Committee announced articles of impeachment. House representatives David Cicilline of Rhode Island, Jamie Raskin of Maryland and Ted Lieu of California wrote in the articles that Trump "willfully made statements that encouraged — and foreseeably resulted in — imminent lawless action at the Capitol".
The House impeached Trump in 2019, but the Republican-led Senate acquitted him in early 2020.
At least one House Republican also called for Trump's removal. Illinois representative Adam Kinzinger, a frequent Trump critic, said in a video on Twitter that Trump is "unfit" and "unwell".
Kinzinger said the President "must now relinquish control of the executive branch voluntarily or involuntarily".
Former Republican Senator Jeff Flake, who's clashed with Trump for years, said he doesn't think invoking the 25th Amendment is realistic because of the support it would need from Cabinet members and because of the short time left in Trump's term. But he said in an interview that he supported the decisions both by some White House and administration officials to quit and others who are remaining "to ensure that basically the guard rails stay where they should".
Flake added: "We've got two weeks here, and let's make sure we get to the inauguration."
AP
Trump Biden 2020
Understand the election result and its aftermath with expert analysis from US correspondent Matthew Knott. Sign up to The Sydney Morning Herald's newsletter here, The Age's here, Brisbane Times' here and WAtoday's here. 
Most Viewed in World
Source: Read Full Article