A table of crusty boomers loudly sl*t-shamed me for wearing a low-cut top in restaurant – but I got my own back | The Sun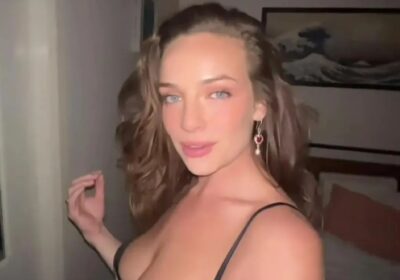 AUSSIE TV personality Abbie Chatfield has slammed a judgemental table of "boomers" for scrutinising her outfit choice while out for dinner.
The FBoy Island host and former Bachelor star took to social media to rant about about the complaints she received for her racy outfit.
Uploading a video to her Instagram story, Abbie modelled the very low-cut top that she claimed she was "sl*t-shamed" in.
The 28-year-old fired the post directly at "the table of boomers loudly next to me b*tching about me saying they would be 'ashamed if their daughter wore that top out.'"
Abbie added to her onslaught of the fellow diners from the restaurant in the video's caption.
It read: "Sorry you have nothing left to talk about in ur (sic) crusty relationships.
"ur (sic) kids probably would be the ones ashamed if they heard what you were saying!!! Me wearing a hot top doesn't compare to you spending your night focusing on my t**s and making it the main topic of conversation."
This wouldn't be the last of her venting, with the TV star giving further details of the incident in follow up posts on her Instagram story.
She revealed that one of her "sl*t-shamers" was a man named "John", the main offender.
Abbie said that she and her friends retaliated with indirect comments that were loud enough for the other table to hear.
Most read in The US Sun
HORROR INJURY
Fulham clash stopped after horror injury for Sheff Utd star Chris Basham
BRUTAL BULLY
Moment 'XL Bully' mauls family cat to death in front of heartbroken owner
CHILLING 'PLOT'
Inside Holly Willoughby '35 stone kidnapper's detailed plan to murder' star
'GATES OF HELL'
Israel strikes back after Hamas bloodbath kills 250 and dozens held hostage
In the aftermath, however, her Instagram post was flooded with comments of support from followers and women who applauded her for standing up for herself.
One person said: "That's code for 'this girl is hot asf and I have no idea how to feel about this."
Another added: "Thanks for being so positive about this. My 14 yr daughter got screamed at by a woman for wearing her bikini up to the shops at the beach – meanwhile boys with no shirts on. I hate the hypocrisy."
"Hopefully their daughters would be ashamed that their mothers are out here shaming younger women for just existing in their body," a third person commented.

Source: Read Full Article