A breach of norms of Trumpian proportions: Morrison's power grab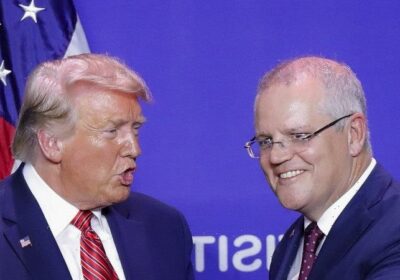 As one born in the United States who also is an Australian citizen, and privileged to have worked in Congress and for a prime minister, I have long admired the Westminster political culture that governs this country. In terms of getting the government's agenda enacted by parliament, it delivers coherence more reliably than today's constitutional system in America.
But the violation of norms of governance by former prime minister Scott Morrison – secretly appointing himself to five senior ministries – is truly shocking. As Prime Minister Anthony Albanese said, we are absorbing "an unprecedented trashing of democracy".
Scott Morrison and Donald Trump, as prime minister and president, in 2020.Credit:AP
We learned in the Trump presidency how precious and essential to the functioning of a democracy norms of governance are. It is a lesson absorbed because he stomped on them so viciously.
The former president's biggest atrocities included, among a long list of abuses of power, unprecedented violations of decades of practice and traditions. Trump attempted to reverse the results of the 2020 presidential election. He used his office to enrich his businesses by channelling government activities to his hotels and resorts. Trump withheld foreign aid appropriated by Congress from Ukraine unless that government helped to find dirt on his political opponent, Joe Biden. Trump attempted to obstruct and subvert investigations of his activities by Congress and the Department of Justice. Two of his raw exercises of power – pressuring Ukraine to serve his personal political interests, and his attempts to overturn the results of the 2020 presidential election – resulted in his impeachment. In so many respects, his presidency was a disgrace.
Each of these corruptions of power undercut accountability through the proper functioning of government. In scale and scope, they wreaked more direct damage on America's democracy than what was undertaken by Morrison by his assumption of several portfolios of government. But that does not diminish the significance of the dangerous undertakings of the former prime minister and their threat to Westminster values.
There was, however, one other Trump abuse of power that was directly echoed by Morrison. Trump wanted immense, direct control of the executive branch. Instead of making appointments to the cabinet and having them duly confirmed to their office by the Senate as prescribed in the Constitution, Trump resorted more and more to making the highest officials in key agencies "acting" secretaries or directors. He could put his people in power without the ratification of Congress. Even his chief-of-staff in the White House was "acting".
"I like acting because I can move so quickly. It gives me more flexibility," Trump said.
And it meant Trump wielded immense control with much less accountability.
The one big common theme between the Trump and Morrison violations of norms during their terms in office is their desire to exert more personal control over the government.
This has never happened in Australia before, even in wartime.
The biggest difference is that Trump acted in broad daylight to control his government through "acting" officials, knowing that Congress could not force him to act otherwise. The Morrison assertion of control was done in secret with no public record. In most instances, not even the affected ministers knew there was joint governance of their departments with the prime minister.
The real-world effect of these arrangements may have been relatively incidental compared with the breadth of Trump's abuses. But the corrosion of democratic values and the bruising of Australia's democratic institutions and processes are exceptionally high.
Trump and Morrison bonded quite famously in Washington in September 2019. They had even more in common than we knew.
The Opinion newsletter is a weekly wrap of views that will challenge, champion and inform your own. Sign up here.
Most Viewed in National
From our partners
Source: Read Full Article