'You can't talk!' James Martin snaps at guest chef as he warns them 'move on' after clash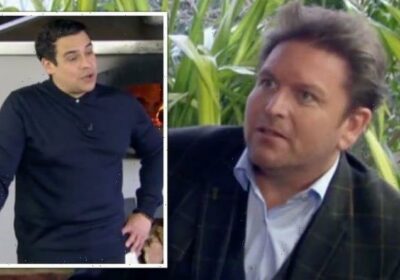 James Martin and guest chef comically clash on Saturday Morning
When you subscribe we will use the information you provide to send you these newsletters. Sometimes they'll include recommendations for other related newsletters or services we offer. Our Privacy Notice explains more about how we use your data, and your rights. You can unsubscribe at any time.
James Martin regularly welcomes fellow chefs onto his ITV Saturday Morning show as they showcase some of their favourite dishes. For the latest instalment, Paul Ainsworth was in James' outdoor kitchen to whip up a delicious meal, however they almost didn't get to taste the final dish as they clashed with one another.
"You're not wearing socks, what is the no socks scenario? I don't get that," James noted as he watched Paul cook.
Paul replied: "A hot oven. I've got to limit what I'm [wearing]. I'm got long trousers and a top on."
"You have a new pair of trainers on every time I see you," James continued.
Paulsnapped: "You know what, you can't talk. I was watching you on telly the other day."
"I never wear trainers! When have you seen me wear trainers?" James asked.
"I stopped wearing trainers when I left school. Men of our age shouldn't wear trainers."
But the chef ignored James and continued: "I was watching you the other day and you were cooking and you went, 'I'll save that for supper.'
"You're a Yorkshire man, when did you start saying supper?"
Clearly unimpressed, James hit back: "Just get your bread in the oven!"
"Supper? I was like James Martin's changed. It used to be tea when I met you," Paul laughed.
James warned: "Just hurry up, you've got two minutes left."
As well as hosting his own show, James also regularly appears on This Morning to demonstrate simple recipes to viewers.
However, he landed a new role on This Morning which didn't involved cooking as he headed out into the country with his beloved dog.
James and his pooch Cooper could be seen earlier in the week fishing in the River Test and exploring F1 champion Jody Scheckter's farm.
The chef said of his new segment: "The great British outdoors really has been a saviour to a lot of us over this last year and I'm lucky enough to be close to vast amounts of countryside.
"So along with my trusty sidekick Cooper I'm going to show you the best parts of Hampshire."
Cooper is just one of James's dog as he also has a little Lhasa Apso called Ralph.
James bought Ralph on a "boozy working lunch" while he was in Harrods and couldn't leave without him.
James will be back cooking up more delicious dishes on Saturday morning with Jordan North and Vernon Kay.
James Martin's Saturday Morning airs Saturday on ITV at 6.30am.
Source: Read Full Article