Yellowstone's Caroline Warner star 'confirms' Beth Dutton showdown: 'There will be firewor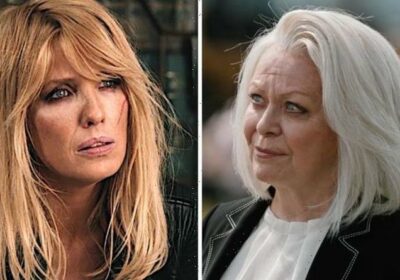 Yellowstone cast discuss the death of Sheriff Donnie Haskell
We use your sign-up to provide content in ways you've consented to and to improve our understanding of you. This may include adverts from us and 3rd parties based on our understanding. You can unsubscribe at any time. More info
Yellowstone season four has changed the pace after the third season's explosive finale. Fans have been watching the Caroline Warner (played by Jacki Weaver) storyline slowly unfold throughout the new instalment. Beth Dutton (Kelly Reilly) has been doing what she can to take the company down from the inside, and it looks as though they will finally come to blows ahead of the season finale on the Paramount Network.
Fans recently got an insight into what to expect from the situation in Paramount's Inside the Story feature on the network's YouTube channel.
Of course, John Dutton (Kevin Costner) will undoubtedly be involved himself, especially after his romantic involvement with Summer from earlier in the season.
Source: Read Full Article