Yellowjackets' Melanie Lynskey praises husband's 'vulnerability'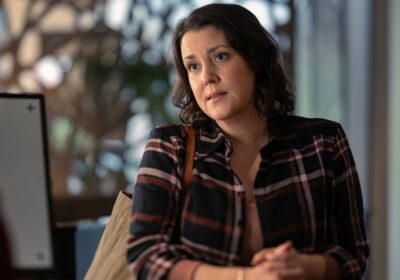 Jason Ritter opening up on his alcoholism issues
New Zealand actress Melanie Lynskey has started the year off strong with stunning performances in two of the best shows of 2023 so far. After wrapping up her stint on The Last of Us on HBO and returning to screens this Friday for the continuation of Showtime's second season of Yellowjackets, she recently swung by The Drew Barrymore Show with her husband Jason Ritter.
Lynskey praised her husband on Twitter after their interview for opening up about his struggles with alcohol.
TV host and actress Barrymore asked about their first impressions of each other and how their relationship started.
"I knew how incredible Melanie was early on," Ritter explained. "But, it's not as cute of a story as you would like to think.
"It was messy and interesting and weird. But mixed in the mix, I was dealing with some alcoholism issues."
Get Paramount+ For Free
£6.99 £0 View Deal
When you subscribe to Sky Cinema, you'll unlock hundreds of hours of television shows and movies to binge! It's all thanks to a free subscription to Paramount+ (usually £6.99 per month) to watch on your Sky Glass, Sky Q, or on any device with a Paramount+ app
Barrymore looked at Ritter sympathetically, raised her hand and replied: "Me too."
Lynskey was originally married to actor Jimmi Simpson before their divorce in 2014 and was later engaged to Ritter in 2017 after dating for four years.
Ritter's voice started breaking during the show and Lynskey held his hand for support as he recalled his struggles during the start of their relationship.
"At a point, I knew how amazing she was," he continued. "And thought she would be incredible for someone who deserved her, basically."
"And I didn't feel like I was that person. I felt a little bit too crazy.
"It was only after a year into not drinking when I started to go, 'Maybe I can promise some things to someone else. Maybe I can be this person.'
"It's been a slow burn. So I knew that she was incredible, it was working on myself enough to feel like maybe I could be the one for her too."
After the episode aired on Wednesday, Lynskey tweeted the clip and wrote: "So proud of my husband and of Drew for their vulnerability and openness here. These are two of the kindest, strongest, best people I know."
Don't miss…
Jeremy Renner would save nephew from snowplough 'again' [INTERVIEW]
Yellowstone's Kevin Costner could still return for season 6 [LATEST]
Outlander's Sam Heughan shares first-look at new Starz thriller [INSIGHT]
On the show, Ritter apologised for getting emotional but received a resounding round of applause from the audience.
Lynskey then wiped tears from her eyes as she confided in her husband.
"He worked so hard," she said. "He did so much work on himself, I'm so proud of him."
Meanwhile, Barrymore was completely speechless as she clutched her hand to her heart to process Ritter's story.
"I haven't had a drink," she began. "And I'm not sober, I don't work a program, but alcohol was my poison.
"And I haven't had a drink in almost four years," she added, as the crowd burst into more applause.
"The narrative that one creates is that 'I can't be with someone'. And I haven't been in a relationship since I stopped drinking.
"I'm really looking forward to, one day, not having that "bad girl" narrative, the instability, that I'm not someone who's right to be with anyone for their sake."
Yellowjackets season 2 continues Fridays on Paramount+ in the UK and Sundays on Showtime in the USA.
Source: Read Full Article