'Winnie-the-Pooh' Horror Movie Star Amber Doig-Thorne Excited to 'Ruin People's Childhoods'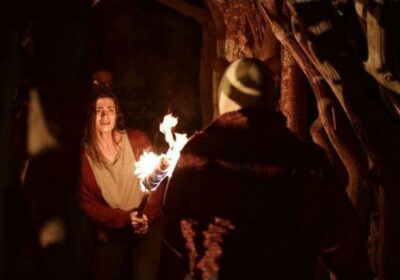 The 'Winnie-the-Pooh: Blood and Honey' actress is looking forward to seeing people's reactions to the twisted version of the children's favorite characters.
AceShowbiz -"Winnie-the-Pooh: Blood and Honey" star Amber Doig-Thorne agreed to star in the horror film to "ruin people's childhoods." The rising star takes on the role of Alice in Rhys Frake-Waterfield's directorial debut, which is a grisly re-telling of A. A. Milne and E. H. Shepard's "Winnie-the-Pooh" books depicting the titular bear and his pal Piglet as murderers who go on a killing spree after Christopher Robin abandons them to go to college.
A huge fan of the character – who has been popularised around the world thanks to Disney's interpretation – when she was growing up, Alice admits that getting the opportunity to mess with people's memories of Pooh Bear was an opportunity to good to miss.
Speaking at the premiere of British rom-com "Ghosted", she told BANG Showbiz, "I've been doing horror films for years it's kind of like my bread and butter and I'm such a huge fan of the genre so being able to act in a horror is such a dream come true."
"The production company behind 'Winnie-the-Pooh, Blood and Honey' is Jagged Edged Productions, they're amazing, I've worked with them before and they offered me the role of Alice – who is one of the leads in the film."
"I read the script, loved it, I was obsessed with Winne the Pooh as a child so I was like, 'Let's ruin people's childhoods, why not?' Part of me was like, 'Oh my god, they're ruining Pooh,' but another part of me was like, 'I'm totally here for this, so that's fine.' "
The 28-year-old actress stars in the movie along with Nikolai Leon as Christopher Robin, Craig David Dowsett as Pooh Bear, and [=Chris Cordell] as Piglet, and she is excited to see what people's reactions are to the slasher flick – which is out this week – following the reaction to such a beloved children's character being subverted.
Amber hopes that "Winnie-the-Pooh: Blood and Honey" will be her breakout role on the big screen. She said, "I think this is probably my big break. I did a Bollywood film called '[=Heropanti 2]' a few years ago that was big in the box office so that was great."
"I've been acting for six or seven years now, but this is the first one where I have kind of had an international cinematic release so to me this is my big break which makes it more exciting. Persistence is key, it's probably 90 per cent rejections and 10 per cent yeses."
"I got the role so just keep going no matter what, if you know that's your passion and you know that's what you're meant to do, keep going because if it's meant to be it's meant to be. You can tell the people who do it for the fame they don't make it, they might make it short term, but long term they're not going to be doing it especially in the independent world."
You can share this post!
Source: Read Full Article