Will there be another season of Matt Baker's Our Farm in the Dales?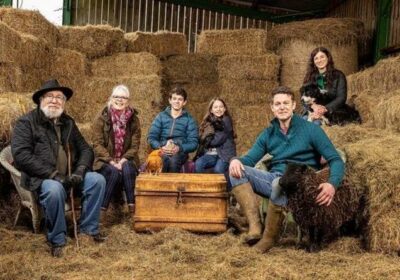 Matt Baker reveals his wife and mum are on Instagram
When you subscribe we will use the information you provide to send you these newsletters. Sometimes they'll include recommendations for other related newsletters or services we offer. Our Privacy Notice explains more about how we use your data, and your rights. You can unsubscribe at any time.
Our Farm in the Dales has been airing on More4 and the documentary series follows Matt Baker on his family's farm. He left The One Show to move back with his parents and help them run their beloved farm near the Durham Hills. Express.co.uk has looked into whether there will be another season of the popular series.
Will there be another season of Our Farm in the Dales?
Our Farm in the Dales started airing on March 31 and the series explores a difficult part of Baker's life.
He was keen to be involved in the whole process, from directing to producing, in order to protect his family.
The show follows Baker and his wife and children as they move back to his childhood home.
His mother, Janice, had been injured after she was knocked over by a flock of sheep, and she needed a knee replacement.
She believed she could no longer carry out her farming duties, so her presenter son stepped in to offer a helping hand.
The series is made up of four episodes, which means it will sadly be coming to an end tonight (April 21).
In the final episode, Baker and his family take on some new beehives, whilst he prepares for lambing season.
The puppies will also experience their final vet check before they leave for their new homes.
Whilst the family reflects on how far they have come since Janice's accident, fans are already hoping for another season.
There has been no word yet on a second season, but due to the show's popularity, there is always hope. Express.co.uk has contacted Baker's agent to find out more.
Baker himself was surprised at how well-received his latest project has been since it started airing.
The star is on Instagram and he has been keeping fans up to date with news from the farm – including the fact his parents have now signed up to Instagram themselves.
One fan responded: "Loved every minute of the show. Following your parents and your journey."
Baker has been thanking his fans for showing their support by tuning into the charming series.
He said: "Thanks to all who watched my family and I last night!! What a super response we really appreciate all your kind words.
"If you missed it – this is Ole a North Swedish draft horse, he helped us shift a wind fallen Oak What a beautiful boy- I'm very tempted to get one!!"
Whilst fans await the news of a second season, they can catch up with all of the episodes on the streaming platform All4.
The star commented on the record-breaking response to the first episode, so hopefully a second season is in the pipeline.
Fans have taken to Twitter to share their thoughts on the series, with one saying: "My favourite programme on now #more4 Matt Baker Our Farm in the Dales."
Another said: "Watching Matt Baker: Our Farm In The Dales. I think everyone needs to have a son like Matt!"
"Really enjoying #MattBaker Our Farm in the Dales on More 4. A lovely Family preparing for the future, amidst the uncertainty of Covid," were the words of another viewer.
More than a million viewers tuned in for the first episode, which is a first for the network in seven years.
The audience was the largest More4 has seen since overnights.tv started recording ratings data in 2014.
Our Farm in the Dales airs on More4
Source: Read Full Article