Why Lindsay Lohan's Sister Has A Problem With Jennifer Lawrence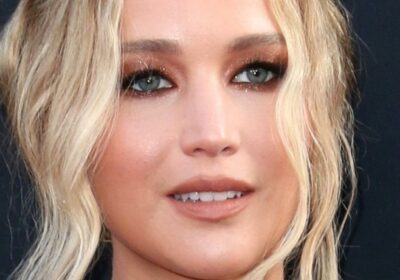 Celebrity feuds are quite commonplace in Hollywood. Despite acting friendly on screen, what's happening behind closed doors isn't very pleasant. You've seen it in the ever-expanding list of celebrity beefs like that of Sarah Jessica Parker and Kim Cattrall, Nicki Minaj and Cardi B, former besties Paris Hilton and Nicole Richie — and who can ever forget Taylor Swift and Kanye West's longstanding drama?
Sometimes, though, these celebrity feuds extend to their family members, like that time Solange Knowles seemingly attacked Jay-Z in an elevator. There was also that time where Kim Kardashian got herself involved in the Taylor Swift and Kanye West drama, and even let the whole internet get in on what's happening.
The same thing happened with Lindsay Lohan's sister, Aliana. A celebrity in her own right, Ali stood up for her big sis when Lindsay was publicly dissed by no other than Jennifer Lawrence during an interview. Here's what she had to say.
Ali Lohan stood up for Lindsay following Jennifer Lawrence's insensitive comment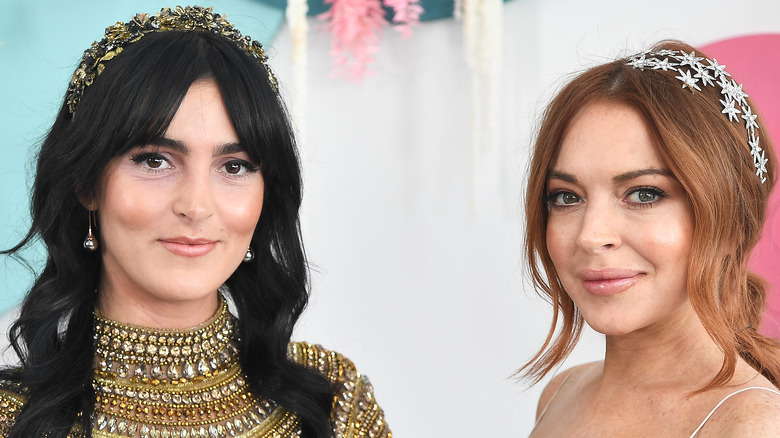 In an appearance on "The Late Show With Stephen Colbert" in 2015, Jennifer Lawrence was only supposed to promote her newest film, "Joy" — but unknowingly kickstarted a feud with the Lohans. Lawrence, who usually doesn't involve herself in Hollywood drama, was telling Colbert about her relentless work ethic, and compared her exhaustion to Lindsay Lohan's, albeit in a tasteless manner.
The actor shared that she works until she feels sick. "I'm a puker. I don't stop working because I am a show pony," she said. "I don't have a choice. So I just keep going until my body is like, 'If we don't make her barf or pass out, she won't stop.' I get like, Lindsay Lohan-grade exhaustion, but without any drugs or alcohol. I'm always in bed early. I'm still tired." (Lindsay has been previously hospitalized for "exhaustion" and has been open about her past substance abuse issues.)
It's not surprising that Lindsay took the comment to heart, and so did her family. The following day, Aliana posted a since-deleted tweet sharing her reaction. "I never breathe life into negativity but I stand by my family," she wrote (via ABC News). "Disappointed in Jennifer Lawrence. You lost a fan." And Lindsay was glad that she had her sister to stand up for her. "@aliana thank you sister," she responded in a since-deleted tweet. "Maybe who you're referring to should learn to support others like #mayaangelou."
Ali Lohan isn't the only member of the Lohan family upset with Jennifer Lawrence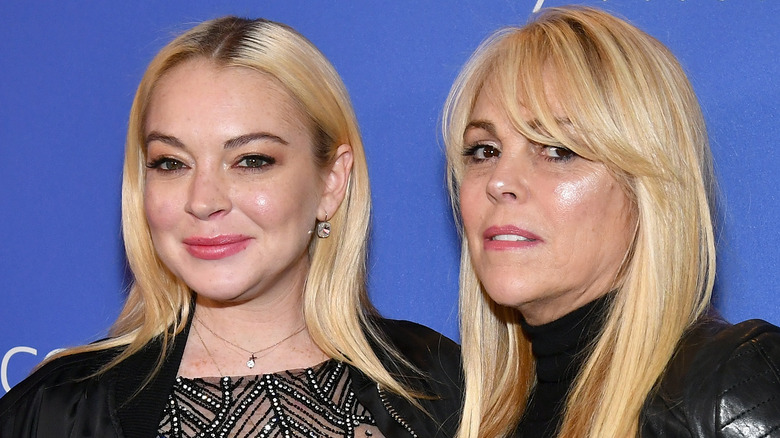 After learning what Jennifer Lawrence said about Lindsay Lohan in the interview, Lindsay's mom, Dina Lohan, came to her daughter's rescue.
"We love Jennifer Lawrence, we have always been fans of hers," she told Entertainment Tonight. "It was all unfortunate that she used Lindsay as a reference of not showing up to set, and that whole bit. It was disappointing that she didn't have her peers' back. You shouldn't trash anyone, it was just surprising. My family sticks together."
Apparently, this isn't the only time that J. Law dissed one of the Lohans. In a cover story with W Magazine back in 2012, she talked about how her mom often embarrass her on the red carpet, specifically when she was still in talks to score her career-defining role in the "Hunger Games." "My mom talked about 'Hunger Games' on the red carpet at the Academy Awards, which was something I had told her a million times not to do," Lawrence shared. "She's like Dina Lohan! But she has good taste." Ouch.
While Lawrence's beef with the Lohans did not escalate beyond these two instances, it's clear that there was some serious drama.
If you or anyone you know is struggling with addiction issues, help is available. Visit the Substance Abuse and Mental Health Services Administration website or contact SAMHSA's National Helpline at 1-800-662-HELP (4357).
Source: Read Full Article