Who Plays Carol From 'Lucifer'? The Actor Also Stars in 'Ginny & Georgia'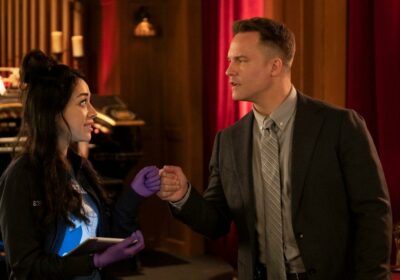 Lucifer Season 6 wrapped the show's main storyline, along with the arcs of all the major characters. Of course, that didn't stop the Netflix series from focusing on some new faces before Lucifer came to a close. One of them even served as a love interest for forensic scientist Ella Lopez (Aimee Garcia). Carol Corbett (Scott Porter) was technically introduced at the tail end of Lucifer Season 5, but the final season marks a step up from his one appearance at Dan's (Kevin Alejandro) funeral.
Fans might also recognize the actor who plays Carol from another popular Netflix series. So, who brings Ella's new love interest to life?
Carol is Ella Lopez's love interest in 'Lucifer' Season 6
Carol Corbett is first mentioned in Lucifer Season 5, when Dan Espinoza tries to convince Ella to go on a date with his friend. Ella initially rejects the offer, still reeling from that time she unknowingly dated a serial killer. Of course, she eventually meets Carol during Dan's funeral.
And although a funeral is no place to "hit it off," Carol and Ella soon begin spending a lot more time together. Once he joins the LAPD, Carol starts working on cases with Ella — and the pair realizes they have quite a bit in common.
It turns out Dan was right about these two, and they get a much-deserved happy ending during Lucifer's final season. But who portrays Carol from Lucifer?
Who plays Carol from 'Lucifer'?
Carol is played by actor Scott Porter, whose career spans back to 2006. According to IMDb, the 42-year-old star got his start as Casey Hughes in How the World Turns. He went on to appear in a number of well-known films and television shows, and he did some voice-acting for animated series and video games.
Some of his biggest film projects include Speed Racer, Prom Night, and Dear John. As far as voice-acting goes, Porter boasts roles in the Ultimate Spider-Man and Avengers Assemble animated series. He also played George Tucker in The CW's Heart of Dixie.
Porter's time as Carol in Lucifer is one of his biggest recent roles, but it's not the only Netflix series fans will recognize him from. In fact, Porter plays an even bigger part in another Netflix original.
Fans will recognize the star from 'Ginny & Georgia'
Outside of Lucifer, one of Porter's biggest recent roles is Mayor Paul Randolph from Netflix's Ginny & Georgia. The series premiered in February 2021, and it follows Ginny, a teen who's been living life on the run finally settling down in a small Massachusetts town.
Porter's character is the mayor of Wellsbury, Mass., and he serves as a love interest for the titular Georgia (Brianna Howey). Ginny & Georgia was officially renewed for season 2, so those who enjoyed Porter's performance as Carol in Lucifer can see more from the actor in that series. Sadly, with Lucifer taking its final bow, we've probably seen the last of Porter as Carol.
Lucifer and Ginny & Georgia are currently streaming on Netflix.
Source: Read Full Article