'What the heck?' Bradley Walsh baffled by Shaun Wallace's 'scary' behaviour on The Chase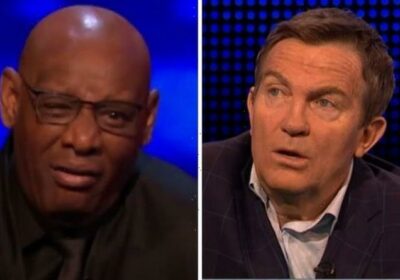 The Chase: Bradley left shocked by Shaun's Star Wars impression
We use your sign-up to provide content in ways you've consented to and to improve our understanding of you. This may include adverts from us and 3rd parties based on our understanding. You can unsubscribe at any time. More info
The moment came after The Chase contestant Libby answered a Star Wars question correctly in her cash-builder round, which led to chaser Shaun 'The Dark Destroyer' Wallace showcasing his "scary" Chewbacca impression. Bradley Walsh appeared stunned as he commented: "What the heck?" while viewers watching the ITV quiz show admitted they were "scared".
Following her first round, Shaun appeared to meet Libby, stating: "Hello Libby."
"Hi Shaun," the 50-year-old replied. Shaun, 61, asked: "You're a Star Wars fan, are you?"
"I am," she confirmed. Shaun proceeded to make a bizarre sound as he screwed up his face.
"Is that Chewbacca?" asked the player, to which the barrister answered: "Yeah that's my Chewbacca impression saying, 'You've got to go'."
"Sounded like you had piles," joked Bradley who appeared dumbfounded at the Chaser's behaviour.
Shaun presented Libby with a low offer of £200 and a high of £35,000 after she'd racked up £2,000 in her cash-builder.
Discussing with her teammates what she should do, she was advised by Julia, Noel and George not to go high.
"I'm going with the £2,000," Libby told Bradley.
"Yeah, I mean the questions are easier when they're in front of you, so you stand a better chance," Shaun stated.
"But you're going home," he swiftly added, prompting Bradley to ask: "I beg your pardon?"
Shaun responded by making the Chewbacca sound again.
"He says I'm going home," Libby commented to a confused Bradley.
"What the heck?" he asked, looking concerned – and Bradley wasn't alone as a number of fans were similarly baffled.
Taking to Twitter, Alan Wiggins confessed: "Shaun is scaring me #TheChase."
"Shaun, you good dude? #TheChase," Jenny asked while Steve Lowe added: "Are you serious, Shaun?! #TheChase."
Hayley England Dayan quipped: "Shaun Having a funny turn #TheChase."
"The f*** was that meant to be Shaun? #thechase," penned David Hendry while Gary B shared: "Jesus Christ Shaun!!! You need to get help! #TheChase."
Not put off by Shaun's impression, Libby managed to make it back to the Final Chase alongside Julia.
However, fellow players Noel and George were caught by The Dark Destroyer meaning it was left to Libby and Julia to take on Shaun in the Final Chase.
Sadly, the pair's score of 15 steps wasn't enough and Shaun sent them home empty-handed.
The Chase airs weekdays at 5pm on ITV.
Source: Read Full Article