Vikings Valhalla star 'literally wept' after wrapping season three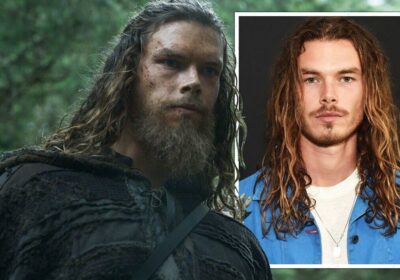 Vikings Valhalla: Netflix releases trailer for second season
We use your sign-up to provide content in ways you've consented to and to improve our understanding of you. This may include adverts from us and 3rd parties based on our understanding. You can unsubscribe at any time. More info
The second season of Vikings: Valhalla has only just been released with all eight episodes dropping in the middle of January. However, thanks to a three-season order from Netflix, the leading man Sam Corlett and his co-stars have already wrapped up their stint on the next instalment, giving the cast a well-earned break from the gruelling medieval action.
Corlett admitted he was incredibly relieved once filming for the third season of Valhalla came to an end.
The shoot for the whole series began back in October 2020 but was suspended due to a number of false positive Covid tests.
All three seasons were then shot pretty much concurrently, with the actors given just a short time to recover from each block.
"Knowing now that if season four gets greenlit, [we won't film] until 2024? I feel so open," Corlett revealed.
"In-between seasons one and two, and seasons two and three, I only had a few months between filming, so there was always a part of me that was still in it."
The Australian actor portrays Norse explorer Leif Erikson in the epic drama and had plenty of arduous hikes and intense action sequences to endure throughout filming.
He also revealed his character's "hardened energy" had started to encroach onto his daily life after portraying a Norse warrior for such a length of time.
"When season three wrapped, I literally wept," he told Esquire. "It was relief. I just cried."
The 26-year-old star landed his breakout role for the series, but fans won't have seen him elsewhere since 2020 due to his Vikings commitments.
Before being cast as Leif, he starred alongside Eric Bana in the Australian thriller film The Dry and had a recurring role as Caliban in The Chilling Adventures of Sabrina.
He's now looking forward to finding his next projects after spending two years filming the Netflix series in Ireland.
"And then I shaved my face clean," he added. "Which I hadn't done for three years, because I was scared I couldn't grow the moustache back."
DON'T MISS:
SWAT season 6 delayed in CBS shake-up [LATEST]
The Last of Us cast pay tribute to star after teaching sign language [INSIGHT]
Blue Bloods' Erin Reagan set for romance [THEORY]
The sheer length of production wasn't the only challenge Corlett and his co-stars Frida Gustavsson and Leo Suter had to overcome.
As well as the Covid scare at the start of filming, the Australian star had to get used to Ireland's lack of sun as well as last year's heatwave.
"I ran into a mate from Australia, who's one of the most Australian Australians," he shared.
"And he was like, 'My family's Irish, and when I got there, I was just so stoked that my ancestors left, because Australia is so nice – I couldn't live without the sun for that long.'"
"And that was a little gruelling at times. When we were filming all the deep winter scenes for season two, we had a heat wave.
"We were rugged up, like layers upon layers, and we're doing some scenes where it was real physical exertion.
"While we were filming, a couple of the cast blacked out, like full-on fainted because of the heat."
Netflix has yet to greenlight a fourth season or reveal when season three will be released, but fans can still enjoy all six seasons of the original Vikings on Prime Video in the meantime.
Vikings: Valhalla seasons 1-2 are available to stream on Netflix.
Source: Read Full Article