Vernon Kay to 'take over' Ken Bruce's Radio 2 show angering fans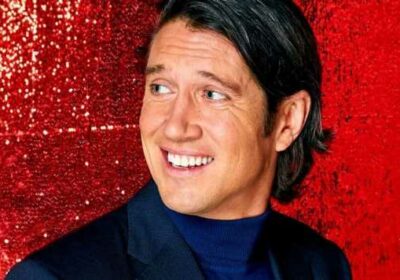 Long-time Radio 2 listeners have claimed the BBC station is "totally unrecognisable" following Ken Bruce's exit earlier this year. Family Fortunes star Vernon Kay is reported to be taking over the slot from April. However, the decision has been met with plenty of backlash.
Vernon is said to have landed the "biggest, most coveted" on radio, although his role is yet to be confirmed by the BBC.
A source told MailOnline: "Ken's show is the most listened to in Europe so Vernon has massive shoes to fill.
"But he's such a warm, easy presenter and listeners have really taken to him."
They added Vernon will bring "fresh ideas and content".
Ken Bruce bids farewell to BBC colleague
We use your sign-up to provide content in ways you've consented to and to improve our understanding of you. This may include adverts from us and 3rd parties based on our understanding. You can unsubscribe at any time. More info
However, he knows "how important this show is to listeners" and doesn't want to upset fans of Ken's shows.
Vernon "wants them to feel welcome and safe" and the BBC are said to be "hugely excited to have him on board".
His role on Radio 2 is expected to be confirmed in the coming days.
But as reports emerged this week, fans of Radio 2 have shared their disappointment at the recent changes.
Posting on Twitter, Dan Rowley shared: "Vernon Kay to replace Ken Bruce. Poor lad. It's like when Moyes replaced Fergie."
"I've been quite supportive of the changes to Radio 2 because the station has to change to reflect 40-year-olds of now," Dan Tapping posted.
"But Vernon Kay is not the correct replacement for Ken Bruce."
Fiona Rees complained: "This has had a huge impact on me. All negative… Vernon Kay now replacing Ken Bruce. Radio 2 is totally unrecognisable."
Meanwhile, Dom B shared: "His style and show format just isn't bouncy enough for Radio 2 audience 30 upwards.
"They should of got Vernon Kay and kept it 3 hours long interviewing guests when Ken Bruce retires or gets forced out if they change his show duration think I'll be done with Radio 2 for good."
However, some listeners were supportive of the move as Rich S tweeted: "People whingeing that Vernon Kay is replacing Ken Bruce on Radio 2, saying its not a station for older people anymore.
"Ken Bruce was 35 when he got the mid morning show. Vernon Kay is 48."
David Barnett added: "Vernon Kay is exactly the right person to replace Ken Bruce.
"He's put in the hours as a stand-in, he's Gen X so totally the right Radio 2 demographic, he's a seasoned broadcaster, he's entertaining, and he's got great taste in music. Who do people want, Miles Cholmondley-Warner?"
Vernon is yet to address the reports himself but has plenty of presenting experience.
Source: Read Full Article