Venom 2 cast: Who is in the cast of Venom Let There Be Carnage?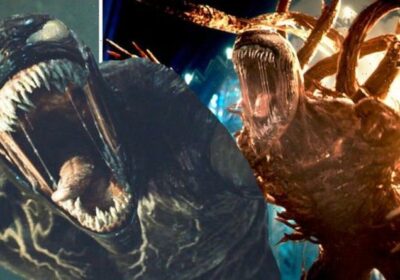 Venom: Let There Be Carnage trailer stars Tom Hardy
When you subscribe we will use the information you provide to send you these newsletters. Sometimes they'll include recommendations for other related newsletters or services we offer. Our Privacy Notice explains more about how we use your data, and your rights. You can unsubscribe at any time.
Venom: Let There Be Carnage is finally coming to cinemas after more than a year of delay. Tom Hardy stars once again as the antihero, in the film from the Sony Pictures Universe of Marvel Characters (SPUMC). The trailer has renewed excitement and interest in this particular franchise, especially at the sight of new character Shriek.
Who is in the cast of Venom: Let There Be Carnage?
The cast is led, like in the first film, by Tom Hardy, who plays Eddie Brock, AKA Venom.
Another returning star is Michelle Williams, who plays Eddie's ex Anne Weying, and Reid Scott plays Anne's new boyfriend, Dan.
In the mid-credits sequence of the first film, another character arrived, who is the namesake of the sequel: Cletus Kasady, AKA Carnage.
The supervillain is played by Woody Harrelson, who becomes the main antagonist in the second movie from the franchise.
Naomie Harris plays Shriek, whose presence in the trailer has excited many fans, despite her only being seen for a very short moment.
Stephen Graham also joins the cast as Detective Mulligan, who is trying to get some important answers about Kasady, and hopes Eddie may be able to help.
Other supporting roles are played by Sean Delaney and Larry Olubamiwo, while Mrs Chen also returns to the franchise, played by Peggy Lu.
When is Venom: Let There Be Carnage out in cinemas?
As the government's roadmap seems to be continueing as planned, cinemas will be back open and running after May 17.
If cinemas remain open, Venom 2 should be released as planned on September 24, 2021.
Last year, the film was scheduled to be released in October 2020, though this was pushed to June 2021.
After this still proved potentially too early, the movie was moved again to September 2021, until its final release date was chosen as September 24.
The film's director, Andy Serkis, explained the film was mainly edited in lockdown, saying in May 2020: "I started editing and then we had to shut down.
"The editor flew back to the States and I've been editing remotely.
"It's no bad thing because we can spend more time with the visual effects and, ultimately, it's probably better for the movie."
Earlier this year, he added: "I'm super excited about it. Again, it's not something I can particularly talk about right now because we're saving it for when everybody can go and enjoy it in the cinema.
"I don't want to blow it or talk about it too much before then, but I've had a ball working on that film.
"It's been great… I hope you won't feel disappointed. It was a real pleasure working on it."
Alongside Venom 2, Morbius, the next movie in the SPUMC to come out, was also delayed.
Morbius was supposed to be released before Venom 2, in July 2020, but has now been pushed back even later, to January 2022.
This has led fans to question whether the movie's post or mid-credits scenes have been switched around, or if changes have been made to the movies in post-production for them to be released in this order.
Venom: Let There Be Carnage is out in cinemas on September 24
Source: Read Full Article