Venice Chief Alberto Barbera On Potential Oscar Contenders, Why 'Challengers' Dropped Out, The "Useless" Polanski Debate & The Call He Had With Bradley Cooper About 'Maestro' & The Strikes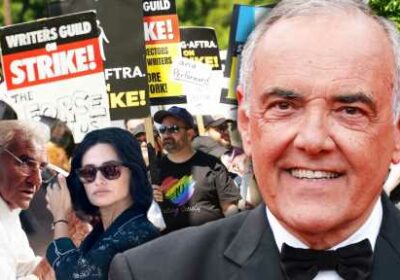 Venice Film Festival head Alberto Barbera spoke to us soon after revealing his latest stellar lineup, including movies from David Fincher, Michael Mann, Bradley Cooper, Pablo Larrain, Sofia Coppola, Yorgos Lanthimos and Ava DuVernay.
Despite the challenge of two Hollywood strikes, the 80th edition of the world's oldest film festival is shaping up to a memorable occasion, full of talking points and discoveries.
The festival was dealt a blow last week when MGM and Amazon pulled Zendaya starrer Challengers from its opening slot due to the strike. But that wasn't the cue for a studio and streamer exodus. Instead Barbera said today that Challengers was the only movie to pull out of the festival.
Related Stories
Guilds
SAG-AFTRA Chief Duncan Crabtree-Ireland Blasts Studios At Big Times Square Rally – Watch
Breaking News
Venice Is Still Hopeful That Its Red Carpet Will Be Full Of Stars If Movies Such As 'Ferrari', 'Priscilla' & More Are Granted SAG-AFTRA Interim Agreements
Here's our chat with Barbera about the lineup and some of the hot button topics to emerge from today's announcement.
DEADLINE: Congratulations on pulling together a strong lineup despite the obvious and large challenges. How much convincing did you have to do of the studios and streamers?
ALBERTO BARBERA: Very little, actually. The only really difficult discussion we had was with Amazon and MGM about Luca's [Guadagnino] film. From the beginning, they were anxious. They spent a week discussing it, as did Luca and I. Luca tried to convince them to make a different decision. It was difficult and complicated but on Thursday morning Sue Kroll [Amazon's Head of Marketing] called me to tell me the decision. We had to scramble to find a replacement opening film. We were sorry to lose Challengers because it's a spectacular film. They ultimately thought that it would hurt the film's commercial prospects to launch the film without Zendaya's support.
DEADLINE: I suppose a more traditional studio with a more commercial film like the Dune sequel or A Haunting In Venice doesn't necessarily need a festival launch as much as some other types of movie …
BARBERA: I don't think it's that. I closed the lineup two weeks ago. All the movies announced today were invited before the strike. In the first couple of days of the strike there were a lot of meetings at the studios. There was a lot of panic across the entire industry. But we got confirmation from our studios early last week. We didn't get any calls from them saying they may pull out. We know some talent won't be able to attend. But the impact of the strike on Venice will be quite limited in the end and only relates to those actors who can't attend with studio or streamer movies.
DEADLINE: You gave a memorable launch to Bradley Cooper's A Star Is Born some years ago but I gather that Cooper is unlikely to make it this time given that he stars in Netflix-produced Maestro as well as directs and produces…
BARBERA: Yes, Bradley won't be in Venice if the strike is ongoing. He called me to tell me that he really wants the movie to be in Venice but that he wouldn't be able to attend given the SAG strike. He said he wouldn't want to do that to SAG or his fellow actors.
DEADLINE: I've tallied the actors who could potentially be here with indie movies. It's still a very strong list. Are you aware of any movies in your lineup that have received Interim Agreements from SAG and have any actors confirmed their attendance with you?
BARBERA: There should still be a very strong lineup of actors in attendance if the productions can get dispensation from SAG. But in answer to your two questions, no, not so far.
DEADLINE: Which of the movies in your lineup stand out as potential Academy Award pictures?
BARBERA: For sure Michael Mann's film Ferrari; for sure David Fincher's film The Killer; and Bradley Cooper's film Maestro. I'd be surprised if these movies weren't in the Oscar race.
DEADLINE: One year after we had Baz Luhrmann's movie about Elvis, what can you tell us about Sofia Coppola's new film Priscilla?
BARBERA: It's another point of view. Sofia wants to tell the real story of Priscilla and I think she succeeds. Priscilla Presley herself is happy with the film. I'm not sure the rest of the family are as in favor of it but she is very supportive and likes the movie — that's confirmation that the movie succeeds. It's an intimate film, though. It's the opposite of Baz Luhrmann's movie.
DEADLINE: After Mank, it looks like The Killer will take David Fincher back to his more familiar thriller terrain?
BARBERA: Yes, absolutely. It's based on a French graphic novel and the film is very violent. It's breathtaking from beginning to the end. Michael Fassbender is fantastic.
DEADLINE: You have at least a couple of names in the lineup who will generate debate, not all of it positive. Did you have any doubt about including Roman Polanski in the lineup?
BARBERA: Not at all. We invited Roman three years ago and he won the Grand Jury Prize for his film. Why would we have any doubt about inviting his new one if his last one just a few years ago did so well? Nothing has changed. The debate hasn't changed. We're stuck in this useless situation that doesn't make any sense from my point of view. Roman has admitted his behavior and accepted it was wrong. The victim has forgiven him multiple times. Why do we need to continue to attack an 89 year-old master of cinema.
DEADLINE: You said today that he wouldn't be coming to the festival. Why is that?
BARBERA: He can't travel because of the extradition agreement between Italy and the U.S….The situations of Woody Allen and Luc Besson are different. Allen has not been found guilty of anything and was much investigated in the 1990s and Besson recently had his case closed by a French court and he was cleared of all charges against him. We're discussing things that don't exist. As a festival, my position is that we need to make a distinction between the behaviour of the artist and the art itself. Otherwise we need to reevaluate art throughout all of history.
DEADLINE: Did you ask your team — including the female members — whether they were comfortable with Polanski's inclusion?
BARBERA: They are. I didn't get one objection.
DEADLINE: Which movie in Competition might surprise people?
BARBERA: There are a few we didn't see coming. The new film from Hamaguchi [Ryûsuke Hamaguchi, director of Drive My Car], for example. It's a masterpiece. It's not too long. It's a beautiful film about the environment and the effects of climate change. Hamaguchi is a real artist.
DEADLINE: It sounds like Malgorzata Szumowska and Michal Englert's Polish film Woman Of is a strong one and will be a talking point in its homeland given its subject of gender transitioning…
BARBERA: Yes, it will be controversial in Poland, which is one of the most transphobic countries in Europe. The film is very brave and takes a stand. It's a very human drama about a man who wants to become a woman. I think the plan is to release the film in Poland soon after Venice.
DEADLINE: You mentioned earlier today that Hungarian film Explanation For Everything by Gabor Reisz, which is playing in the Horizons section, would surprise people and is worthy of Competition inclusion. Why isn't it in Competition?
BARBERA: We saw the film early. We immediately invited it to the Orizzonti competition back in March or April. We said there was a chance it could be promoted to the Competition but in the end there were just too many films in Competition. But it's a great movie.
DEADLINE: What are some of the movies you wanted but couldn't have? Dune: Part Two, Napoleon, A Haunting In Venice, Blitz perhaps?
BARBERA: Warner Bros told me back in February that Dune: Part Two wouldn't be ready. As for Napoleon, the film isn't entirely ready but it's also that Apple wasn't overly keen to come to Venice. Budget seemed to be an issue for them. I didn't entirely understand it. I hope to meet them soon and figure something out for next time. I don't think Blitz was ready either. And as for A Haunting In Venice, best to confirm with Disney. We discussed it with them but ultimately the decision was for it not to play here.
DEADLINE: Are there any particular celebrations planned for the 80th anniversary of the festival?
BARBERA: We're not planning a special party at the moment. We do have this beautiful documentary about the history of the festival made by Canal Plus and Rai. It's brilliant. It'll air on Saturday 2nd September. Carla Bruni is narrating in both French and Italian versions.
Must Read Stories
Fest Sets Lineup, Still Hopes For Starry Red Carpet; Controversy, Diversity & More
SAG-AFTRA's Duncan Crabtree-Ireland Rips Studios At Big Times Square Rally
'Barbie' Breaks Monday WB Record After Dual Pics' Weekend For The History Books
Ex-'Jeopardy!' Winners Boycott Champions Tourney Over Strike-Fueld "Recycled Material"
Read More About:
Source: Read Full Article