Van der Valk season 2, episode 3 cast: Who is in Payback in Amsterdam?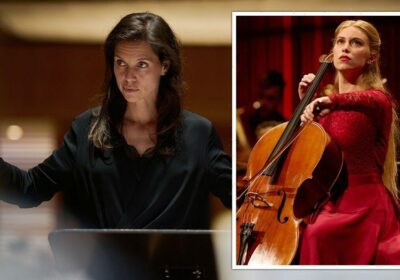 Van der Valk: Maimie McCoy reveals return of past character
We use your sign-up to provide content in ways you've consented to and to improve our understanding of you. This may include adverts from us and 3rd parties based on our understanding. You can unsubscribe at any time. More info
Van der Valk is back on ITV with the final episode of season two and the instalment is called Payback in Amsterdam. Piet Van der Valk (played by Marc Warren) and Lucienne Hassell (Maimie McCoy) investigate after the victim of an acid attack dies. Express.co.uk has all you need to know about who is guest starring in the episode.
Who is in Payback in Amsterdam?
Femke de Haan – Eva Marie de Waal
Femke has a small role in the previous season as Lucienne's ex-girlfriend, and she has come back as a ghost of Lucienne's past.
She is a classical music conductor who is at the heart of a murder investigation.
The character is played by Eva Marie de Waal, an actress who was born in Amsterdam.
She is known for her roles in De spa, Westernwind, De co-assistent and Goede tijden, slechte tijden.
Anouk Prinsens – Jeany Spark
Anouk Prinsens is played by Jeany Spark, a 39-year-old English actress known for Wallander and Man Down.
Viewers may also recognise her from The Interceptor and Collateral.
Stefan Bodecker – Adrian Schiller
Adrian Schiller plays Stefan in the episode and he is a 58-year-old actor known for playing Aethelhelm in The Last Kingdom.
The star is also known for his roles in Being Human, A Touch of Frost and Victoria.
Jan Ludlow – Mark Rietman
Jan Ludlow was played by Mark Rietman, a 61-year-old Dutch actor who is mostly known for his film roles.
His notable credits include Family, Riphagen, The Right to Know and Love Hurts.
Christiaan Timmerman – Michiel Nooter
Christiaan Timmerman is played by Michiel Nooter, a 56-year-old actor with a number of TV credits to his name.
He played various characters in Nieuw Zeer, and starred in Koppensnellers, Komt een man bij de dokter and De 12 van Oldenheim.
Carol Broeker – Lidewij Mahler
Lidewij Mahler plays Carol in the series and she is a 41-year-old actress from The Netherlands.
She has starred in a number of film, TV and theatre roles with credits including Waltz and Murder Woman.
DON'T MISS…
Ridley release date, cast, plot: When will Ridley come out on ITV? [INSIGHT]
Vera star addresses new job away from series 'A tough act to follow' [INTERVIEW]
Van Der Valk star on filming worry 'Questioned whether it was doable' [INSIGHT]
Quinten Arkes – Daniel Kolf
Quinten is played by Daniel Kolf, a 25-year-old actor known for Forever Rich and Follow de SOA.
His other credits include Nieuw Zeer and Edelfigurant.
Hester Gill – Sallie Harmsen
Sallie Harmsen plays Hester Gill and she is a 33-year-old Dutch actress known for playing Simone in In Real Life.
She also co-starred along with Robert de Hoog in a series based on the American outlaws Bonnie and Clyde.
Ivo de Witt – Kay Greidanus
Ivo de Witt is played by Kay Greidanus, a 31-year-old Dutch actor based in Amsterdam.
The star made a national breakthrough in the internationally acclaimed short film, Sevilla.
His other credits include Riphagen, Nieuwe Buren and Huisvrouwen Bestaan Niet.
Fleur Mas – Hadewych Van Gent
Fleur Mas is played by Hadewych Van Gent, an actress who will be making her TV debut in Van Der Valk.
Other guest stars include Shereen Cutkelvin as Elisha Cloovers and Thomas Acda as Arjan Hersi.
Van Der Valk airs on ITV on Sunday at 8pm.
Source: Read Full Article