Tubi Founder & CEO Farhad Massoudi Departs As Fox Creates Tubi Media Group Led By Paul Cheesbrough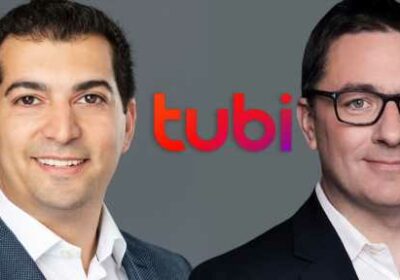 Fox Corporation is restructuring its digital operations by forming the Tubi Media Group as Farhad Massoudi, founder and CEO of the Fox-owned free, AVOD platform Tubi, is leaving the company.
The Tubi Media Group will be led by Fox Corp. CTO and President of Digital Paul Cheesbrough, who has been named CEO of the unit which will sit alongside sports, news, entertainment and TV stations. The new division will have three lines of business: Tubi Streaming, which will house Fox's current AVOD business; AdRise, a large scale video advertising network that incorporates all of Fox's video inventory (including Tubi, Fox Sports, Fox Entertainment, Fox News, TV Stations and more); and Fox Digital Platforms Group, which contains Blockchain Creative Labs, and Credible as well as the platform services that cater to Fox's sports, news and entertainment products and services. AdRise is named after the original ad network Massoudi launched before creating Tubi as a content business on the front of it.
Related Story
'Krapopolis': Alex Rubens To Serve As Showrunner For Seasons 2 & 3
Massoudi founded Tubi in 2010. In spring 2020, the streamer was acquired by Fox Corporation for $440 million, with Massoudi remaining as CEO of what has remained an independent service within Fox.
Three years later, he is returning to his entrepreneurial roots and will leave Fox at the end of June after helping with the transition. Search is underway for a new Tubi CEO who will continue to report to Los Angeles-based Cheesbrough.
Since being acquired by Fox, Tubi has grown its footprint through access to Fox shows and content library deals and has ventured into original programing, largely movies produced by Fox-owned Mar Vista Entertainment. In its first year as part of Fox, Tubi more than tripled its upfront revenue and has regularly been listed as a main revenue driver during Fox's quarterly earnings reports, growing 400% overall since joining Fox and recently crossing the 1% Nielsen rating threshold.
"Our strategic acquisition of Tubi in 2020 established a cornerstone in our digital streaming strategy, which under Paul and Farhad's leadership has driven record growth and is now the clear market leader in AVOD in the US," said Lachlan Murdoch, Executive Chair and CEO, Fox Corporation, to whom Cheesbrough continues to report. "Building off this momentum, and complementing the strong growth being driven in our company wide digital revenues, now is the right time to bring these efforts together into a new business unit which will be tasked with spearheading our digital expansion and partnering with our brands to drive continued growth."
Going forward, Tubi will stay the course, doubling down on the current strategy set by Cheesbrough and Massoudi and further increasing the number of originals, while keeping autonomy within the new Fox business unit.
"With a strong foundation to build off, from Tubi's unrivaled growth in the AVOD space to our record setting 4K streaming operation for Super Bowl LVII, I'm looking forward to working with our talented team to drive this growth for Fox," Cheesbrough said. "I'd also like to take this opportunity to thank Farhad for his partnership over the past few years. He's a true pioneer in the streaming space and saw the opportunity in AVOD long before others."
Through Tubi, Fox was an early AVOD adopter before the model was fully embraced by almost all major streamers, including Netflix, and Cheesbrough, who has overseen the acquisition and management of Tubi, remains bullish on the platform's future amid an industry-wide streaming reckoning.
In the most recent 2Q report in February, Fox Corp. touted another strong quarter for Tubi, with total viewing time up 41% year-on-year and ad revenue rising 25% year-over-year. This past December, Tubi had "the highest TVT and highest user month ever," Murdoch said in February.
"It has been an incredible three years since the acquisition of Tubi, leading to its great success within the Fox family," said Massoudi. "I am grateful to both Lachlan and Paul for their guidance, support, and partnership. I know that I am leaving Tubi in the best shape it has ever been, and its future is very bright."
Must Read Stories
Union Sends Out Strike Rules To Members As Hollywood Labor Shutdown Looms
'Maisel' Duo's Ballet Drama 'Étoile' Gets 2-Season Prime Video Order; Luke Kirby, Camille Cottin Star
Latest Layoffs Hit ESPN, Unscripted & PR Staffers, Film Side; Nate Silver Exiting ABC News
Reactions To Debut Screening At CinemaCon; New Trailer; Helmer Lauds Ezra Miller
Read More About:
Source: Read Full Article