Tipping Point derailed as innuendo leaves Ben Shephard in stitches: 'Sounds so weird!'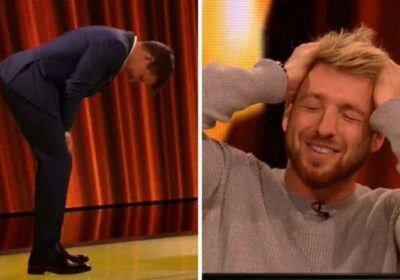 Tipping Point: Ben and Sam laugh at 'cockchafer' question
When you subscribe we will use the information you provide to send you these newsletters. Sometimes they'll include recommendations for other related newsletters or services we offer. Our Privacy Notice explains more about how we use your data, and your rights. You can unsubscribe at any time.
On Sunday's Tipping Point: Lucky Stars, Ben Shephard introduced reality star Sam Thompson, comedian Suzi Ruffell and actor Stephen Mangan to the ITV quiz show. The celebs had to battle it out against each other in the hopes of winning some mega-money for their chosen charities. Despite not getting off to the best of starts, Sam somehow managed to make it through to the final.
After making a few mistakes in the first round, Sam still managed to come out on top, winning £1,100 in his prize fund, while Stephen and Suzi bagged themselves £500 and £100.
Suzi was the first celeb to be sent home after she only managed to earn £300 for her chosen charity – leaving Sam and Stephen to compete for a place in the final.
After a tense second round, Sam sneaked through to the final after bagging £3,000 in his prize fund while Stephen ended on £2,700.
However, poor Sam didn't get off to the best of starts in the final after he got the answer to the first question wrong.
The reality star decided to pick "sport" for his first category because he felt confident he could get the answer right.
Ben asked: "Which of the following is NOT one of the mountains climbed as part of the National Three Peaks Challenge?"
Ben gave Sam a choice of three answers which included Snowdon, Scafell Pike and Helvellyn.
"Have you ever done Three Peaks?" Ben quizzed.
"Snowdon is going to be one of them," Sam said confidently.
Ben continued: "So have you heard of the other two – Scarfell Pike and Helvellyn?"
After admitting he didn't have a clue, Sam decided to go with Scafell Pike because he thought he had heard of Helvellyn before.
"Come on, it was Helvellyn," Sam said when the correct answer was revealed. "That's your fault."
Things quickly picked up for the 28-year-old as he stormed through the final round.
However, he soon stumbled across a question that led him to drop a hilarious innuendo.
"What type of animal is a cockchafer?" Ben asked with a straight face.
Sam couldn't believe that it was a serious question as he simply replied: "You're joking?"
Giving Sam the answers he had to choose from Ben continued: "Snake, a bird or an insect."
"I just…whoever is naming these things," Sam laughed. "I don't think you call a snake a cockchafer, so I'm taking snake out.
"With an insect, I've never heard 'Oh, watch out for the cockchafer,' like they can bite you, you know what I mean?
"Oh, the cockroach…so there are cocks in insects. That sounds so weird, I'm so sorry."
Up until that point, Ben had been able to hold a straight face, although Sam's last comment left him in stitches and he found it so funny he hunched over with laughter.
In the end, Sam decided to give the answer of bird – which turned out to be incorrect.
After answering all of the questions, Sam had to decide whether to risk the money he had won for the £20,000 jackpot.
However, he decided to keep his £5,200, which he won for his chosen charity.
Tipping Point continues weekdays at 4pm on ITV.
Source: Read Full Article