This Morning 'facing boycott' from A-listers after Holly and Phil reunion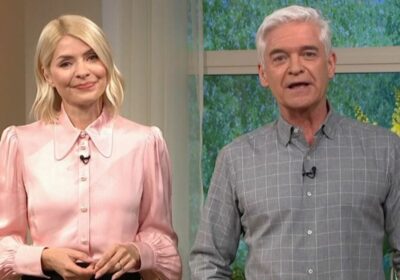 Dan Wooton: Phillip Schofield is the 'the most loathsome person on TV'
Dan Wootton didn't hold back when sharing his thoughts about Holly Willoughby and Phillip Schofield's reunion on This Morning.
The presenters were all smiles as they put on a united front when hosting the ITV programme on Monday.
However, the GB News host has since labelled the duo's "fake laughter" as "excruciating" before claiming a number of celebrities have refused to go on the show.
He said: "I am also aware of at least two A-list This Morning regulars who have made it clear to bosses that they will not return to the show while Phillip remains in his job.
"One star explained: 'It is absolutely disgusting that ITV takes the moral high ground over lots of issues, but then continues to give their major daily presenting slot to Phillip, despite the tonne of complaints that have been made against him.
"'Lots of us have now told our agents that we will not be appearing on This Morning while he is still there'."
He added in his Daily Mail column: "A boycott of major stars would further heap the pressure on ITV bosses to take action sooner rather than later."
It is not the first time Dan has made his views known about Phillip as during one of his recent GB News shows he branded the presenter "unpleasant".
He fumed: "I think Holly is getting sick of the fact that he tries to dominate, and being fed of interrupting her.
Don't miss…
Vicky McClure fans not impressed by her 'terrible' wig in new TV drama[REACTION]
Coronation Street exit fears as beloved resident makes heartbreaking decision[SPOILERS]
Ruth Langsford 'loving drama' with Phillip Schofield hours after Eamonn's dig[LATEST]
"Ruth Langsford actually made a formal complaint to ITV bosses. Phillip Schofield is the most loathsome bloke on television."
Eamonn Holmes also launched an attack on Holly and Phillip during his GB News show on Monday.
He shared with his co-star, Isabel Webster: "I think there should have been a special award for Phillip Schofield and Holly Willoughby for best actors.
"They may or may not be together on the telly today. The public surely will suss that there's no chemistry, that it's a broken fit between the two of them and that This Morning does not depend on who presents it."
"It's an institution, it will carry on no matter who presents it and anyone can check the viewing figures, there's no difference between whether they present it or anyone else."
Dan and Eamonn's rant comes after it was reported Holly and Phillip's friendship had broken down off-screen.
Holly is yet to publicly comment on the "feud" claims, but last week, her co-star issued a statement where he said Holly is "still my rock".
He went on to admit the past few weeks "haven't been easy" for either of them.
Tonight with Dan Wootton airs weekdays from 9pm on GB News.
Source: Read Full Article