These Are the 16 Best, Scariest, and Yikes-iest Horror Movies Coming Out in 2020
Here at Cosmo, we like to focus on the positive. And if there's one thing that 2020 has accomplished, it's made watching scary movies soooo much easier. Allow me to explain.
Cast your mind back to 2019. The Khloe Kardashian-Tristan Thompson-Jordyn Woods drama is blowing up your feed. "Old Town Road" is #1 on the charts. You're torn between going to see Midsommar in theaters or waiting a couple months until you can stream it. You want to know what all the hype is about, but those $20 rooftop drinks have really made a dent in your bank account. These are your biggest concerns.
Now, snap back to reality. In 2020, catching up on the best new horror movie is easy―just read the news!!!!
In all seriousness, when reality feels like a nightmare, why not distract yourself with a legit horror movie? A thing with a script and professional actors and, most importantly, an *ending* after 90 minutes. Take a break from the 2020 horror show with one of the scariest movies to come out this year. And hey, look on the bright-side: at least the ghost of your ex isn't tryna kill you!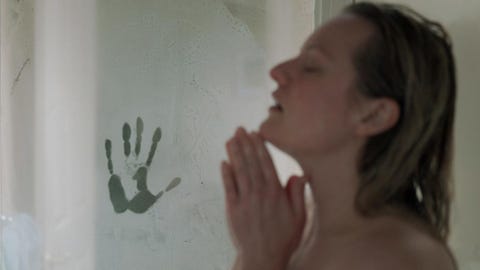 The Grudge (January 3, 2020)

Hollywood loves to remake the classics, and horror movies contain especially ripe material. If you thought the 2004 Grudge was terrifying, just wait—the modern advancements in special effects and editing have taken things to the next level. In this remake, a house cursed with a vengeful ghost isn't afraid to kill violently. Yeah, shudder.
Stream
Underwater (January 10, 2020)
What would you do if you're six miles beneath the ocean surface and suddenly water crashes into the walls of your drilling station and your only hope of survival is to traverse across the ocean floor to the main facility? I think I'd accept it was my time and say "y'all go on ahead." Not Kristen Stewart. An aquatic Alien-esque horror, Underwater is a claustrophobic nightmare featuring the worst of your deep-sea monster fears.
Stream
The Turning (January 23, 2020)
A modern take on Henry James' novella The Turn of the Screw, this film stars Finn Wolfhard and Mackenzie Davis. (Side note: Shout-out to Finn for absolutely killing all his scary-movies roles recently.) Young governess caring for two kids after their parents die is the basic plot here. Nothing quite as scary as 19th-century orphans, amirite?
Stream
Gretel & Hansel (January 31, 2020)

Gretel & Hansel is not your grandmother's fairy tale. Prepare to enter a magical, creepy, surreal world in this incredibly artful yet violent retelling of the classic bedtime story. If you weren't spooked the first time you heard the folklore tale, this movie will have you sleeping with the lights on.
Stream
The Lodge (February 17, 2020)
If you were thinking about heading upstate and living your best rustic cabin life, you might wanna watch The Lodge first. Or if you really love a good thrill, wait 'til you're cuddled up next to a crackling fire and then turn it on. To be honest, no matter when you watch, The Lodge, a disturbingly scary, atmospheric horror, will bring everything you feared about going away in the woods to life.
Stream
Brahms: The Boy II (February 21, 2020)
Katie Holmes stars in this highly anticipated sequel to the popular 2016 horror The Boy. Holmes plays a mother who recently moved her family to a guest house on a—unbeknownst to her—haunted estate. Her young son becomes friends with a creepy, life-like doll called Brahms who begins to terrorize the family. If you don't already harbor ridiculous paranoia about dolls, well, that's about to change.
Stream
The Invisible Man (February 24, 2020)
Another reboot of a classic that majorly delivers. Cecilia (played by Elisabeth Moss) escapes her abusive boyfriend, and two weeks later, she learns that he has died by suicide. She's offered $5 million from his will—but only on the condition that she can prove she's mentally competent. Which would be totally fine and easy…if she wasn't being tortured by an invisible stalker that nobody else can see.
Stream
Swallow (March 6, 2020)
Swallow is another IFC Film that leaves you simultaneously thinking wtf did I just watch and freaking out so much you can't stop shivering. About a picture-perfect housewife with a secret habit of swallowing inedible objects, Swallow is a chilling story centered around the eating disorder Pica. A psychological thrill that you will feel for d-a-y-s after.
Stream
The Hunt (March 13, 2020)
Emma Roberts and Hilary Swank star in this controversial movie—the target of Trump's tweets before it was even released—about elite humans hunting other, lesser (read: not wealthy) humans. If you want to read more about the controversy surrounding this movie, head over here.
Stream
The Platform (March 20, 2020)
This Spanish film is not your typical zany horror movie; it's a slow, intense, psychological science-fiction mind-f*ck that analyzes human instinct in the face of senseless inequality. Basically, it's a criticism of capitalism and the class divide, with some gnarly cannibalism thrown in for good measure.
Stream
Relic (July 3, 2020)
It's rare for the horror format to offer profound commentary on the human condition, which is why Relic stands out. Rather than a ghost, the demon in this film is dementia. It's tough to say what will haunt you more in this slow burn: the classic haunted-house tropes, or the brutal depiction of the slow decay of Alzheimer's.
Stream
Host (July 30, 2020)
It was only a matter of time before "quar-hor" became a thing and now that it's here, there's no turning back. Host is a spine-chilling film about a demonic entity unleashed on Zoom. Yup, Zoom. Preying on the pandemic paranoia of finding safe ways to interact with people, Host taps into the all-too-real concern that online meetings are not as safe as we thought—and hoped—they'd be.
Stream
Antebellum (September 18, 2020)
Janelle Monae stars in this Underground Railroad-inspired horror flick that switches between the pre-civil war south and present day. Produced by the same people who made Jordan Peele's hugely successful films Get Out and Us, Antebellum is pretty much guaranteed to blow your mind.
Candyman (October 16, 2020)
Candyman is the long-awaited sequel to the 1992 horror movie of the same name. Directed by Nia DaCosta, a rising name in the horror genre, the movie is also produced and co-written by Jordan Peele. Check out the trailer because I'm too spooked to even write down the basic plot points and whatever you do, do NOT say his name five times into a mirror.
Come Play (October 23, 2020)
It's a new age for horror—one where monsters infiltrate our ever-present cell phones and tablets. At least that's what happens to Oliver, a young boy struggling with social interaction who finds solace in his devices. Is it a social critique about our dependency on gadgets? Is it a prediction that electronic devices will one day kill us all? Either way, I'm gonna try to spend more time away from my iPhone…just to be safe…
Army of the Dead (December 31, 2020)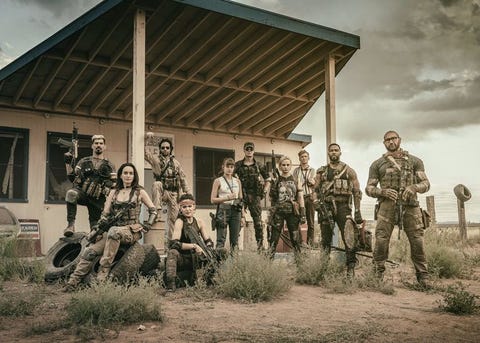 Horror fans are super excited about this one—mainly because it has all the trappings of a perfectly gonzo scary movie. A group of mercenaries try to pull off a heist during a ZOMBIE OUTBREAK in Las Vegas. This film, which stars Dave Bautista and Chris D'Elia, will be released on Netflix on New Year's Eve. Can't wait. There's no trailer yet, so hopefully that sick pic above is enough to hold you over for now.
Source: Read Full Article