The Wire stars lead tributes as Michael K Williams dies at 54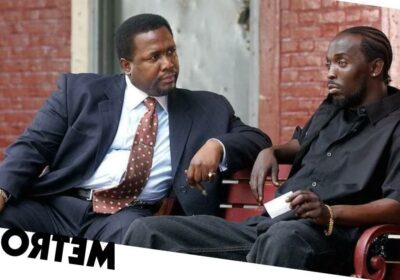 Stars of The Wire have shared their memories and tributes to Michael K Williams in the wake of the news the actor has died at 54.
His long time rep Marianna Shafran told Metro.co.uk in a statement: 'It is with deep sorrow that the family announces the passing of Emmy nominated actor Michael Kenneth Williams.
'They ask for your privacy while grieving this unsurmountable loss.'
The star's cause of death has not been confirmed but The Post reports he was found by his nephew in his Brooklyn apartment.
Actors from the critically acclaimed drama, about Baltimore's inner-city drug scene, have paid tribute on social media to the Boardwalk Empire star.
Wendell Pierce, best known for playing Detective William 'Bunk' Moreland in the programme, shared: 'The depth of my love for this brother, can only be matched by the depth of my pain learning of his loss.
'A immensely talented man with the ability to give voice to the human condition portraying the lives of those whose humanity is seldom elevated until he sings their truth.
'If you don't know, you better ask somebody. His name was Michael K. Williams. He shared with me his secret fears then stepped out into his acting with true courage, acting in the face of fear, not in the absence of it. It took me years to learn what Michael had in abundance.
'He was proud of the artist he had become, asking for my advice long after he had surpassed any incite I could have shared.
'Always truthful, never inauthentic. The kindest of persons. Like two mischievous kids, we would laugh & joke whenever we would meet. Like Baltimore years ago.'
Director James Gunn said: 'Michael K Williams, in addition to being one of the most talented actors around, was also one of the kindest, sweetest, most gentle souls I've ever met.
'This is heartbreaking. My thoughts are with all those who loved him.'
Lovecraft Country star Darryl Stephen said: 'Michael K Williams was truly a class act. Seeing him work on the set of Lovecraft Country blew me away.
'Not only was he warm and kind, he was so generous with his spirit and energy. He treated us like old friends. I'm keeping his family and loved ones in my thoughts. Such a loss.'
Actress Aisha Tyler tweeted: 'Michael K Williams was a beautiful, passionate, expansive soul. I felt so lucky to have known him, and we were all so fortunate to have enjoyed his incredible talent. He burned so very bright.
'Rest in power, MKW. You will forever be The King.'
Game of Thrones and Fast and Furious star Nathalie Emmanuel said on Twitter: 'Ugh this one hurts 💔💔💔 Michael K Williams was one of the best to ever do it. And was a really warm, sweet man the few times I had the pleasure of meeting him.'
Hidden Figures star Aldis Hodge wrote on Instagram: 'I can't even believe this.
'Rest in power, Mike. You were always a good brother. A fantastic artist and an even better human being. We'll miss you.'
Actress Niecey Nash wrote: 'My God 💔 🥲 Rest well friend 🕊 @bkbmg You we're a beautiful soul, a kind spirit & a good time… a talent beyond measure.
'Thank you for the many times we traded energy and you made me feel like family. You left us too soon… Praying for your loved ones.'
Leslie Jones, who appeared with him in Ghostbusters, said: 'Not gonna lie this one fucked me up y'all!! Michael K Williams was a solid dude. He was so nice to me when we did ghostbusters and we bonded on many levels!!
https://www.instagram.com/p/COjM-f6hxYo/
'Damn I was just thinking the next time I saw him I was gonna tell him how dope of an actor he is. Damn y'all we lost a good one. Rest in love my brother.'
Taraji P Henson also took to Instagram to say: 'Rest well my friend. JESUS!!! You will be missed deeply.'
Actor Mario Cantone said: 'What a heartbreaking loss. Sweet Michael K. Williams. Rest In Peace humble genius.'
As well as featuring in his infamous role as Omar Little in The Wire, he also appeared in Boardwalk Empire as Chalky White.
Michael also starred in HBO telefilm biopic Bessie and had supporting roles in other film and TV shows such as The Road, 12 Years A Slave, When They See Us and The Night Of.
The news of his death comes just days after it was announced he was set to play Doc Broadus in an upcoming George Foreman Biopic.
The actor, who was five time Emmy nominated, had won the role as Foreman's trainer and mentor who took him to legendary status.
Most recently, he played Montrose Freeman in Lovecraft Country, which earned him his fourth Emmy nomination.
Williams is also set to star alongside Letitia Wright upcoming feature film Bron Studios' Surrounded.
Got a story?
If you've got a celebrity story, video or pictures get in touch with the Metro.co.uk entertainment team by emailing us [email protected], calling 020 3615 2145 or by visiting our Submit Stuff page – we'd love to hear from you.
Source: Read Full Article