The Untold Truth Of Aaron Sorkin
Aaron Sorkin is one of the most prolific writers of his generation. He's written "A Few Good Men," "The American President," "Moneyball," "Steve Jobs," "Charlie Wilson's War," and "The Social Network," for the big screen, per IMDb. On television, he's the man who brought us "The West Wing," "Sports Night," "Studio 60 on the Sunset Strip," and "The Newsroom." Most recently, he wrote and directed Netflix's "The Trial of the Chicago 7."
Since his divorce from Julia Bingham in 2005, he's been linked to a number of famous women, including "West Wing" actor Kristin Chenoweth, columnist Maureen Dowd, "Sex and the City" actor Kristin Davis (per The Washington Post), and supermodel Paulina Porizkova. He and Porizkova made their debut as a couple on the red carpet of the 2021 Academy Awards. Sorkin and Porizkova split in July 2021.
Sorkin lives the good life, that's for sure. For all of his work, Sorkin has amassed a net worth of $90 million, per Celebrity Net Worth. While Sorkin is one of the most celebrated writers out there (he won the Academy Award for the screenplay for "The Social Network"), writing was not what he set out to do with his life. Keep reading to find out the untold truth of Aaron Sorkin.
Aaron Sorkin spent the 1980s trying to find success as an actor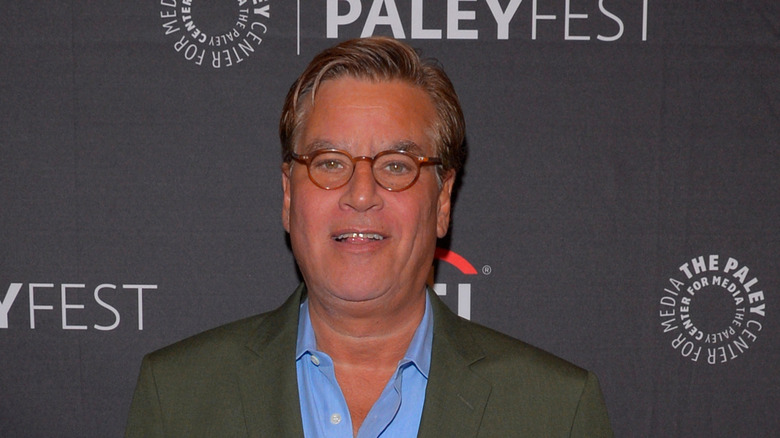 Aaron Sorkin was born in New York City and raised in Scarsdale. He was in the drama club in high school and headed off to Syracuse University to major in musical theater, per Patch. He graduated in 1983 and moved back to Manhattan to pursue a career in acting.
Sorkin spent much of the 1980s as a struggling and only occasionally employed actor. To make ends meet, he worked a variety of odd jobs including delivering singing telegrams, driving a limousine, handing out fliers for a hunting and fishing show, bartending at the Palace Theatre, and touring Alabama with a children's theatre company called Traveling Playhouse, per Syracuse University magazine.
Then, he was housesitting for a friend one weekend and found a typewriter. He started typing out an idea for a story and, telling The New York Times Magazine in 2001 that he ""felt a phenomenal confidence and a kind of joy that I had never experienced before in my life."
Aaron Sorkin was a celebrated playwright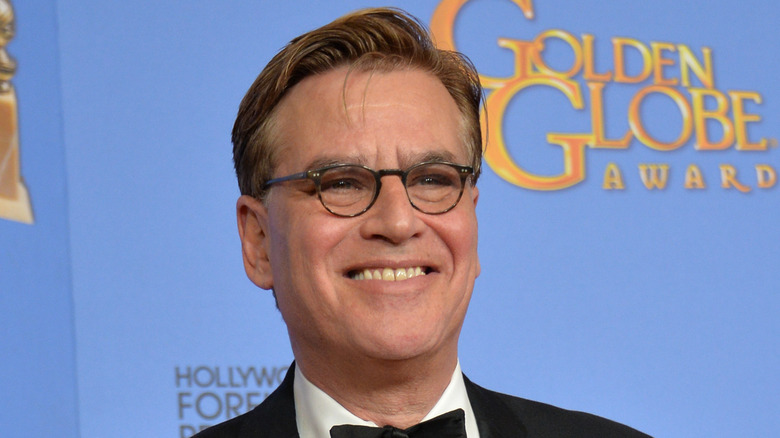 Aaron Sorkin kept writing and eventually wrote his first play, "Removing All Doubt," which was staged at his alma mater, Syracuse University, in the mid-1980s, per Playbill. He then wrote the off-off-Broadway play "Hidden in This Picture," which debuted in 1988. These two plays got Sorkin a theatrical agent, per Imagine News.
Sorkin's next play was a courtroom drama inspired by a phone call from his sister Deborah, an attorney with the U.S. Navy Judge Advocate General's Corps. Deborah was on her way to Guantanamo Bay to defend some Marines who nearly killed another Marine in a hazing ritual they'd been instructed to carry out by a superior officer. Sorkin turned this conversation into the play (and later the film), "A Few Good Men." He wrote much of the play on cocktail napkins while bartending at the Palace Theatre, per This is Theatre.
He sold the film rights for "A Few Good Men" in 1988 to David Brown, who went on to produce the play at the Music Box Theatre on Broadway. It opened in 1989 and ran for 497 performances, via Playbill.
Aaron Sorkin made his way to Hollywood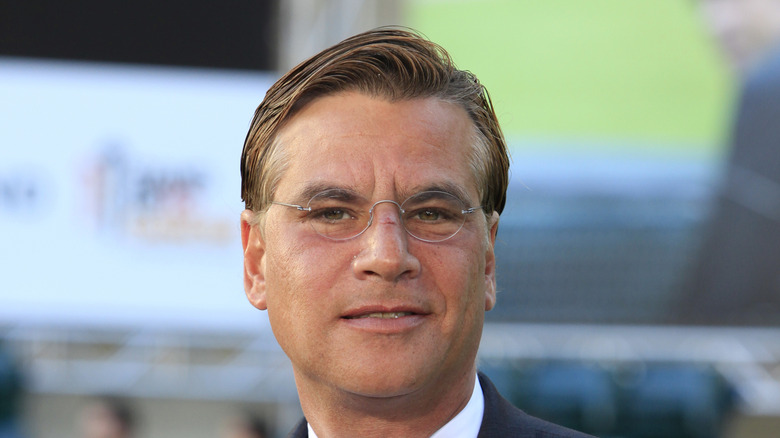 Rob Reiner's Castle Rock Entertainment eventually produced "A Few Good Men," and Reiner directed the 1992 film, per IMDb. During this time, Aaron Sorkin was writing under contract for production company Castle Rock (per The New York Times) and met his first wife, Julia Bingham, a business affairs attorney at Castle Rock. The film was an enormous success and grossed more than $141 million in the worldwide box office, per Box Office Mojo.
In addition, Sorkin wrote "Malice" for Castle Rock, per IMDb. The film started Nicole Kidman and Alec Baldwin. He also wrote "The American President," which started out with a script that was nearly 400 pages long. It took him months to edit it down to the standard 120 pages, per the Seattle Post-Intelligencer. "The American President" garnered good reviews upon its release in 1995.
For the remainder of the 1990s, Sorkin worked as a script doctor, punching up the dialogue a number of films including "The Rock," "Enemy of the State," "Excess Baggage," "Bulworth," and "Schindler's List," per Indie Wire.
Aaron Sorkin broke into television with The West Wing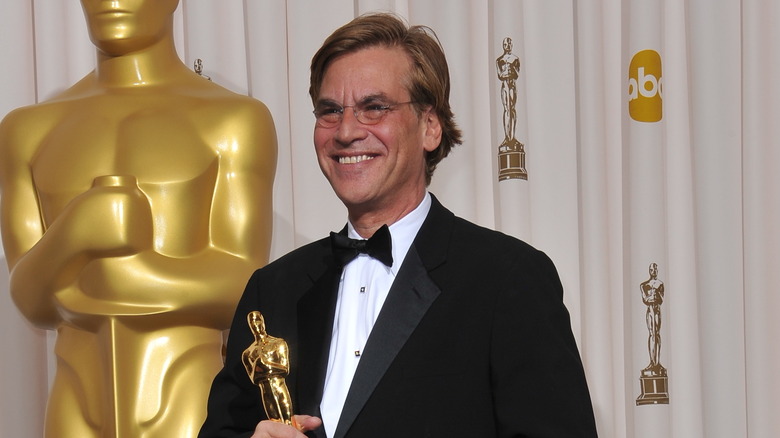 Aaron Sorkin developed a show about the behind-the-scenes action on a sports show like ESPN's "SportsCenter" called "Sports Night." The television show debuted on ABC in the fall of 1988, per IMDb. The show failed to capture an audience and was canceled after two seasons.
By that point, Sorkin was already working on the concept that would become his calling card: "The West Wing." Sorkin had a meeting with producer John Wells ("E.R.") and pitched an idea about the senior staff of the West Wing based on leftover ideas from his original nearly 400-page long screenplay for "The American President," per The Hollywood Reporter. "The West Wing" debuted in 1999 and aired for seven seasons, per IMDb. It went on to win 26 Primetime Emmys, per Deadline.
Sorkin's next series was "Studio 60 on the Sunset Strip," which ran for 22 episodes in 2006 and 2007. The show was about the production of a "Saturday Night Live" style show, per IMDb. More recently, Sorkin wrote "The Newsroom" for HBO. The show was about the behind-the-scenes events at the fictional Atlantis Cable News (ACN) channel and ran for 25 episodes from 2012 to 2014, per IMDb.
Aaron Sorkin was arrested in 2001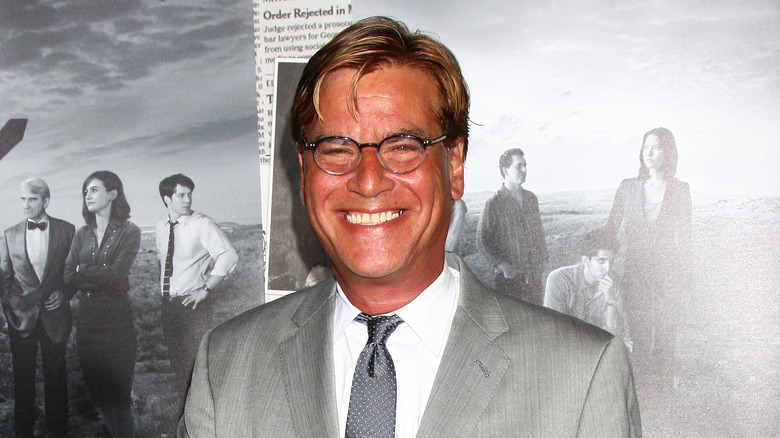 In 2001, Aaron Sorkin experienced a relapse in drug use. He had previously "been candid about his past battles with cocaine abuse," Entertainment Weekly reported at the time. He checked into the Hazelden Betty Ford Foundation in Minnesota in 1995 for his cocaine use while writing "The American President," per the Associated Press.
Sorkin was arrested at the Burbank airport in Los Angeles in April 2001 for being in possession of hallucinogenic mushrooms and marijuana, per EW. Sorkin was attempting to board a Southwest Airlines flight to Las Vegas when he was detained at security after the x-ray showed a suspicious object in his carry-on suitcase. When the bag was hand-searched, drugs were found, and the police were called. Sorkin fainted when the police arrived, per the Los Angeles Times. Sorkin was arrested and booked into the Burbank City Jail. He was released three hours later on $10,000 bail.
Sorkin was arraigned on "a felony count for possession of 'illicit mushrooms,' a felony count for possession of cocaine base, and a misdemeanor count of possession of marijuana," CNN reported at the time. He pleaded guilty and was allowed to enter a drug treatment program instead of serving prison time, per the Associated Press.
If you or anyone you know is struggling with addiction issues, help is available. Visit the Substance Abuse and Mental Health Services Administration website or contact SAMHSA's National Helpline at 1-800-662-HELP (4357).
Source: Read Full Article