The Transformation Of Lisa Vanderpump From 13 To 60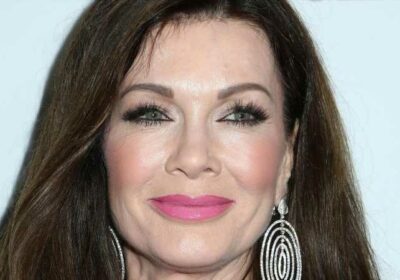 The following article references domestic abuse and suicide.
Reality television queen, restauranteur, and animal lover Lisa Vanderpump needs no introduction; she wears many hats and all of them are haute couture. Yet, it seems as if Vanderpump did not always believe in the power of her own charisma. In an interview with Locale, she confessed, "Oh, I don't think I'm interesting. I don't fight or squabble. I see the funny side of everything." And that's exactly the persona that made her so popular on "The Real Housewives of Beverly Hills" — the fact that she does all of the above with a considerable amount of style. From her posh accent to her acid quips, Vanderpump has endeared herself to audiences worldwide and has become a household name.
But before LVP crossed the Atlantic to start a new life in the United States, she had a fascinating life with more humble beginnings. Yes, darling, there was a time when she wasn't all high-end fashion, restaurants, and Pomeranian pups. It took a lot of work to create LVP as we know her, and the receipts prove she's Scrooge McDuck-ing all the way to the bank. Let's delve a little deeper into her background and find out how she managed to work her way to the top, one pedicured foot at a time. 
Lisa Vanderpump was in an Oscar-winning movie
Lisa Vanderpump prepared for a life on the stage from an early age. As she told Daily Express, she began ballet classes at the tender age of three and, when the opportunity presented itself, transitioned to a school of the arts. Not only was she trained to be on the stage, but she was also book smart. "I was advanced for my age, always a year ahead at school," Vanderpump shared with the outlet. "When I was too young to go to high school, rather than repeat a year, at nine I went to the Corona Academy drama school, and ended up staying for eight years."
Even as a tween, her drive could not be denied. Vanderpump told Heather McDonald on the "Juicy Scoop" podcast, "I was really together. I kind of very much believed in a strong work ethic. I had a job since I was like 13, you know?" She was cast to play the role of Glenda Jackson's movie daughter in 1973's "A Touch of Class." Jackson went on to receive an Oscar for her performance in that very film. Talk about an exciting start to Vanderpump's career. The future Bravolebrity soon had offers pouring in. She told Daily Express, "I did over 100 commercials for brands like Maltesers, Lilt, Britvic 55, and Hamlet cigars, so by 19 I'd bought myself a flat in Fulham."
The rapidly rising star of Lisa Vanderpump
Young Lisa Vanderpump was spoilt for choice as the work streamed in. After appearing in a movie that earned Glenda Jackson her second Academy Award, Vanderpump's acting abilities were cast in the spotlight. It also appeared that her earlier decision to go to drama school, per Daily Express, stood her in good stead and she was seemingly prepared for a life on the stage.
Speaking to W Magazine about working as a child actor, LVP revealed that she and Naomi Campbell were both on the series "Kids." She divulged that even as an 8-year-old "Naomi was always very forthright for her age." Vanderpump went on to describe the model as a "little spitfire." "The Real Housewives of Beverly Hills" alum's other acting credits as a child star include "John Halifax, Gentleman," two episodes in a series called "Katy," and a horror movie called "Killer's Moon." In her late teens, she played the role of Ursula in "The Wildcats of St. Trinian's" and continued to be cast in a number of small roles. In the '90s, she even appeared in "Silk Stalkings," "Baywatch Nights," and "Separate Lives." And when Vanderpump wasn't acting in TV programs, she stayed busy with music videos and ad spots. As she told the Daily Express, "I did over 100 commercials for brands like Maltesers, Lilt, Britvic 55 and Hamlet cigars." 
Lisa Vanderpump was in an abusive relationship
As Lisa Vanderpump's career continued to pick up steam thanks to her various roles in TV shows, music videos, and advertisements, she found herself in a volatile relationship. Talking to Daily Express about an abusive ex, she recalled, "He grabbed me by the neck and I thought: 'OK, I'm done!' I thought he wasn't going to change, and got out as quickly as I could." 
She's opened up about this past relationship before. When host Andy Cohen asked about this piece of her life story at The Real Housewives of Beverly Hills" Season 6 reunion, she replied, "I was 19, and I was threatened and physically hurt." And in a Bravo blog entry, she shared, "I have encountered abuse myself at the hands of an ex-boyfriend many years ago. It would seem redundant for me, personally, to relive that traumatic time." Vanderpump also wrote that she feels lucky that she "had the strength to walk away" from the situation. "Many don't have the resources or opportunity to leave, and I am thankful to be in a loving, secure relationship with a man who is my protector, rather than aggressor," she said.
If you or someone you know is dealing with domestic abuse, you can call the National Domestic Violence Hotline at 1−800−799−7233. You can also find more information, resources, and support at their website.
Lisa Vanderpump and Ken Todd's whirlwind romance
When you know, you know — at least that seems to be Lisa Vanderpump's experience. The reality star met Ken Todd when she was just 21 years old. Their meeting wasn't the typical boy-meets-girl setup since she was actually trying to get rid of him the first time she saw him. As she recalled to Daily Express, their paths first crossed when she was working the front door at a nightclub. She tried to turn Todd away from the establishment, but only to later discover that he was the club's owner. Oops. Luckily, it seems as if Todd was the forgiving sort and the misunderstanding was cleared up.
Sparks flew when she played chauffeur later that evening. "That night I drove him and my brother home, and Ken said: 'Give me your number. Actually, better not, because I might fall in love with you," she told the outlet. 
Todd's remark proved prescient. As Vanderpump shared with Daily Express, "In six weeks were engaged, and three months later we were married, to the disbelief of everyone that knew him, shaking their heads as we walked down the aisle." They tied the knot in August 1982 and are still by each other's side. What an epic love story.
Motherhood came easy for Lisa Vanderpump
Lisa Vanderpump told Bella Magazine that she and Ken Todd "have this relationship where we can do anything or go anywhere together." However, when her mother-in-law began peppering her with questions about when they would give up their nomadic lifestyle and have children, she let her know that she was living life on her own terms. "I told her I don't want to stop playing, I just found someone to play with, and together this is how we looked at life," Vanderpump said in the aforementioned interview. 
The couple welcomed their eldest, Pandora Vanderpump Sabo, in 1986, but during her pregnancy Vanderpump was filled with some trepidation about the future. "I remember saying to Ken when I was pregnant, we won't be able to do this or we won't be able to do that," she told Bustle. However, things rapidly changed once she held her precious newborn in her arms. "I actually took to motherhood really easily," she said.
"I remember thinking when they first handed Pandora to me, 'Well, what am I going to do with this?' But as soon as I cuddled her, I thought, 'What would I do without her?'" she shared with the outlet. Vanderpump revealed that she "became one of those obsessive mothers" and "was very hands-on" while raising her two children. "I was brought up without a tactile relationship and very British, so I wanted the exact opposite [for my kids]," she said. 
Lisa Vanderpump's family grew and they moved to the States
The Vanderpump-Todd household expanded with the arrival of baby Max Todd. As Lisa Vanderpump wrote in her Bravo blog in 2015, "This was a deep and poignant story, a story that started 22 years ago when we went to visit him in his foster care home. We traveled and landed in the snowy city and met this little boy who would soon be our son." Vanderpump and Ken Todd decided to grow their family by adoption rather than have another biological child. She went on to explain, "We had always thought that we would adopt a couple of children." Their eldest child was equally excited about the new addition. As Vanderpump dished, "Pandora was six and very much believed he would be her baby." 
According to Bella Magazine, the family moved to Los Angeles and were living in the city with their young children when disaster struck. Following the 1994 Northridge earthquake, LVP was ready for a serious change of scenery. "It scared the life out of me; I've never been so terrified," she told the outlet. "I could not believe what we had just experienced." The natural disaster had the Vanderpump-Todd family packing their bags and heading back to England in a hurry.
Lisa Vanderpump returned to England
After returning to England with their family, Lisa Vanderpump and Ken Todd continued to expand their empire. As The Hollywood Reporter noted, the two "went on to open 30 restaurants, bars and clubs in the city over two decades," and their customer list included celebrities like George Michael and Elton John. THR reported that they later sold some of their establishments and raked in a hefty sum. 
Vanderpump and Todd raised their two children in what Bella Magazine described as "an old romantic manor house situated on 100 acres of beautiful land." As LVP shared in a Bravo blog post, she always made an effort to balance work and parenthood. "Their childhood was idyllic, full of ponies and dogs, extraordinary experiences coupled with tactile relationships and wonderful holidays, parents that loved the experience, parents that vowed never to disturb the harmonious life they had by involving our problems," she wrote. "I was very involved with my children's education, even worked in their school in France a few days a week for three years, and I wouldn't change a minute of it." 
Surprisingly, the Vanderpump-Todds led very private lives while living in London. "That was the antithesis of the life we live now," LVP told THR. "We had two young children, we were in the country half the time." According to The Evening Standard (via THR), Ken Todd and Lisa Vanderpump were "clubland's most private power couple." 
Lisa Vanderpump joined forces with SUR
The Golden State beckoned to Lisa Vanderpump and Ken Todd once again and they made a move that would change their lives forever. The Vanderpump-Todds packed up and headed back to Los Angeles after Pandora Vanderpump Sabo decided she would attend Pepperdine University. "We understood as the children became older that there were windows of opportunity where we could get up and move, but when kids go off to college and make lifelong friends, roots are firmly planted," she told Bella Magazine. It was seemingly wiser for them to follow the kids and travel as they wished, and still be a part of their lives.
The couple also knew they needed to secure their visa and took a chance on a small restaurant called SUR, per The Hollywood Reporter. Co-owner Nathalie Pouille-Zapata gave Wehoville the inside scoop about how it all went down. "Guillermo [Zapata] called me and said, 'I just met this couple. They are fabulous and they want to be our partners,'" she dished. "'This lady even told me she has the money inside her purse right here on the patio,'" she continued. That night, a heavily pregnant Nathalie and Guillermo Zapata went to Vanderpump and Todd's home. As Vanderpump remembered to THR, "So, we shook hands that day and started developing." And the 400-strong capacity SUR was born.
Lisa Vanderpump joined The Real Housewives of Beverly Hills
Before shooting "The Real Housewives of Beverly Hills," Lisa Vanderpump had some reservations about becoming a reality TV personality. "My first fear when I signed up to do 'Housewives' was my son was 18 and I said, 'You know, it really does worry me that maybe this family would come forward,'" she shared on "The Jenny McCarthy Show." "I said, 'I want to be very sensitive about that.'"
What's more, Bella Magazine noted Vanderpump was hesitant because she was not too familiar with "The Real Housewives" universe and wasn't sure how she'd fit in. The former actor shared with Locale Magazine that she believed she wasn't "interesting" enough for the series. "I don't fight or squabble," she told the outlet. "I see the funny side of everything." However, LVP was soon cast on the first season of "The Real Housewives of Beverly Hills" and the rest is history. 
Vanderpump soon became one of the most beloved cast members of all time — TV Inside ranked her 10th despite leaving the franchise — with her famous one-liners and classy mannerisms. Can you imagine a version of "The Real Housewives of Beverly Hills" where viewers never got to watch Lisa Vanderpump chase miniature horses around Villa Rosa? One shudd-SUR-s at the thought.
The world of reality TV sure loves Lisa Vanderpump
Thanks to "The Real Housewives of Beverly Hills," Lisa Vanderpump soon became a household name and appeared on the talk show circuit. It wasn't long before she was offered her own spinoff show, "Vanderpump Rules," about the young staffers at her restaurant SUR, in 2013. She told Time in 2016 that the series' roster is the key to its success. "One, the casting. I knew and I chose these people. I knew the stakes would be high because their friendships were real," she told the outlet.
2013 was also the year that she competed on "Dancing with the Stars." In a blog post for Bravo, she wrote that her time on the show "was an incredible experience and I don't regret a second of it." In typical Lisa Vanderpump style, she also teased on "The Bellas Podcast" that she may have enjoyed her dance partner, Gleb Savchenko, a little too much. "We had a little bit of an emotional affair in terms of having to connect and hold on to each other because it's so scary," she dished. 
"[Gleb] would say, 'Do these backbends,' and as you would do the backbends, he would hold your groin against his," she told the Bella twins. Luckily, it seems as if Ken Todd wasn't too bothered by his wife's connection on the dance floor. "[Ken] would be like, 'I see you. I see what you're up to,'" she said. "He doesn't put that much importance on me messing about and flirting." 
Editor-in-Chief Lisa Vanderpump founds a dog foundation
When you've got the kind of street cred that Lisa Vanderpump has, you can do anything. It's little wonder that in 2017 she was tapped for a new position at a publication. According to Bravo, she said, "I have always loved being a part of Beverly Hills Lifestyle magazine and to be asked to be editor-in- chief is not only an honor but a delight." The glamour queen then added, "The magazine has always been the epitome of luxury." Her daughter, Pandora Vanderpump Sabo, was named the magazine's executive editor. The following year, Vanderpump left the EIC post.
As if she wasn't busy enough, Vanderpump also founded the Vanderpump Dog Foundation in 2017 after learning about the Yulin Dog Meat Festival. "It's really important to me," the reality star told Time, "my fight against Yulin." The Vanderpump Dog Foundation also started a rescue organization based in Los Angeles.
In 2019, Vanderpump opened up to People about her hopes for the foundation. "I hope that will be my legacy," she shared. "I just want to keep drawing attention to [the cause] and to rescue dogs. They are so grateful for a chance at a second life," she shared. Her love for animals has been one of the reasons so many feel drawn to her. Talk about making a paw-sitive change.
Lisa Vanderpump lost her mother and brother
2018 and 2019 would go down as one of the hardest periods of Lisa Vanderpump's life. Her world came crashing down when her brother, Mark Vanderpump, died by suicide. She told the Daily Mail that she had been in contact with Mark the day before he died. "He was my only sibling and I am shocked and saddened by his passing. I am trying to be supportive to his two young sons that he has left behind, and help them get through this tragedy," she stated. 
She told People that she "was in a very dark place" after her brother's death. "I was crying every single day. And I spent months just staring at the walls." Opening up about the loss on "Vanderpump Rules," she said, "Obviously it just being the two of us, we were more like twins. It's been incredibly difficult, but we have to keep moving forward and make the people that were so important in our lives proud as they watch down over us."
A year later, Lisa was hit by another tragedy when her mother, Jean Vanderpump, also died. Entertainment Tonight reported that the TV personality was "shocked and devastated." She took to Twitter to honor her mother and wrote, "As you go to RIP with Mark, mummy. A tragic year for sure." E! News revealed that the reality star took a break from filming "Vanderpump Rules" after Jean's death.
If you or anyone you know is having suicidal thoughts, please call the National Suicide Prevention Lifeline​ at​ 1-800-273-TALK (8255)​.
The Beverly Hills Housewives bid Lisa Vanderpump farewell
Lisa Vanderpump announced that she was quitting "The Real Housewives of Beverly Hills" in 2019 following the "Puppygate" drama. She told Daily Express, "I was tearful most days filming Housewives last season. The whole cast ganged up on me, and I was just weary." The restaurant mogul was also not afraid to tell her side of the story to People. "I had a great time on 'Housewives,'" Lisa divulged. "But to have negativity during a time in my life when I needed to try to be positive … I decided it was over." Lisa parted ways with the series shortly after the death of her older brother, Mark Vanderpump.
Lisa shared that this wasn't the first time that her castmates had turned against her. "But this time, our foundation was taking a bashing from the women, and it didn't deserve it," she said in People, noting that she felt that the Vanderpump Dog Foundation was being unfairly attacked and she wasn't standing for it. Lisa continued, "And suddenly, to start dealing with them all screaming and shouting at me on that first trip [to the Bahamas], I thought, 'What the hell am I doing?' And that was really it." The queen left the show, and it may have been the best decision for her at the time. As she once said, "I'm passionate about dogs, just not crazy about b****es." Preach, Lisa, preach.
Lisa Vanderpump said goodbye to Giggy
At the end of 2020, Lisa Vanderpump shared the news that Giggy, one of her beloved Pomeranians, had died. The pup was a fixture of both "The Real Housewives of Beverly Hills" and "Vanderpump Rules" shows, and was nearly always in Vanderpump's arms, if not in someone else's. In her Instagram tribute to Giggy, she shared three photos of the pooch where he was dressed to the nines.
"We are devastated to say that our beloved Giggy has passed away this morning. He was truly loved, and we know how many of you loved him too," she stated. "Our sweet Gigolo was such an incredible, unique dog, but mainly, because of him, we started The Vanderpump Dog Foundation and embarked on our mission to save as many dogs as possible," she shared, before adding, "He inspired us to start our work in rescue, and for that we will always be grateful. Giggy's legacy will live on, through every dog @vanderpumpdogs saves." 
Speaking about the pup on an episode of "Radio Andy," Andy Cohen said, "Giggy really made people happy. I'm saying that with no irony or anything. Giggy truly was the mascot of Bravo … and was such a superstar." Giggy, and his lavish outfits, will certainly be missed.
Yet another show for Lisa Vanderpump
Of course, it was not long before fans saw Lisa Vanderpump pick herself up again. In February 2021, word got out that the multihyphenate had scored a new series. The trailer for "Overserved with Lisa Vanderpump" spelled out the premise: In each 30-minute episode, Vanderpump would welcome a group of celebrities into her home, Villa Rosa, and treat them to a lavish dinner. 
She told Us Weekly that the show was inspired during the pandemic. She had been "cooking up a storm" during this time and when producers asked her, "If we gave you a camera, what would you do?" And with that, she came up with the concept of entertaining stars at her home. "Everything was homegrown," Vanderpump revealed. "I wanted to make a show that was the most gorgeous show that you would stop, you would press the remote and go back, [like], 'I want to see what that is again.'" The series premiered on E! on March 18, 2021, and audiences have watched LVP dine with a roster of stars that includes Steve-O, Margaret Cho, Trixie Mattel, Sheryl Underwood, and Lance Bass. 
Lisa Vanderpump has gone through ups and downs throughout her career, but she never stops sparkling like a diamond-encrusted wine glass in the Beverly Hills sunlight. 
Source: Read Full Article