The Sandman cast: Who plays Alex Burgess? Meet Laurie Kynaston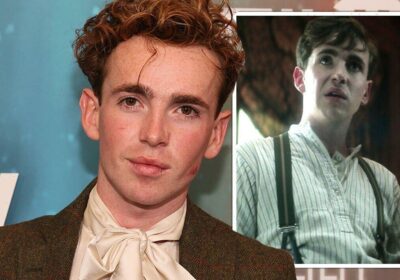 The Sandman: Trailer for new Netflix series
We use your sign-up to provide content in ways you've consented to and to improve our understanding of you. This may include adverts from us and 3rd parties based on our understanding. You can unsubscribe at any time. More info
The Sandman has gone down a huge hit on Netflix, with fans blown away by the A-list cast. The story starts with Roderick Burgess (played by Charles Dance) trying to summon Death (Kirby Howell-Baptiste). Instead, he captured Dream (Tom Sturridge) and Alex Burgess felt sorry for him- but who plays the character?
Who plays Alex Burgess in The Sandman?
Alex Burgess is first introduced as a young boy, when his father, a cult leader, attempted to summon Death.
He wanted to bring his dead son back to life but ended up calling on Dream by mistake.
Roderick held Dream in captivity, asking him to reveal how his son could be brought back from the dead, but Dream would not cooperate.
As Alex grew up he started to sympathise with Dream and even offered to let him out, as long as he didn't harm him.
For most of his appearances, the character is played by Laurie Kynaston.
Laurie is a 28-year-old actor from Shrewsbury, who has a number of previous credits to his name.
He had a guest role in Derry Girls, playing Philip, and starred as Jimmy in Life After Life.
His other notable roles are as Liam Myer in The Trouble with Maggie Cole and Jonah Green in The Feed.
Early on in his acting career, he played Danny Baker in Cradle to Grave and just before starring in The Sandman, he was in the series The Man Who Fell to Earth.
The star is on Instagram and he shared a selection of behind the scene snaps from filming The Sandman.
He shared photos of the set, as well as prosthetic facial features he had to use.
Away from acting, the star loves to travel and recently shared some snaps from his time in Spain. This summer he has also been to Norway.
Laurie also has a passion for fashion and he spoke to Paul Smith about his modern working wardrobe.
DON'T MISS…
Jenna Coleman The Sandman: What happened to Johanna Constantine? [EXPLAINER]
The Sandman season 2: Will there be another series? [INTERVIEW]
The Sandman full cast list: All the A-list stars you missed [INSIGHT]
He shared: "It's all about dressing for yourself and not for others. It's about how you feel confident and comfortable.
"Times have absolutely changed from when the only thing you're able to wear to work is a suit or heels.
"You can still present a version of yourself full of drive and passion and intelligence without having to wear a tie.
"People are living busier and more varied lives and that is being shown in the things we wear."
The actor has three older brothers, Oliver, Myles and Jeremy.
As for what is next for the star, not much is known about his future beyond The Sandman.
His character grew old by the time Dream escaped the waking world and he was sent into an eternal sleep.
From this, it seems Laurie will not be making a comeback for a potential second season.
Writer Neil Gaiman said he has already penned season two, which is yet to get the green light from Netflix.
The Sandman is on Netflix now.
Source: Read Full Article