The Rise And Fall Of Chrissy Teigen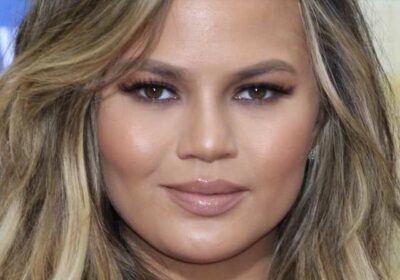 Chrissy Teigen, once the darling of social media, has gone dark. The woman with the razor-sharp wit and annihilating clapbacks has been shushed following the trend of #cancelChrissyTeigen, and things don't look pretty for her. Instead, an uncomfortable silence has descended on social platforms as many question how complicit they were in making Teigen who she is, or was, or sometimes is. 
For those who have been living under a rock for the last month, the model, mom, and wife of John Legend is at the center of an ugly scandal that threatens to crush the image she painstakingly carved out over the years. Teigen built her life around social media and has one of the most powerful reaches on Instagram and Twitter, per Time. She's a lifestyle influencer extraordinaire and built her own food empire and personal brand by leveraging her fame. 
However, Teigen is now facing backlash and attacks for some awful remarks that she's made. Let's take a look back at Teigen's magnificent rise and fall from grace. Let us remember who Teigen once was, how she got there, and why what she said is such a big deal.
John Legend's fame helped Chrissy Teigen's career
Chrissy Teigen and John Legend's fantastical romance began in 2007. They met while working on his "Stereo" music video, and the sparks between them flew. Legend dished about his first encounter with his wife in an interview with The Guardian and said, "We spent the whole day dancing together, grinding together." Well, Teigen spilled the whole tea to Cosmopolitan and revealed that one thing led to another after the day's grinding. She shared, "I'm not going to lie. We hooked up." Although it would be a while before they officially started dating, they made an impression on each other and it was only a matter of time before they ended up together. Of course, two kids later, it seems as if they made the right choice.
As Legend's plus-one, Teigen was cast into the spotlight because of his A-list status and she accompanied him to many glitzy events. She told Cosmopolitan back in 2014, "I got so lucky that I met John, who propelled my career. I'm not delusional: that definitely helped." Teigen knew that her connection to Legend helped catapult her into the limelight almost overnight, and she made quick work to ensure she stayed there.
Chrissy Teigen nabbed Sports Illustrated's Rookie of the Year
A cameraman scouted Chrissy Teigen when she was a teen working at a surf shop, per Vanity Fair, so her break came early. However, things weren't always peachy, as she described in an Instagram post. She wrote that, during the 2010 Miami Fashion week (via Daily Mail), she made less than $200 after her agency took their cut. She kept her fridge stocked by having "dinner with randos at Prime 112, ordering enough food to take home to eat for the week cause the fashion show money would disappear with agency fees." Her living conditions weren't much better, as she shared that she slept "in a two bedroom at the Flamingo with 5 other girls." She spoke to Vanity Fair about her early modeling career, saying, "I had no credit cards, I didn't have a bank account, and it just didn't occur to me to ask my dad for money." 
However, that same year, Teigen came into her own. Her breakthrough came when she was named Sports Illustrated's Rookie of the Year in 2010, and later landed the coveted cover girl spot. Her modeling career was taking off. Apparently, her days of scrounging for food were about to be a thing of the past.
The birth of Chrissy Teigen's So Delushious food blog
Peruse Chrissy Teigen's socials, and you'll soon discover her love for food. In 2011, she started the food blog So Delushious (via BuzzFeed). Apparently, she wanted an escape from the glitz and glamour of the modeling world, so she chose to write about food. She told Marie Claire, "I always loved food and I think I kind of needed an outlet." It also seems as if she needed an identity outside of modeling and explained, "I didn't want to just talk about modeling all the time and just be in the modeling realm. It wasn't to shock people like 'oh models eat and models like to cook,' it wasn't about that at all. I just kind of needed somewhere to just talk."
MarketWatch noted that Teigen "honed her conversational tone in her early food writing," and it was her authenticity that drew in fans. A model who cooks? Her fans gobbled it up, and her blog would prove to be the foundation of the food empire she'd later build. 
Interestingly, according to The Kitchn, John Legend's first gift to Teigen was a cooking class. Talk about a man who supports his woman's vision!
Chrissy Teigen, reality TV star
Before long, Chrissy Teigen signed up for a string of reality shows. Thanks to her impressive social media following and modeling career — not to mention her being the wife of a megastar singer — Teigen was in demand. She joined "Lip Sync Battle" in 2015, and almost instantly, her over-the-top facial expressions were the talk of the town, as noted by a 2015 TV Guide article.
Notably, Teigen was also one of the faces of the short-lived "FABLife" before it was canceled after only one season, per Deadline. She also got her own show "Chrissy's Court" in 2020, and Variety reported that the series was picked up for a second season. However, Quibi then announced that they were going to shut down at the end of 2020.
In an interview with Vanity Fair in 2019, Teigen revealed she turned down a gig to host a late-night talk show. "It was just too much attention and focus on me," Teigen shared before adding, "It's almost like the more things you do, the closer you are to getting canceled." She then concluded with a weirdly self-prophesying statement by saying, "It's so scary to me — to have the world turn on you and hate you." 
Chrissy Teigen opened up about fertility struggles and choosing her baby's sex
In 2013, Chrissy Teigen and John Legend exchanged vows in front of their loved ones in a lavish wedding ceremony in Lake Como, Italy (via Martha Stewart). And after a few months of wedded bliss, the inevitable questions began as curious folk demanded to know when a little Legend would be born. Two years later, an emotional Teigen addressed the issue in an episode of "FABLife" which she co-hosted. Apparently, she and her husband had been seeing fertility specialists to get pregnant. Teigen revealed, "I will say, honestly, John and I were having trouble. We would have kids five, six years ago if it'd happened. But my gosh, it's been a process!" Fans' hearts went out to the couple who was struggling to conceive. Fortunately, there was a happy ending for Teigen and Legend. A month later, they announced via Instagram that they were expecting their first child.
Teigen shared with People the controversial decision that she and Legend chose the sex of their baby, whom they conceived via IVF. She dished, "Not only am I having a girl, but I picked the girl from her little embryo. I picked her and was like, 'Let's put in the girl.'" As noted by The Sun, their daughter, Luna Simone, was born in 2016, and their son, Miles (who was also conceived via IVF), was born in 2018.
Postpartum depression hit Chrissy Teigen hard
Chrissy Teigen and John Legend became parents with the help of IVF, and after the birth of Luna, Teigen was thrust into motherhood. Sadly, things didn't go as she thought they would. In a candid interview with Glamour, Teigen explained that things started to go awry when her daughter was only a few months old, explaining that she was living with postpartum depression. "It was a sad existence. There were no highs. It was a flatline of life for a few months," she confessed. Teigen also shared why she didn't think she had PPD. "You hear these horrific stories of people not seeing their child as theirs, or wanting to hurt them, and I never felt that way. That's why I put off getting it checked as I hated myself, not my child," she admitted.
Teigen continued her story by saying, "I don't know why I didn't realize, as it was so obvious to everyone else! John was there when the doctor gave the diagnosis and, of course, he already knew. I didn't know it could sneak up so late or that it could happen to someone like me, where I have all the resources." She seemed to think that she was immune to the condition because she had help looking after her family. Of course, her reveal only endeared her more to her fans. 
If you or someone you know is struggling with mental health, please contact the Crisis Text Line by texting HOME to 741741, call the National Alliance on Mental Illness helpline at 1-800-950-NAMI (6264), or visit the National Institute of Mental Health website.
Chrissy Teigen wielded her power and had two reporters fired
In 2016, writer Taylor Ferber lambasted Chrissy Teigen in a VH1 article that has since been removed, per The Wrap. Ferber wrote on her blog in 2017, "I called out Chrissy Teigen one day for being a hypocrite." She continued, "In short, she was responding to internet haters by calling them names and for lack of a better term, just being flat-out mean. I thought she was being a bully, so I called it like I saw it." The Wrap reported that Teigen fired back and called Ferber and VH1 out, and the reporter was fired because of a conflict of interest. In 2021, when Teigen would face criticism for apparent bullying, Ferber would write that she pointed out Teigen's mean behavior years earlier.
At around the same time, Teigen got another journo fired, per Page Six. After Teigen gave birth to Luna, Jon Warech wrote an article for Us Weekly with which Teigen took issue. Apparently, he had interviewed the model on the red carpet and she didn't like the headline: "Chrissy Teigen: We're hiring a night nurse for baby." It seems as if Teigen thought that the headline made her "look like a poor, uncaring mother" and thought Warech wanted to "get people talking." Even though Warech maintained that he didn't write the headline and sent her the proof, he was still fired from his job. Luckily, he found a new rewarding path in public service.
Chrissy Teigen penned a cookbook and grew her cooking empire
In the meantime, Chrissy Teigen's star continued to rise. According to Eater, she released her first cookbook, "Cravings: Recipes for All the Foods You Want to Eat," in 2016. She told the outlet, "I didn't want it to be a celebrity cookbook where you're not sure if they really cook or if they just put their name on something. I wanted people to know that these are really the recipes that we love at home." The book was an instant hit, and a second, "Cravings: Hungry for More," quickly followed. Teigen was rolling in dough after years of sharing her love of food.
Expanding on her success as a relevant foodie, Teigen sought to expand her brand and partnered with Target to sell a houseware line, per Philadelphia Business Journal. Macy's also stocked her range of kitchen products, per Marie Claire, and Teigen's fans, who had been with her through her journey since her time as a food blogger, supported Teigen's projects. For a model who once couldn't make ends meet, she had reached the pinnacle of her entrepreneurial career.
Chrissy Teigen became the unofficial mayor of Twitter
Chrissy Teigen was once known for having no filter on Twitter, and her fans seemed to love her for it. Who could ever forget the feud between her and former president Donald Trump? On Twitter, she has a following of over 13.5 million people, and 34.9 million fans follow her on Instagram alone. Over the years, she built a brand of authenticity, humor, and connection by sharing some of her thoughts and the day-to-days of her personal life. 
In 2017, Teigen was one of the most powerful forces on the internet, as noted by Time. Teigen could do no wrong, and the public appeared to love her humorous take on life. Twitter even surprised her in 2019 with a cake, per Delish, naming her the #MayorOfTwitter. 
In an interview with Mashable, Teigen shared some secrets behind being social media's G.O.A.T. "It didn't start out being easy to say whatever you wanted [on the internet], because some people, they just don't know you," she shared. "You kind of have to come out the gate really showing different sides of your personality … And people start to realize: that's just you. And they start to accept you."
Chrissy Teigen's heartbreaking loss
Remember when Chrissy Teigen and John Legend had trouble conceiving and had to go the IVF route (via Harper's Bazaar)? Well, the 2020 lockdown brought them a surprise pregnancy, au naturel. Even before the baby was born, they named him Jack and were looking forward to their third child. However, things went tragically wrong and he died after being born too early. 
Teigen shared some black and white images on her Instagram on September 20, 2020, depicting her and Legend right after their son's death. She also wrote a note to her son and followers that tugged at the heartstrings. "We are shocked and in the kind of deep pain you only hear about, the kind of pain we've never felt before," she penned, before continuing, "We were never able to stop the bleeding and give our baby the fluids he needed, despite bags and bags of blood transfusions. It just wasn't enough." In a message directed at baby Jack, she added, "We will always love you." 
Teigen received a lot of backlash after sharing the pics, and she was accused of using her son's death to garner media attention. However, publications like Vice pointed out that many parents find comfort in photographs of their stillborn children. A few months later, Teigen threw her weight behind a Resolve "Fertility Out Loud" campaign, per Insider. 
Chrissy Teigen quit Twitter and then returned
In March 2021, Chrissy Teigen took to Twitter to announce that she was leaving the platform. Her fans came out in full force, and although they were sad, they seemed to support her decision overall. One person tweeted, "Good call. The energy vampires love going after you. Starve them. This is a tough site for someone so empathetic. Especially with such a big account. I hope you find your balance again. Try to do something just for you every once in awhile."
However, less than a month later, the mother-of-two returned to the platform. Teigen tweeted, "I choose to take the bad with the good!!" Today noted that it had only been 23 days since she had left the platform, sharing that she was one of Twitter's "most active and visible users." Of course, it wouldn't be long before another bombshell dropped. Maybe Teigen should have stayed away from Twitter for a while longer.
Chrissy Teigen's nasty messages to Courtney Stodden resurfaced
Courtney Stodden was just 16 years old when Chrissy Teigen bullied them online, sending horrible messages. Stodden, who identifies as non-binary, shared the shocking story with The Daily Beast and revealed just what Teigen said to them. They said, "[Chrissy] wouldn't just publicly tweet about wanting me to take 'a dirt nap' but would privately DM me and tell me to kill myself. Things like, 'I can't wait for you to die.'" If that wasn't enough, Stodden alleged that she received tweets and direct messages until just a few years earlier. They pointed out (via InTouch), "It's so damaging when you have someone like Chrissy Teigen bullying children." 
For those who need a recap, Stodden rose to fame after marrying 50-year-old actor Doug Hutchison in 2011. Their parents consented that they marry a man more than three times their age. Stodden told The Daily Beast how they were mocked and ridiculed while only a child. Instead of the world criticizing Hutchinson — today Stodden alleges he groomed and abused them — people attacked Stodden. They named a few celebs who shamed them including Joy Behar, Courtney Love, Dr. Drew Pinsky, and Jason Alexander. Notably, Dr. Drew gave Stodden a breast ultrasound to see if their breasts were real and Alexander pushed at them with a cellphone in a Funny or Die skit. Teigen also seemingly jumped on the bandwagon and blamed Stodden for their situation.
If you or anyone you know is having suicidal thoughts, please call the National Suicide Prevention Lifeline​ at​ 1-800-273-TALK (8255)
Others spoke out about Chrissy Teigen's behavior
Courtney Stodden's cyberbullying accusations, per The Daily Beast, were the beginning of the end for Chrissy Teigen. "Teen Mom" star Farrah Abraham was among the first to remind the world about how Teigen had shamed her. Back in 2013, via Distractify, Teigen allegedly had a lot to say about Abraham. "Farrah Abraham now thinks she is pregnant from her sex tape," she wrote, before adding, "In other news you're a w***e and everyone hates you whoops not other news sorry." Abraham called Teigen a "sick individual" who made "a mockery out of mental health."
Dina Lohan, Lindsay Lohan's mom, also released a statement to Fox News about Teigen allegedly bullying her daughter in the past. Dina stated, "I will not judge her words towards others but I stand firm in one looking into oneself and continue to learn and grow #ownyou." 
Others were also quick to voice their opinion about Teigen's apparent exit from the social media scene. Pete Davidson ripped into Teigen on "Saturday Night Live." He joked, "If there's one good thing about the pandemic, besides getting Chrissy Teigen out of our lives …" and was rewarded with loud laughter. 
Chrissy Teigen apologized but Courtney Stodden remains unconvinced
With her back seemingly to the wall, Chrissy Teigen publicly apologized to Courtney Stodden via Twitter. "Not a lot of people are lucky enough to be held accountable for all their past bulls**t in front of the entire world," she started the message. She continued, "I'm mortified and sad at who I used to be. I was an insecure, attention seeking troll. I am ashamed and completely embarrassed at my behavior, but that is nothing compared to how I made Courtney feel." She shared that she wanted to provide a happy place on the internet and felt bad to have disappointed her fans. She also vowed to do better in the future. 
Teigen also added that she had tried to reach out to Stodden privately but felt she also needed to make it right in public. She stated, "I'm so sorry, Courtney. I hope you can heal now knowing how deeply sorry I am."
Stodden promptly accepted the apology on Instagram. "I accept her apology and forgive her," they graciously said. However, they alleged that Teigen had never reached out to them in private, and they had their reservations about Teigen's sincerity, noting Teigen had blocked them on Twitter. "All of me wants to believe this is a sincere apology, but it feels like a public attempt to save her partnerships with Target and other brands …"
Chrissy Teigen was dropped by big brands
It didn't take long for Chrissy Teigen's empire to begin crumbling. The Daily Mail reported that Macy's decided to sever its relationship with Teigen after details about her tweets to Courtney Stodden came to light. The company dropped her Cravings by Chrissy cookware line faster than Teigen herself could issue a clapback. Bloomingdale's also canceled a promotional event with the "Lip Sync Battle" star. According to Page Six, a source told the outlet that the company was very close to signing a deal with Teigen when the Stodden scandal broke. "They pretty much had it together … but had to cancel it," the insider claimed.
Rumors also swirled that Target had dropped Teigen's cookware products, but it seems as if there was another explanation. According to TMZ sources, Teigen and Target's deal had expired and her products had already been taken off the shelves the previous month, though Target still stocks the author's cookbooks. In a very short space of time, Teigen seemed to have become persona non grata in retail circles. But does that mean it's the end of the former social media queen?
Is Chrissy Teigen's family brand over?
Both Chrissy Teigen and John Legend have built a family brand over the years. Thanks to their frequent social media updates and candid interviews, their fans feel as if they know them. Now that Teigen has fallen from grace, will she be able to rebuild her image again? And has Legend's image also been tarnished? The Post (via Page Six) reported that Teigen has not been handling the fallout very well. "She's so raw and vulnerable … I don't know if she can come back to social media," a source claimed.
Vrbo is currently airing a commercial featuring Teigen, Legend, and their family. Reportedly, the brand felt there were "no issues," but branding expert Mark Borkowski was surprised by the move. He told Page Six, "No one tolerates the idea of a bully," and continued, "It's all about authenticity. If you're found out not to be what you [claim] to be, that always leads to an Icarus moment and everything comes crashing down."
As far as Legend is concerned, it seems as if he may be safe from the fallout. An NBC Universal senior producer told The Post, "NBC loves and supports John. It is a separate relationship. I feel bad for Chrissy — what a mess." As the conversation continues, here's to hoping that genuine conversations take place and that the real healing can begin.
Source: Read Full Article