The Repair Shop's Steve Fletcher emotional as he leaves guest in tears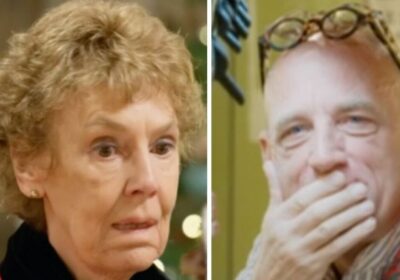 The Repair Shop team get emotional as guest is shown her doll
During an old episode of The Repair Shop, viewers watched as guest Maureen entered the workshop with a very special item she wanted to be restored.
Entering the workshop, Maureen Donaghy and her husband John were welcomed by Jay Blades, and experts Amanda and Julie.
Showing the team her tattered doll called Susie, the guest revealed the story of how she was given her back in the 1950s at the age of two.
Maureen explained while she was on holiday with her family in Millport on the isle of Cumbrae, she took ill and was diagnosed with polio.
Revealing that at the time there were no hospitals on the island that was suitable for her to go to, due to her having to be quarantined, she had to be taken to the mainland away from her parents.
Jay, taken aback that her parents weren't allowed to go with her, Maureen said: "They had to quarantine, it was a deadly illness, a deadly disease that paralysed children and worse."
Getting emotional as she retold the tale, The Repair Shop team learned that she was taken to hospital in July but didn't return home until the winter.
Maureen added: "I was sat on the settee, I couldn't walk, the muscles in my legs had deteriorated."
At the time, she recalled how one of the nurses had told her as she'd been good Father Christmas would bring her a walking doll.
Being given the doll as a gift, Mauren continued: "I remember my father kneeling down, holding Susie by the hands and I stood beside Susie and my mother held me.
"As soon as Susie took one step, I was encouraged to follow and that's how I learnt to walk again."
Although she told the team that she grew stronger as she grew, she's since been hit with a post-polio syndrome which affects her leg, throat and face muscles, which are now deteriorating.
When asked what she hoped the team could do for her doll, Maureen said: "Susie helped me repair when I couldn't walk, so I would like help her repair if you can do anything to help her.
"I would think the mechanisms are too far gone but if you could make her look a bit better. I can't be repaired this time, but she can, I hope. I owe her that."
However, Steve Fletcher was on the case as he stripped back the doll to get to the mechanics underneath.
Managing to fix Susie and ensure she could walk again, it was then passed back to Amanda and Julie for a fresh dress and a spruce up.
Later on in the episode, it was time for Maureen to come back into the workshop for the big reveal.
Instantly overcome with emotion Maureen thanked the team commenting on how beautiful she looked.
When Julie asked if she'd like to see her walk, Maureen's bottom lip started to quiver as she repeatedly asked: "Can she walk? Can she?"
Watching Susie take her first steps again, the team confessed that part was all down to Steve.
Cutting to Steve as Maureen briefly composed herself to thank him, the repair maker was unable to reply as he took in a deep breath and gave a faint smile.
Overcome with emotion himself, he put his hand over his mouth as presenter Jay Blades equally looked touched by Maureen's reaction.
She said: "Thank you, beautiful, absolutely beautiful. She'll be kept safe and she'll go down now into the rest of the family.
"She's got some more adventures in her yet."
The Repair Shop continues Wednesday on BBC One from 8pm
Source: Read Full Article