The Repair Shop: Suzie Fletcher 'chokes up' over 'unbelievable' item restoration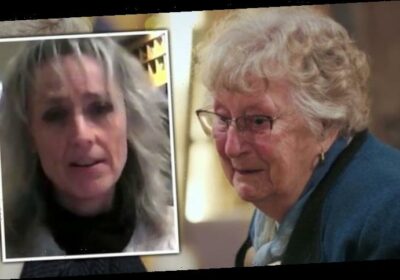 The Repair Shop: Susie says she 'choked up' over item restoration
The Repair Shop experts are known for breathing new life into old and tired treasures after owners confess they feared their beloved items were beyond saving. Speaking on This Morning, host Jay Blades and expert Suzie Fletcher opened up about how emotional the BBC show can be as Suzie reflected on one restoration in particular that left a lasting impression.
This Morning viewers aired a clip from the BBC show of Rose, who had brought in a box belonging to her late husband Jim.
Phillip began: "The story behind that box is amazing. So this is Jim, who is sadly no longer with us, a former child of the Kindertransport.
"This is Jewish children that came to the UK from Germany or from Europe during the Second World War.
"And this is his widow Rose who brings that to you. What a responsibility when someone brings you something like that?"
"I'm constantly in awe of anyone who brings something in that has such intrinsic value," Suzie replied.
Read more: Jay Blades net worth: How much is The Repair Shop star worth?
We will use your email address only for sending you newsletters. Please see our Privacy Notice for details of your data protection rights.
"And it tells us of this magnificent story of Jim and what he went through.
"I take this responsibility very very seriously and the whole time I'm working on the item I'm very aware of getting it right and making sure it's put back in a good condition to hand back to the owner."
"That is the beauty of the show," Holly said. "You couple the skill of the restorer with the real-life stories which are always the best."
Jay shared: "We're very fortunate in The Repair Show that we've got over 500 years experience and I must say Suzie is the best at this.
"She holds her breath until the person who's receiving the item enjoys it and says thank you.
"She puts so much love into what she's doing, as do all the experts, she just wants this item to continue for another 100 years.
"The people who bring the items in, wow, they are so brave and courageous to tell us about their family history."
Phillip said: "Suzie you said when you reveal the box you've been working on to Rose, it was the look in her eyes."
DON'T MISS
Antiques Roadshow guest breaks down over valuation of Rolex [INSIGHT]
Antiques Roadshow guest gobsmacked over origin of £500K jewel [VIDEO]
Antiques Roadshow: Sean Connery's Bond jacket fetches hefty sum [INTERVIEW]
Discussing the owner's reaction, Susie said: "Unbelievable. Her eyes spoke a thousand words.
"It was something I will never forget. The depth of the emotion in her eyes, it gets me really choked up thinking about it.
"She's a beautiful lady and I was so honoured to do this for her."
"We've all learnt how important community is over the last year and within your workshop, it is like a community," Holly remarked.
"You all have your individual areas of expertise but if someone doesn't know something they pop along to the next person who might have the answer. You all work separately but very much together, Jay."
"Yes, we've become a family since filming [began] in 2017," Jay said.
"Sometimes we're down filming five, six days a week. You have lunch together, dinner, you have breakfast.
"And it's a real joy that you can rely on that community of experts and that's infront and behind the cameras as well."
The Repair Show continues on BBC One tonight at 8pm.
Source: Read Full Article