The Last Kingdom's Eadith pays tribute to 'amazing' Alexander Dreymon: 'Absolute treat!'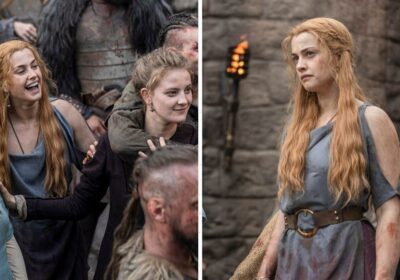 Alexander Dreymon thanks fans as The Last Kingdom wraps
We use your sign-up to provide content in ways you've consented to and to improve our understanding of you. This may include adverts from us and 3rd parties based on our understanding. You can unsubscribe at any time. More info
The Last Kingdom's Stefanie Martini gushed over co-star and director Alexander Dreymon for his willingness to help. In a sweet tribute she expressed her pride and admiration for his work in the historic drama.
Eadith actor Stefanie Martini paid a sweet tribute to The Last Kingdom star Alexander Dreymon, sharing what it was like working with him as a director.
Directing an episode in the fifth season of the show, Alexander is best known for bringing the drama's leading character to life.
Having the Uhtred actor as a director was a notable experience for Stefanie for more reasons than one.
She credited his experience as an actor for his success at leading the cast during filming and shared it was "an absolute treat".
She said: "Because he's an actor, he was really good at giving notes that were personal to each of us and to how we work.
"We all wanted to do our best for him as well, so it felt like a really lovely collaboration.
"He put so much prep into everything, he really cared, and he had his shot list and I loved it.
"I felt like it was a really great experience. I'm really proud of him."
Season five of the show saw Stefanie's character Eadith in an interesting arc of her life.
Leaving the fourth instalment in a tangle of grief after losing her brother and being stabbed herself, the character's storyline was being prepped for one of change.
At the beginning of the latest run, she has used her pain and suffering to find direction in her new life.
Becoming a healer and doctor, she has been travelling across France and during the course of the season, viewers watch her discover herself and her moral compass.
Stefanie explained: "She's calm, and she's clever, and she's grown, and I think she really knows who she is."
The actress further considered the role of women in the programme and credited the Netflix drama for switching up the strong female narrative.
Covering strength in the traditional sense, storylines are full of fierce female warriors, but the series also champions the emotional strength of its leading ladies.
Stefanie commented: "It would be mad if there weren't strong women in this show.
"There are stereotypical ideas of strong being the warriors, but what's been really nice over the development of the show is to see different kinds of strength."
While a fan favourite on the silver screen, creators have confirmed the fifth series will be the finale of the drama.
Writers, producers and cast members are ditching the telly and taking a run at Hollywood as they round off the saga with a feature film epilogue.
Watch seasons 1-5 of The Last Kingdom on Netflix.
Source: Read Full Article