'The Handmaid's Tale': Ann Dowd Says Aunt Lydia Feels Like 'She Made a Mistake With Janine'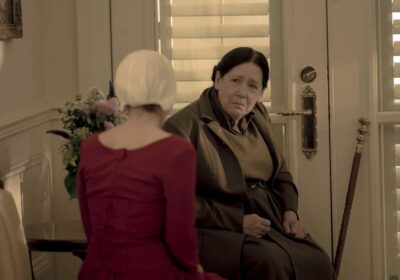 In The Handmaid's Tale, Aunt Lydia (Ann Dowd) and Janine (Madeline Brewer) have an incredibly nuanced and complicated relationship. The two love each other, and one could argue that their relationship resembles a surrogate mother-daughter dynamic.
Despite their love, Aunt Lydia is one of Janine's oppressors, and she is the source of a lot of Janine's physical and mental pain. During an interview with The Hollywood Reporter, Dowd revealed that Aunt Lydia feels a great deal of regret about the way she treated Janine.
Aunt Lydia regrets removing Janine's eye in 'The Handmaid's Tale'
When Janine was first captured by Gilead she was rebellious and headstrong. During her first encounter with Aunt Lydia, she spoke out of turn and challenged Dowd's character. In retaliation, Aunt Lydia ordered for Janine's eye to be removed as punishment and to make an example out of Janine.
Throughout The Handmaid's Tale, Aunt Lydia shows a sincere attachment to Janine. Dowd told The Hollywood Reporter that this is because she wishes she had never removed Janine's eye, saying:
"She made a mistake with Janine. She can't quite forgive herself for taking that eye out. That was an emotional response to a girl who had the nerve to curse right in her face, when she already said that's not a word we use and she said it anyway. So Lydia can say all she wants that she was trying to teach a lesson to the other girls, but she did what she's trained not to do — she reacted emotionally and punished this person. She now feels responsible for her and will look after her all of her life. And seeing how Janine will never be the same; she changed the soul of innocence. Maddie plays her so beautifully. Lydia is responsible for who that girl is. I think she loves her deeply and feels responsible as well, they come hand in hand."
Handmaids are different in season 4 of 'The Handmaid's Tale'
"It wouldn't surprise me if she steps in with the renewed confidence of someone who has found her footing again. Will she soften? I think I read it in one of the scripts that the rebels are not as plentiful among the Handmaids anymore. The Junes and Moiras [played by Samira Wiley], that level of 'f*ck you' is not [there]. I don't think Lydia will have any problem getting order and following what she needs to follow to keep things moving," she said.
Ann Dowd thinks Aunt Lydia loves the Handmaids
Despite the violence Aunt Lydia inflicted on Janine, June (Elisabeth Moss), Emily (Alexis Bledel), and Moira (Samira Wiley), Dowd told The Hollywood Reporter that Aunt Lydia loves the Handmaids she supervises.
"The thing is, when you come to love a person as she does love June and love Janine, something happens," Dowd said. "… To live the way Lydia lives and the way Gilead operates, you have to have built walls that are strong and tall, because you cannot let too much in."
She continued, "But if you begin to care about someone or love someone, you're going to have a little bit of a problem keeping those walls in tact. And so I think that has happened for Lydia, because of the love she has for her girls."
Season 4 of The Handmaid's Tale is available to stream on Hulu.
Source: Read Full Article