The Hairy Bikers' Si King snaps over 'terrible' claims Dave Myers 'on his deathbed'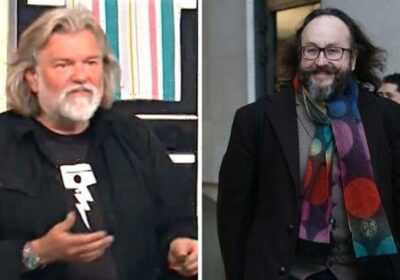 Sunday Brunch: Ross Noble says Dave Myers 'is on his death bed'
We use your sign-up to provide content in ways you've consented to and to improve our understanding of you. This may include adverts from us and 3rd parties based on our understanding. You can unsubscribe at any time. More info
The one-half of the Geordie cooking duo explained that he was appearing solo on Sunday Brunch because Dave was suffering with COVID-19, which Si announced earlier this week on The One Show. Comedian Ross Noble was also a guest on the weekend cooking show, hosted by Tim Lovejoy and Simon Rimmer, but he seemed to upset the chef when he commented that Dave was "on his deathbed".
After explaining that it felt "weird" being without his co-star, Ross commented that he seemed to be doing well without him.
The 45-year-old went on: "I'm just saying, I know he's [Dave] on his deathbed, but-"
"That's terrible," the long-term cooking star hit back, continuing: "That's not – what a terrible thing to say."
"Has he been holding you back all these years?" Jimmy Car chimed in.
"Absolutely not, absolutely not. Our strengths and weaknesses are equal," Si replied.
"You know, so it's nice." Jimmy, also appearing as a guest, added: "Well you seem very affable, and you're cooking brilliantly, so I don't think you need him."
Ross pushed it further, stating: "I think if you keep your fingers crossed, he might slip away."
The chef went back to explaining the dish he was cooking, as Simon remarked: "Good morning Dave, if you are watching. If you're not, then why aren't you watching?"
He turned back to the 54-year-old and said: "You've just released your twenty-fifth book."
"Everyday Winners," the cook explained. "And that was hilarious how we arrived at that, because what we did, we asked all the people that followed us on social media what they ate.
"And we thought we'd get about 500 responses, but we got 20,000 main meal suggestions, 8,000 puddings and 4,000 bakes.
"We got things like 'Meet Gran's Gravy', but what is it? Is it chicken gravy or beef?
"There was all that sort of stuff – it was hilarious."
"Difficult to do though," Simon stated. "Because you must get things [where you think] this has got to go in, definitely."
"Do you know what, the process that Dave and I use, because we've got a great team it's not just us, the process is if one of us goes 'absolutely not, let's just leave it out', it doesn't go in.
"But mostly, people were just great. So we put, as a thank you to everybody, we've randomly selected 100 people t stick in the back of the book to say thank you very much.
"It was a great book for both of us and it was really fun as well."
As he went back to cooking a frittata, Ross asked: "What's the difference between an omelette and a frittata?
"Because they're both just egg with stuff in it aren't they?"
"No," the Hair Biker replied, "an omelette is egg, and a frittata has got stuff in it. You just answered your own question."
Sunday Brunch airs weekly at 9.30am on Channel 4.
Source: Read Full Article