The Gold viewers blast 'awful' new BBC drama – raging 'it's no Happy Valley' after just one episode | The Sun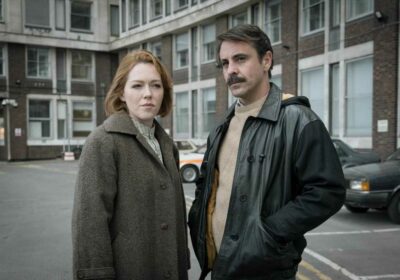 THE Gold viewers have blasted the new BBC drama 'awful' and raged 'it's no Happy Valley' after just one episode.
Drama fans have been spoilt in recent weeks with the third series of Happy Valley playing out in spectacular form every Sunday night.
After last weeks epic serie finale, it was always going to be a tough act to follow for whichever drama took its place.
And it seems The Gold has struggle with the big shoes it had to fill, after one episode left many watching unimpressed.
The drama depicts the 1983 Brink's-Mat robbery – the biggest robbery in history at the time – which saw six armed robbers attempt to steal £1 million.
However, they ended up making off with a staggering £26 million worth of gold bullion after accidentally stumbling upon the riches midway through the heist.
Read More on the BBC
BBC Breakfast's Victoria Valentine reveals horrific knifepoint attack
BBC chairman faces calls to quit after helping secure £800k loan for Boris
The cast includes well known faces such as Hugh Bonneville, Dominic Cooper, Peter Davidson, Charlotte Spencer and Jack Lowden.
But it wasn't enough to save it in some viewers' eyes, with one writing on Twitter: "Watchable but no #HappyValley".
Another added: "Last Sunday night on BBC1 we had the gripping Happy Valley. This week we are left with The Gold. Awful."
A third tweeted: "Bring back #HappyValley….even the repeats..please! #theGold".
Most read in Drama
BBC reveals fate of major TV drama after 13 seasons – and schedule shake-up
Call The Midwife: Trixie makes big decision about wedding in first look clip
Unforgotten's Nicola Walker replacement revealed in first look at season 5
Midsomer Murders' John Nettles looks unrecognisable in unearthed pics of TV debut
Meanwhile a fellow viewer wrote: "Gave up after 10 minutes. A very poor replacement for Happy Valley".
But others defended The Gold, with one writing: "Why are so many saying it's 'no Happy Valley'? Why the comparison? I gave up on Happy Valley in Ep2. This is based on reality which is exactly my cup of tea."
Another added "Stop comparing #TheGold to Happy Valley, jeez. One is fact, the other is fiction, broaden your horizons. Yes HV was bloody brill but you just can't compare the two."
The Gold continues Sunday, February 19 at 9pm on BBC One.
Source: Read Full Article