'The Girl From Plainville': Conrad Roy's Parents Hopes Show Doesn't 'Defend' Michelle Carter's 'Needless and Evil Actions'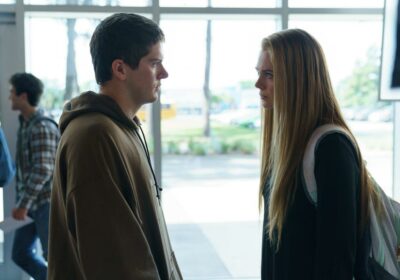 Hulu's miniseries The Girl From Plainville explores the 2015 true story of Michelle Carter, who was convicted of encouraging her boyfriend's death through text messages and phone calls. Shortly before the show premiered, Conrad Roy's parents admitted they hoped The Girl From Plainville doesn't "defend" Carter.
Conrad Roy's parents hopes 'The Girl From Plainville' doesn't 'defend' Michelle Carter
Speaking to People a few days before the Hulu docuseries The Girl From Plainville debuted, which centered around the suicide of her teenage son Conrad Roy, his mother, Lynn, said she hadn't yet watched the show. However, she pointed out her fears that the docuseries will center more around her son's ex-girlfriend, Michelle Carter, than Conrad.
"There may be an attempt to defend some of her needless and evil actions," she admitted. If anything, the Massachusetts native hopes the documentary will shine a light on her and the Roy family's efforts to criminalize suicide coercion in their state, a crime that would result in up to five years in prison.
Referred to as Conrad's Law, Massachusetts is one of the few states without the bill. Even though they seek to criminalize the action, Conrad's parents ultimately hope the law helps other families not have to endure what they did.
Although a judge declared Carter legally responsible for Roy's death, resulting in a 15-month prison sentence of which she served 11 months for good behavior, Conrad's father admitted it "doesn't matter" to him, pointing out, "nothing's going to bring my son back." On the other hand, Lynn revealed that the conviction "satisfied" her because she felt they "had to be the voice" for their son. 
'The Girl From Plainville' is based on Conrad Roy and Michelle Carter's relationship
The new Hulu docuseries is a dramatization based on a 2014 true story in which 17-year-old Carter, portrayed by Elle Fanning, encouraged her 18-year-old boyfriend Conrad Roy III, portrayed by Colton Ryan, to die by suicide through a series of text messages and phone calls.
Throughout the episodes, the teenagers' secret relationship is explored through their hundreds of written exchanges as well as the investigation leading to her unprecedented 2015 conviction for involuntary manslaughter.
In 2019, the series, inspired by journalist Jesse Barron's article of the same name, began development and was filmed from August to December 2021 in Savannah, Georgia.
A part of the miniseries premiered at the festival SXSW in March 2022 before debuting on Hulu two weeks later.
'The Girl From Plainville' cast includes Elle Fanning and Colton Ryan
The Girl From Plainville cast includes Maleficent's Elle Fanning as Michelle Carter and Cara Buono (Mad Men), and Kai Lennox (Unbelievable) as her parents, Gail and David Carter.
Additionally, Callie McClincy plays her younger sister, Hayden. Dear Evan Hansen's Colton Ryan portrays Conrad Roy III or Coco, Chloë Sevigny as his mom Lynn, Norbert Leo Butz as his dad Conrad II or Co, Peter Gerety as his grandfather Conrad Sr. and Kristin Griffith as his wife and Coco's grandmother, Janice.
The Roy family also includes two younger sisters, Sydney and Paige, portrayed by Ella Kennedy Davis and Leah Thompkins, inspired by his real-life siblings, Camdyn and Morgan.
Michelle's friends Susie Pierce (portrayed by Pearl Amanda Dickson), whom she met at a softball tournament, Natalie Gibson (Ella Rubin), who Michelle revealed her guilt about convincing Coco to get back into the truck, and Billions actor Kelly AuCoin as Scott Gordon, the police detective who investigates the teenager's death also round out the cast. The Girl From Plainville airs Tuesdays on Hulu.
How to get help: In the U.S., call the National Suicide Prevention Lifeline at 1-800-273-8255. Or text HOME to 741-741 to speak with a trained crisis counselor at the free Crisis Text Line.
Source: Read Full Article