The Chase's Paul Sinha compared to fellow Chaser after £16k loss 'He did a Shaun!'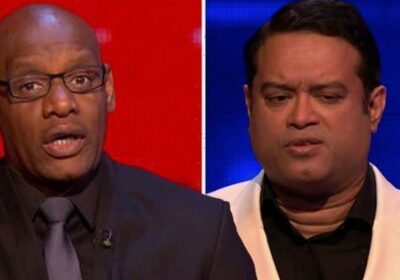 The Chase: Paul Sinha congratulates contestants after his loss
When you subscribe we will use the information you provide to send you these newsletters. Sometimes they'll include recommendations for other related newsletters or services we offer. Our Privacy Notice explains more about how we use your data, and your rights. You can unsubscribe at any time.
Bradley Walsh welcomed Harry, Bill, Samantha and Donna onto The Chase this afternoon as they battled it out against Chaser Paul Sinha for the jackpot prize fund. All of the contestants except for Harry made it through to the final and took home a share of £16,000 after defeating the Sinnerman. However, the Chaser's performance reminded ITV viewers of his co-star Shaun Wallace.
Harry was the first contestant to face the Chaser with £5,000 raised from his cash builder round.
The player narrowly missed out on a place in the final but the rest of his teammates secured their spots.
Bill, Samantha and Donna added £7,000, £4,000 and £5,000 respectively to the jackpot.
Bradley gave the team a three-point advantage for making it through to the final and was thrilled with the trio for achieving a 20 point lead.
Read more: Mark Labbett 'winds up' Bradley Walsh with bizarre Jenny Ryan fact
However, the team didn't stop there as they made the most of the five opportunities to pushback Paul handed to them.
The team won with four questions spare and Paul admitted he was impressed with their knowledge.
"I'll tell you what, five attempts to push back, four executed, Chaser needed four, brilliant," Bradley remarked.
However, ITV viewers felt the Sinnerman's performance reminded them of the Dark Destroyer.
One wrote: "Paul pulled a Shaun! #TheChase," and another added: "Paul is Shauning this. #TheChase."
"Paul's playing a blinder here!#TheChase," someone else joked.
A fourth shared: That was a splendid #TheChase with @paulsinha. Edge of the seat stuff."
"When the team win I feel like I've won the money I'm so happy for them #Thechase," another said.
DON'T MISS
A Place in the Sun's Scarlette Douglas mortified as guest halts search [VIDEO]
Ackley Bridge viewers slam 'change' to Channel 4 drama 'Not the same!' [INSIGHT]
EastEnders sparks backlash as domestic abuser Gray Atkins kills again [INSIGHT]
After the huge win, Bradley asked: "Look Bill, Samantha and Donna congratulations £5,330, Bill what are you going to do with it?"
"I'm buying a Yamaha Niken," Bill replied and Samantha added: "I'm off to South Africa."
"Donna, a car for your husband?" Bradley asked and she replied: "Yes definitely."
"Guess what you've outrun the Chaser, congratulations you've not been caught," Bradley remarked. "That was a great great game."
The Sinnerman added: "You played superbly, those were tough questions.
"The biggest compliment I can pay you I think that's as well as I've ever played in terms of difficult level of questions and I didn't come that close to beating you. Well played."
"Well played indeed. Excellent performance from the team, excellent performance from the Chaser but he didn't catch them," Bradley concluded.
The Chase airs on weekdays on ITV at 5pm.
Source: Read Full Article