'The Bold and the Beautiful' Odds & Ends: Scott Clifton Wins French Award, Rena Sofer Judges Miss Universe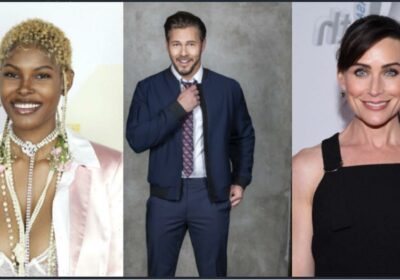 This week's The Bold and the Beautiful news roundup features some great news from across the pond. Scott Clifton, who plays Liam, was given an international award. Plus, Rena Sofer (who plays Quinn) has been named a judge in a world-famous beauty pageant. And Diamond White, who plays Paris, has been named outstanding performer of the week.
'The Bold and the Beautiful' earned Scott Clifton a French award
Did you know that The Bold and the Beautiful airs in France? That's right: our counterparts across the pond love the Logans and the Forresters just as much as we do. However, their episodes are about a year behind ours (so they don't know about things like the return of Taylor), and they're overdubbed in French.
Regardless, our French friends love the show so much that they gave Scott Clifton an award. According to Toutela Tele, a French site that covers television and the entertainment industry, Clifton was named the "Best International Actor." By the way, in case you're curious, the name of the show is Amour, Gloire, et Beaute — Top Models in France.
Clifton recorded a thank you note for the site, and they posted it on their social media pages. Clifton was clearly pleased and grateful that he'd won the award. However, he was also a bit taken aback — and even took the time to thank his wife for putting up with his constant need to "run lines."
Rena Sofer will judge Miss Universe
After the pandemic threw off many plans for Miss Universe, the beloved beauty pageant is back. Miss Universe will air in the United States on Sunday, December 12, 2021. The show will be held in Eliat, Israel. And Miss Mexico, Andrea Meza, will be relinquishing her crown at the end of the pageant.
As it was in previous years, Steve Harvey will host the event. But there will be some familiar faces as celebrity judges, as well.
https://www.instagram.com/p/CXOkFOMJ1-q/
But, according to Hola!, The Bold and the Beautiful fans will be tuning in to watch none other than Rena Sofer serve as one of the official judges. Lori Harvey, Steve Harvey's daughter, will also be a judge. And rounding out the judges' panel are Adamari Lopez, Iris Mittenaere, Urvashi Rautela, Adriana Lima, Cheslie Kryst, and Marian Rivera.
Diamond White named Performer of the Week
Diamond White, who plays Paris on The Bold and the Beautiful, gave an exclusive interview to Soap Opera Digest when they named her the Performer of the Week. In her interview, she shared what she did when she found out she got the job on the soap.
"I was moving into my first apartment, on my own, so all I did was call my mom and freak her out a little bit," she said. "I called and said, 'Mom, I have something to tell you,' and she was like, 'You'd better not be pregnant!' And I said, 'No, Mom, I'm part of a new show. I got The Bold and the Beautiful,' and she freaked out. Then, I came home to my new apartment and took shots."
Source: Read Full Article