The Blacklist's James Spader left dumbfounded by gift from NBC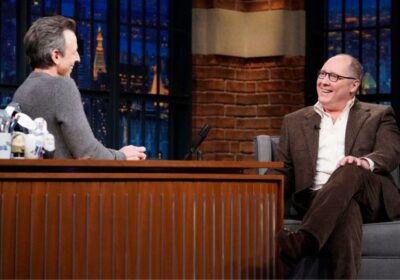 James Spader's gift at the end of The Blacklist wasn't at all what he expected
We use your sign-up to provide content in ways you've consented to and to improve our understanding of you. This may include adverts from us and 3rd parties based on our understanding. You can unsubscribe at any time. More info
NBC's hit crime drama The Blacklist is about to hit its 200th episode this weekend ahead of the show coming to an end. Following the show's milestone premiere, lead star James Spader was given a gift from NBC but it wasn't at all what he expected, as he asked a member of the team "what the hell is this?".
Spader featured on the Late Night With Seth Meyers show to discuss his career which included the huge role he played in action-thriller series, The Blacklist.
With Spader's acting career spanning over three decades, he has been a part of a fair few TV milestones.
When shows meet a huge milestone, like 200 episodes in Spader's case, networks usually give the cast and team members of the show presents to say thank you for their hard work.
With this in mind, Meyers asked Spader about gifts he has received throughout his career, and with The Blacklist 200th-episode milestone looming the actor discussed the unusual gift he received from NBC.
Spader explained how he received his milestone gift in an interesting way.
He began: "So this came in a Hermes bag, and I thought wow, they really like me – it's an expensive store.
"And I took it out, and it was just a square of leather," Spader said, as the crown laughed in the background.
Spader continued: "Which I've seen before, like when we've done a renovation at our house, and I was sent the same thing as a sample to what we might want to cover the couch with".
Stream everything on Amazon Prime Video for FREE
£8.99 £0 View Deal
The 30-day Prime Video free trial unlocks everything on the streamer, including Hollywood blockbusters and TV shows like Clarkson's Farm, Carnival Row, Daisy Jones And The Six, The Boys, The Rings Of Power, Star Trek Picard, and more. Prime Video also boasts live sports coverage of Premier League matches, international rugby and the US Open. Cancel anytime during the trial and pay nothing
To clarify Meyers asked: "So, it was like a leather sample?" to which Spader confirmed: "It was a leather sample."
"It's Hermes" the actor continued as he raised his hands, adding: "I thought, maybe it's a sample for what's possible, to make a saddle out of. I really didn't have any idea what it was."
The actor then called Laura, who was a member of the team, to see if she could help him decipher what it was.
As Laura entered Spader's dressing room he exclaimed: "What the hell is this?".
Laura revealed she had already seen the item, as she explained: "Oh yes, I got the same thing."
Thanks to Laura, it turns out the "leather sample" that NBC had gifted Spader was actually a very pricey mouse pad.
The mouse pad in question retails at £335 on the Hermes website.
The actor also discussed other gifts he has received for previous shows like ABC's Boston Legal, where Spader received another unUsual pricey gift.
ABC delivered a Tiffany Box to Spader, but again it wasn't a gift the actor expected.
He recalled: "It was from the Tiffany store, and I was like 'oh great, what's this going to be?'"
Spader explained: "And I open it up and it was a bracelet" he then looked at the crowd pulling a confused expression as they laughed in the background.
The Blacklist is currently streaming on Amazon Prime Video in the UK.
Source: Read Full Article