'The Bachelorette': 5 of the Wildest Rules Contestants Have to Follow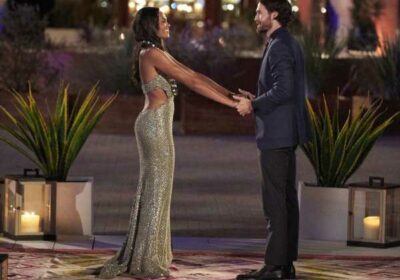 Over the years, reality TV producers have gotten savvy about getting the most drama out of the contestants on their shows. The Bachelorette is no different, and there is a slew of rules contestants have to follow at all times. These rules range from specific tests you have to pass to get on the show to when you're allowed to speak to certain people. Here are some of the wildest rules contestants have to follow.
'The Bachelorette' contestants can't tell anyone they're going to be on the show
While this rule for contestants of The Bachelorette seems like a no-brainer, you might think the women and men selected can tell their employers why they need to take time off work. Nope. Contestants aren't even allowed to let their jobs know why they'll be MIA for a while.
Contestants have to buy all their own clothes
With Rose Ceremonies, Fantasy Suite Dates, and more, contestants need outfits for each occasion. Since it's not a good look to wear the same clothes twice during their stay, some fans might think ABC is doling out some cash for new clothes. However, it's up to each contestant to provide all their clothes and accessories for their appearances on The Bachelorette. This includes 14 different Rose Ceremony dresses. We can all guess that it's not cheap.
'The Bachelorette' contestants have to take STD tests, psychological evaluations, and more
With a TV show as dramatic as The Bachelorette, it's no surprise that participants all have to go through some pretty serious psychological evaluations to be on the show. In 2019, Dr. Steven Stein sat down with Fashion Magazine to talk about situations he has to prepare contestants for and often what they'll face once they leave the show.
There are also STD tests contestants have to agree to as well. It's no secret that some of these people are really … in the mood … shall we say? Nobody wants to be held back by wondering if they're risking their health by moving forward with a relationship, and the show does its best to curb that fear with these tests.
Producers have a two-drink maximum rule for 'The Bachelorette' contestants
While it might seem that the participants in the show have been mighty buzzed at one point or another, producers of the show say there's a two-drink per hour rule for all participating. With emotions running high and ample opportunities for jealousy to rear its ugly head, it makes sense that the show wants contestants to remain mostly level-headed while filming.
No eating allowed on those fancy dates
We've all seen the tables and spread of food contestants get to sit next to while on their dates, but when it comes down to it, there's no eating allowed. No, that doesn't mean the people on the show are starving. It just means they have to eat before their dates for a couple of reasons. One, nobody looks good slurping spaghetti noodles on camera, but that's not the only reason. Audiences want to hear the conversations between The Bachelorette and her potential suitors while on their dates. When you're eating with a microphone attached, all the viewers would hear would be the chomping and chewing of food.
These rules might sound strict and over the top, but it's clearly not stopping anyone from trying out. These rules are also probably one of the reasons the show has remained so popular over the years. The next season of The Bachelorette will start on Oct. 19 on ABC, and we can't wait to see what's in store.
Source: Read Full Article