The Bachelorette 2022 spoilers – Fans slam series as Gabby Windey and Rachel Recchia 'objectify' bachelors in episode 2 | The Sun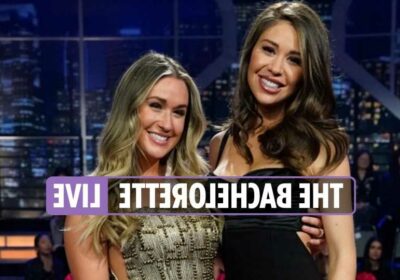 THE BACHELORETTE is back tonight with another all-new episode, and a preview has fans slamming the show for "objectifying" the bachelors early in the season.
Bachelor alumni Gabby Windey, 31, and Rachel Recchia, 26, are both starring in this season of The Bachelorette for the first time in the show's history, with two Bachelorettes co-leading the entire season.
In a preview for the episode airing on July 18, the bachelors are asked to strip down and show off in Speedos, and some fans on Twitter are not happy with the move.
"Not the Show Everyone Your Body Against Your Will date. It's a little early in the season to do side-by-side body comparisons isn't it? They don't even know their names yet," one person tweeted.
"'Cause it's okay to objectify them because they're men," another wrote with a sad emoji.
The Bachelorette airs Mondays at 8pm ET on ABC.
Read our Bachelorette live blog for the latest news and updates…
Josie Rhodes Cook

How to join the Bachelorette

There are two ways to apply to be on The Bachelor or Bachelorette.

Firstly, there is an online application that can be completed at BachelorNation.com.

The questions on the form for each show are basic, asking for name, age, height, what your occupation is, and if you have been married before or have children.

There is also a question about why you want to be on The Bachelor or Bachelorette. It asks applicants to submit their social media handles and whether or not they know someone else who they think would be good for show.

Josie Rhodes Cook

The Bachelorette cast 2022

The 32 contestants for Season 19 of The Bachelorette were confirmed by Jesse Palmer on TikTok Live on June 7, 2022.

Alec G.
Aven J.
Brandan H.
Chris A.
Colin F.
Erich S.
Ethan K.
Hayden M.
Jake R.
James C.
Jason A.
Joey Y.
John A.
Johnny D.
Jordan H.
Jordan V.
Justin B.
Justin Y.
Kirk B.
Koy S.
Logan P.
Mario V.
Matt L.
Michael V.
Nate M.
Nick G.
Quincey W.
Roby S.
Ryan M.
Spencer S.
Termayne H.
Tino F.
Tyler N.
Zach S.

'The men are baring all'

In a preview shared to The Bachelorette's Twitter account ahead of tonight's episode, the bachelors are shown getting ready to show off their bodies in Speedos gifted to them by Gabby and Rachel.

"TONIGHT on #TheBachelorette, the men are baring all! Don't miss it at 8/7c on ABC and Stream on Hulu!" the show shared.

Josie Rhodes Cook

'We were on our own journey'

Gabby also expressed that Clayton might have had ulterior motives all along.

"I truly felt that we were on our own journey," Gabby said.

"But watching it back, you were clearly pinning us against each other."

When Clayton asked Gabby if he could walk her out, she responded and quickly said "no."

Josie Rhodes Cook

Gabby and Clayton's breakup

During the March 15 finale, Clayton sat both Gabby and Rachel down to break up with them.

"It's not feasibly possible for me to be in love with three women like I said I was," Clayton said.

Gabby did not hold back on confronting Clayton when he broke up with her.

"When you say you love someone, you're assuming responsibility to protect someone's feelings and you didn't do that."

Josie Rhodes Cook

Who is Gabby Windey?

Gabby, 31, is a cheerleader for NFL's Denver Broncos, but during the Covid-19 pandemic, she showed her passion extends beyond the field.

When the Covid-19 pandemic closed stadiums and hospitals were in dire need of staff, Gabby, who had been dancing since the age of 12, focused her energy on saving lives.

She had been a nurse for three years when she was hired to be a cheerleader for the Denver Broncos in 2016.

Josie Rhodes Cook

Rachel and Clayton's breakup

In the March 15, 2022, finale, Clayton sat Rachel down to break up with her.

Rachel cussed Clayton out and was upset that he kept her on the show when he did not see a future with her.

She said: "I promise you that when you look back at this, it will haunt you.

"I gave you everything."

Rachel left the show in tears.

She sobbed: "I'm so heartbroken but at least now I have an answer."

Josie Rhodes Cook

Who is Rachel Recchia?

Rachel is a 26-year-old from Orlando, Florida.

She works as a commercial pilot and flight instructor.

Rachel's birthday is March 8, which makes her a Pisces.

She first joined Bachelor nation when she competed in Clayton Echard's season of The Bachelor where she went on to lose the competition.

Josie Rhodes Cook

The Bachelorette makes history

The Bachelorette made history by announcing that both Rachel Recchia and Gabby Windey will be season 19's leading ladies.

It was revealed during the After the Final Rose special in March that the two women will star in season 19 together.

Host Jesse Palmer left commercial airline pilot Rachel, 26, and ICU nurse Gabby, 31, stunned when he revealed they would be the new Bachelorettes.

Josie Rhodes Cook

How to stream the Bachelorette

The Bachelorette airs every Monday at 8pm ET on ABC.

But fans can also stream the show on the ABC app or stream it on Hulu the following day.

Josie Rhodes Cook

When is the Bachelorette on?

The show is expected to air Mondays at 8pm EST on ABC.

The episodes will each be two hours long.

Source: Read Full Article