That '90s Show Hits Nielsen Streaming Top 10 at No. 2; Last of Us Rises to No. 6 on Overall Chart With Just 2 Episodes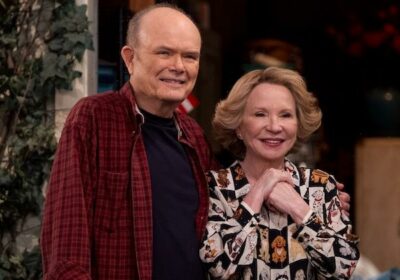 While Ginny & Georgia topped Nielsen's U.S. ranking of streaming originals for a third straight week, fellow Netflix series That '90s Show made its chart debut close behind in the No. 2 spot.
For the week of Jan. 16, Ginny & Georgia amassed 1.8 billion minutes viewed across 20 total episodes. That '90s Show totaled 1.6 billion minutes viewed for its 10-episode season, followed by Netflix's Vikings: Valhalla (975 million minutes/16 episodes), Netflix's stalwart Wednesday (711 million minutes/eight episodes) and Prime Video's Jack Ryan (465 million minutes/24 episodes).
Rounding out the Top 10 this week were Netflix's The Circle (366 million minutes viewed/63 total episodes), Netflix's Women at War (330 million minutes/eight episodes), Netflix's Kaleidoscope (321 million minutes/eight episodes), Prime Video's Hunters (294 million minutes/18 episodes) and Disney+'s National Treasure: Dial of Destiny Edge of History (294 million minutes/seven available episodes).
Meanwhile over on Nielsen's latest ranking of Top 10 Streaming Programs (which includes acquired fare, movies and whatnot), The Last of Us (via HBO Max) amassed 837 million minutes viewed for its first episode and just a few hours of eligibility for Episode 2, which was good enough for No. 6 (behind Ginny & Georgia, That '90s Show, The Walking Dead on Netflix, Vikings: Valhalla and Netflix's good ol' Cocomelon).
Want scoop on any of the above shows? Email [email protected] and your question may be answered via Matt's Inside Line.
Source: Read Full Article