Sweet Tooth's Gus star lands major role away from Netflix drama ahead of season 2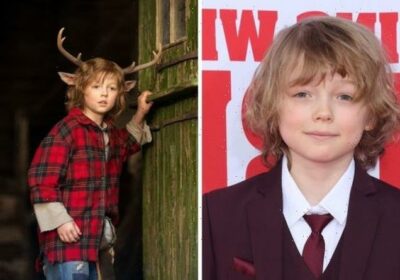 Sweet Tooth: Netflix release teaser trailer for new series
We use your sign-up to provide content in ways you've consented to and to improve our understanding of you. This may include adverts from us and 3rd parties based on our understanding. You can unsubscribe at any time. More info
Christian Convery is well known for his role as Gus on Netflix's dystopian science fiction series. Despite the impending release of Sweet Tooth's second season, the 11-year-old actor has landed a major role away from the series and will be starring in an all-new movie, which will be based on a true story.
It was recently announced that the cast of the brand new movie Cocaine Bear had been updated with a host of new and exciting names.

Alongside Christian, actors Margo Martindale, Kristofer Hivju, Christian Convery, Brooklynn Prince, Kahyun Kim, and Scott Seiss had been added and expected to feature.

It's yet to be revealed what characters they will play, but it was disclosed that the film would be an interesting thriller about a bear that killed itself by accidentally consuming an astounding amount of cocaine.

This plot is based on a true story from Kentucky in 1985 and the bear was dubbed Pablo Eskobear after it overdosed.
Although the plot line could be considered a comedy, Cocaine Bear is set to be a thriller.

This series will be the second feature film that director Elizabeth Banks has created for Universal Studios.

She had previously worked behind the scenes of 2019's Charlie's Angels and the second spin-off of Pitch Perfect which was released in 2015.

The host of new actors will be joining Jesse Tyler Ferguson, O'Shea Jackson Jr, Alden Ehrenreich, Ray Liotta, and Keri Russell who had previously been confirmed to star in the movie.
Fans of Sweet Tooth have found a favourite character in Gus (played by Christian Convery) after he first appeared in season one's pilot.
The series followed a brand new breed of children who were half human and half animal living in isolation.
Taking place 10 years after a global virus took over the world and divided society, the hybrid creature emerged, this included Gus who was half deer.
However, a year after his father Pubba (Will Forte) was found dead, the naive 10-year-old set out on a mission to leave the wilderness and find his mother.
Gus had to navigate life and survival in a world where the intrigued humans, the hybrids hid from, would fear and hunt them.
With only a photo of his mother and the word Colorado written on it, he set out on his adventure.
Later on in the season, Gus came across a group of hunters who wanted to kill him for fun but were taken aback after he spoke.
Thankfully, traveller Tommy Jepperd (Nonso Anozie) saved him by murdering the poachers and joining Gus on his journey to find his mother.
Sweet Tooth became such a hit that the series took the number one spot on Netflix less than 24hrs after its premiere.

Cast members and showrunners have remained tight-lipped about Cocaine Bear, however, Deadline did report that production for the movie is set to begin in Ireland later this month.

A release date is yet to be revealed, Express.co.uk will be updated with new information about the upcoming movie.

All episodes of Sweet Tooth are available to stream on Netflix
Source: Read Full Article