'Strictly's Layton and Nikita care for each other – but their journey will soon be over'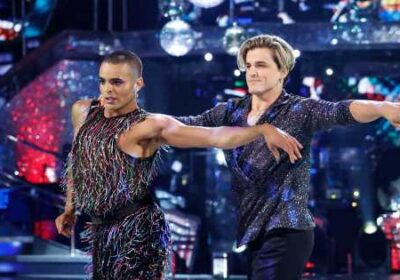 Strictly Come Dancing's Layton and Nikita 'care for each other' but are unlikely to reach the final of the show, a body language expert said.
The pairing are going 'from strength to strength each week' but Bad Education actor Layton Williams, 29, is displaying signs of nerves 'from time to time', Darren Stanton added. The body language guru said the couple had a "strong connection" and had developed "in terms of their chemistry" but he predicted they would not go further than the semi-final on the BBC show.
Meanwhile, Darren said he believed Sherlock actress Amanda Abbington and her pro dance partner Giovanni Pernice were Strictly's 'strongest couple compatibility and chemistry wise'. The body language expert believes the race for the coveted Glitterball trophy was a 'head to head' between Amanda and Giovanni, and actor Nigel Harman and his pro partner Katya Jones.
Speaking on behalf of Betfair Slots, Darren said: "Layton and Nikita are who I predict to come fourth in the competition. We've seen Layton develop in his levels of maturity and confidence when putting his trust in Nikita.
"He's really come far and turned a corner, and that's due to Nikita's belief in what Layton can achieve if he works hard as a team with him. A few weeks ago, I did see Nikita flashing signals of frustration, so although it may be hard work at this stage for the two of them, it's clear they have passion and really care for one another.
He added: "They have a strong connection and have developed in terms of their chemistry and trust, as it's clear they have a tight relationship now. But I can't help but notice that Layton's nerves do creep in from time to time.
"I have seen flashes of fear when he is dancing or rehearsing. I think he focuses on impressing the judges, and making it through to the next week, rather than concentrating on the bigger picture and homing in the nervousness. I don't think they will go further than the semi-final."
Meanwhile, Darren tipped Amanda, 49, and pro dancer Giovanni, 33, to win Strictly thanks to their "pure chemistry" that feels "unbreakable".
He said: "The strongest couple compatibility and chemistry wise is Amanda and Giovanni. They have such a pure chemistry between them and it feels unbreakable. When we see them dance together, it's as though they know each other inside out and it comes across as completely natural."
He added: "It's as though they don't want to be anywhere else when they are together. They move together as one."
However, Darren said he also expected EastEnders actor Nigel, 50, and pro dancer Katya, 34, to be in the running for the win.
He added: "Their intensity levels as well as trust in one another go through the roof every time they perform. Unless something goes seriously wrong in the coming weeks, there is no doubt that Nigel will be up against Amanda in the final."
Darren also predicted that ex Love Island star Zara McDermott and Graziano Di Prima would grab a spot in the Strictly final.
Source: Read Full Article