Strictly Come Dancing's Ellie Leach 'won't fulfil potential', says expert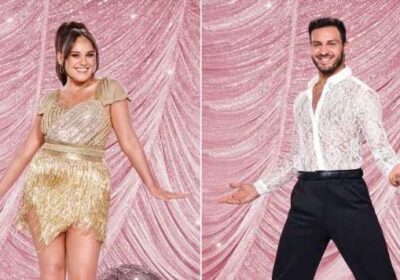 Corrie's Ellie Leach will be joining Strictly Come Dancing 2023
Strictly Come Dancing star Ellie Leach faces "missed opportunities" in her partnership with Vito Coppola due to the fact that they both have "gentle" star signs, claims an expert.
The former Coronation Street star is a Pisces and Vito is a Libra, which means Ellie may not fulfill her potential, says astrologer Inbaal Honigman.
"These two very gentle signs might be too patient with one another," the expert claimed.
"Pisces is creative and calm and needs a strong partner to lead them. Libra is graceful and inspirational, but not exactly heavy-handed.
"Ellie will need Vito to push her hard in order to give all that she has, but Vito will be very respectful of any limitations, and won't want to impose.
Don't miss… GMB star to move to This Morning in ITV presenter shake-up[LATEST]
"There are missed opportunities for greatness in this pairing, they won't fulfill their potential," Inbaal added on behalf of Spin Genie.
All the couples take to the dance floor for the first time tonight and it appears that Ellie herself isn't hugely confident of victory.
The Faye Windass actress, 22, has tipped Amanda Abbington and Giovanni Pernice as possible winners.
She named the Sherlock star as her biggest competition when probed on who she will have to beat when the BBC dance show kicks off.
The Bury-born star proclaimed: "Amanda is a dark horse. I know it for a fact.
"I was watching [rehearsals for the group dance], and I was like, 'Oh my God, you're so good'."
Don't miss…
Ben Shephard and Dermot O'Leary look unrecognisable in throwback snap[PICTURE]
Kate Garraway gasps after guest gives GMB host sweet gift for Derek[VIDEO]
Antiques Roadshow expert 'sympathises' with 'bonkers' guest after huge valuation[VIDEO]
We use your sign-up to provide content in ways you've consented to and to improve our understanding of you. This may include adverts from us and 3rd parties based on our understanding. You can unsubscribe at any time. More info
The young star is also nursing a small foot injury at the moment and posted an image of her foot on Instagram with a huge pink plaster covering her largest toe, captioning it: "Thumbs up from me."
However, she appears to be well equipped to cope with criticism from the judges saying that she will use it to her advantage.
When asked whether she was worried about the judges' criticism, she said: "I think it pushes you so you think, 'Next week I need to focus on this'."
Strictly Come Dancing is on tonight at 6.15pm on BBC One. Astrologer Inbaal Honigman analysed the star signs of the couples on behalf of www.spingenie.com.
Source: Read Full Article