Strictly Come Dancing 2021 news – Shirley Ballas gives health update as she opens up on personal battle with self-esteem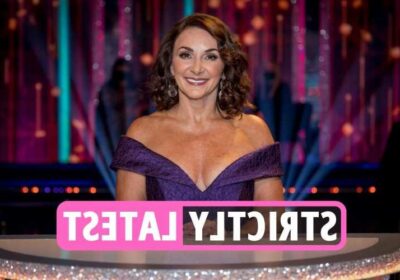 SHIRLEY Ballas have given an important update on her health – as she opened up about her "life long" battle with her self-esteem.
The professional dancer and choreographer, 61, has spent the last few weeks undergoing tests after fans spotted a lump under her arm during an online video, but she recently confirmed the test results so far looked "absolutely fine".
Ballas told Prima magazine: "I have struggled with my self-esteem all my life.
"I've done all sorts to try to make myself feel more confident: I had my teeth straightened and fat drained out of my arms and legs; I thought doing my boobs would make my husband at the time like me more, but I was doing it for the wrong reasons.
"You have to love yourself first. That's my message to every woman."
Read our Strictly Come Dancing live blog for the latest news and gossip…
Joseph Gamp




Who is still left in the competition?

There are still five celebrities all dancing for that Glitterball trophy.

The stars that are left in the competition are:

AJ Odudu 
Dan Walker 
John Whaite
Rhys Stephenson 
Rose Ayling-Ellis 

Louise Minchin & Dan Walker supportive of each other

It's clear they support each other in their respective careers, with Louise encouraging her social media followers to vote for Dan in Strictly Come Dancing.

But, as is protocol for I'm a Celeb, Louise couldn't tell Dan she was moving into the castle this year. She said: "I didn't tell Dan Walker I was doing I'm A Celebrity before coming to Wales but I don't think he will be surprised.

"He knows me well and I think he will be both excited and nervous for me. I have been voting for him on Strictly so fingers crossed he will vote for me a lot."

Dan reacted to the news on social media, promising his "phone bill is going to be enormous".

Louise even has hilarious nicknames for the two of them: Little and Large – but Dan is Little!

When does Strictly return to TV screens?

Strictly continues on Saturday, December 4, 2021 at 6.55pm.

The results show will air the following day at 7.20pm on Sunday, December 5, 2021.

The final is on December 18, 2021.

You can also catch any missed episodes on the BBC iPlayer.

Joseph Gamp




Surprising reason Amy Dowden moved in with Tom

GIOVANNA Fletcher has revealed the surprising reason why husband Tom's Strictly Come Dancing partner Amy Dowden was forced to move in with them after her hospital dash.

The 31-year-old professional dancer told followers that she was being cared for by the couple at their family home following a severe flare up of her Crohn's disease.

Appearing on Good Morning Britain today, Giovanna shed some more light on the situation – and revealed that Amy and Tom were on a walk near their home with fellow Strictly 2021 contestant Sara Davies when she fell ill.

Joseph Gamp




What did Tilly Ramsay say when she was voted off?

When the judges voted to save Rhys and Nancy, Tilly thanked everyone who'd been involved in her Strictly journey.

She said: "I'd just like to say a massive thank you to everyone who has made this an amazing, positive journey for me.

"From everyone here to backstage, wardrobe, make up and camera crew. It's just been the most extraordinary time.

"I found out something about myself that I didn't know I could do, I didn't know I could dance and have fun like this."

Praising Nikita, Tilly added: "I really meant it when I said I made a best friend for life. You've just been incredible."

Joseph Gamp




Craig Revel-Horwood 'hated' being absent from show after Covid test

Craig Revel Horwood said he "hated it" when he could not appear on Strictly Come Dancing last weekend because of a positive Covid test.

The judge was absent from the panel for musical week on November 20 and 21, when he was replaced by Cynthia Erivo.

Erivo was back on the panel again the following weekend, when she filled in for Motsi Mabuse, who was unable to travel back to the UK after close contact with someone with a positive test.

Revel Horwood told Hello! magazine: "My work ethic is, unless you're dead you go on stage and Dr Footlights takes care of the rest.

"Even when I had my hip replaced, I was back at work on the Saturday. So I just hated it when they said I couldn't go in."

Joseph Gamp




Fans love Bruno Tonioli's new tan

Fans immediately commented on his darker skin, with one saying: "Loving the tan Bruno!"

While another said: "Someone is enjoying the sunshine!"

Another person commented: "Miss that tan! Stay cool Bruno!"

Joseph Gamp




Craig Revel Horwood's Top three finalists

He says: "For me, out of everybody that's left who should be in the final it should be John and Johannes, because they've been consistent all the way through. I think Rose and Giovanni, because they've been consistently good at every different form of dance. AJ I think is fantastic.

"I think I can see those three celebrities definitely in the final – from a professional point of view, whether they're loved at home is completely up to the public.

"They've all been really good. Obviously AJ had a rough week when she had to do the Paso Doble but she excelled in something like the Charleston, which is just amazing.

Joseph Gamp




Shirley Ballas says she has 'struggled with her self-esteem all of her life'

Shirley Ballas said she has struggled with her self-esteem all of her life and revealed she has "done all sorts" to feel more confident about herself.

The Strictly Come Dancing head judge spoke to Prima magazine about how she is learning to be less guarded and show more of her personality while on the show so she can connect with the audience.

The professional dancer and choreographer, 61, has spent the last few weeks undergoing tests after fans spotted a lump under her arm during an online video, but she recently confirmed the test results so far looked "absolutely fine".

Ballas told Prima magazine: "I have struggled with my self-esteem all my life.

"I've done all sorts to try to make myself feel more confident: I had my teeth straightened and fat drained out of my arms and legs; I thought doing my boobs would make my husband at the time like me more, but I was doing it for the wrong reasons.

"You have to love yourself first. That's my message to every woman."

Louis Allwood




How long do we have to wait for the Strictly 2021 final?

The Strictly Come Dancing 2021 final will air on BBC One on Saturday, December 18, 2021.

This means one contestant will be celebrating Christmas as Strictly's fiercest dancer.

The series will have been on the air for three months when the finale will hit the screens.

The finale will then be available for viewers wishing to catch up with the programme on BBC iPlayer.

While the competition has accustomed viewers to separate results shows on Sunday, the final result is expected to be revealed on the Saturday night.

Louis Allwood




Star forced to rest

Strictly Come Dancing star John Whaite was forced to rest after being left in 'so much pain'.

The 32-year-old and Johannes Radebe are currently in training for the BBC dance contest's quarter-finals.

The dancing pair made it through on Sunday night after getting a near-perfect score for their Argentine tango.

But on Tuesday, John had to leave rehearsals early, telling his Instagram followers he was off to rest.

He took a snap of himself in the back of a car, and said: "Going home to rest. My hip flexors are in so much pain and the physio has recommended a day of rest.

"I'll watch Christmas films all day and eat Haribo."

Louis Allwood




What dances are contestants doing this weekend

John Whaite will dance the samba, as Rhys Stephenson takes on the Argentine Tango.

Dan Walker dances the salsa, while AJ Odudu do the same.

Rose Ayling Ellis will take on an American Smooth.

Louis Allwood




Ugo Monye excited for this weekend

THE QUARTER finals return this weekend on the BBC and the couples dances have been announced leaving fans divided on who they think will do the best.

It appears to be a two horse race between Rose Ayling Ellis' routine, or AJ Odudu's.

Fans have been commenting on an Instagram announcement over the new routines and dances.

Ugo Monye couldn't contain his excitement commenting "Lessssgooo"

Another commented "Rose and Gio with an american smooth! i can't wait!"

Louis Allwood




X-rated Comic Relief prank

Jamie Laing left Judge Rinder red faced when he begged him to sleep with his girlfriend – all in the name of charity.

The stars famously look very similar, so much so that Jamie reckons they could trick his partner Sophie Habbo.

This week Robert appeared on Jamie's Private Parts podcast – proving once and for all they aren't the same person.

Jamie exclaimed: "Everyone's going to be so excited that were in a room together."

He continued:  "We should test this out. You go and do each others gigs.

Robert said: "You do judge Rinder and I do Made In Chelsea. Let's blend them."

Judge Rinder was keen to find out what that would entail.

Jamie told him: "You'd have to snog someone. You need to sleep with my girlfriend.

"For comic relief would you shag my girlfriend?"

Louis Allwood




Rose Ayling-Ellis can't train when it's raining

Rose Ayling-Ellis is unable to train when it's raining because of her deafness.

The popular actress relies on the vibration of music to rehearse with dance partner Giovanni Pernice, but when heavy rain is thundering down outside it makes it all the more challenging.

Show host Claudia Winkleman told The Big Issue: "Rose is fantastic…she's properly funny. I hope that comes across. She's a fabulous dancer. The fact she's deaf comes way down the list of the extraordinariness of the charm of Rose.

"She finds it difficult to train when it's really raining as it messes with the vibrations in her chest."

Read the full story.

Louis Allwood




Craig on why people vote for Dan

"You're more involved in the celebrity's story at home," he says. "Whereas at work I'm not as influenced by the VTs or anything, because I'm just there to judge that 1min 30 dance and not the actual story that surrounds it. Whereas when I was sat at home, you do.

"And then I see why people vote for people like Dan. It's interesting, isn't it? Because he's probably one of the weaker dancers out of everyone that is left in this programme but you still feel for him.

"So you sort of invest in that. It's a totally different sort of experience so I understand now why the audience are given 50% of the vote. I'm just there to uphold and wave the dance flag professionally, but then the people at home, they've invested in the human being themselves and their story and journey throughout it.

Louis Allwood




Judge Craig says watching the show 'strange' experience after Covid diagnosis

"It was really strange for me but I really enjoyed it and it gave me a whole new appreciation for the show because I was watching it not as a judge but as a punter, a normal person just watching it.

"It's funny because when I'm at work, I'm really looking at it technically and I'm concentrating only on the technique and only on how the dance is presented in a professional fashion. So for me, watching it at home was amazing.

"Plus, when we're judging we're judging the full body and when you're at home you see cutaways. You're not necessarily watching the footwork all the way through because you can't see it. So I can understand people at home thinking, 'Oh, I missed that heel lead'."

John Hall




Bruno looks unrecognisable

Ex-Strictly judge Bruno Tonioli appeared unrecognisable with his dark tan and glasses as he danced with a pal in a new video.

He appears to be enjoying life out in the US, and it looks like he has been especially enjoying the LA sunshine.

The Dancing With The Stars judge can be seen in a TikTok video dancing with his glamourous friend.

The pair look like they are having the time of their lives as they danced along to Summer Nights from Grease.

John Hall




Craig's top three

Choreographer Craig tips the baker and his partner Johannes Radebe for the final, alongside soap star Rose Ayling-Ellis and partner Giovanni Pernice, and presenter AJ Odudu and Kai Widdrington.

'If I was choosing, that's who it would be,' he told Hello! magazine.

He admits, though, that there's 'never been dancing like it' on Strictly.

'And the closer they get to the end, the more competitive they're all becoming because they can see themselves holding that glitter ball, and with that always comes offers for new shows. So there's a lot at stake really and they're all hungry for it,' he added.

John Hall




Reason Amy Dowden moved in with Tom (Continued…)

Speaking to hosts Susanna Reid and Rob Rinder, Giovanna Fletcher explained that as Amy is a Strictly pro she is still appearing on Saturday live shows – and is in a strict Covid bubble as a result.

This means that she isn't able to travel to stay with family members, which is why Tom and his wife have taken her in as they were her original bubble for the series.

Gi shared: "Everyone in Strictly is in bubbles, she can't travel to the Midlands or Wales – we just want her with us."

Rob replied: "So it's the opposite of the Strictly Curse – you've moved in with each other!"

The I'm A Celeb champ giggled: "Exactly – it's more of a hostage situation, possibly. But that's something that's not focused on – the friendships that can be made through Strictly, we absolutely adore her.

"For us, it's not a Strictly Curse – we've actually gained a new member."

John Hall




Surprising reason Amy Dowden moved in with Tom

GIOVANNA Fletcher has revealed the surprising reason why husband Tom's Strictly Come Dancing partner Amy Dowden was forced to move in with them after her hospital dash.

The 31-year-old professional dancer told followers that she was being cared for by the couple at their family home following a severe flare up of her Crohn's disease.

Appearing on Good Morning Britain today, Giovanna shed some more light on the situation – and revealed that Amy and Tom were on a walk near their home with fellow Strictly 2021 contestant Sara Davies when she fell ill.

Louis Allwood




'Positive journey for me'

When the judges voted to save Rhys and Nancy, Tilly thanked everyone who'd been involved in her Strictly journey.

She said: "I'd just like to say a massive thank you to everyone who has made this an amazing, positive journey for me.

"From everyone here to backstage, wardrobe, make up and camera crew. It's just been the most extraordinary time.

"I found out something about myself that I didn't know I could do, I didn't know I could dance and have fun like this."

Praising Nikita, Tilly added: "I really meant it when I said I made a best friend for life. You've just been incredible."

Louis Allwood




Anne-Marie fave for Christmas special

Betfair – Strictly Come Dancing Christmas Special 2021 winner

Anne-Marie: 6/4
Fred Sirieix: 5/2
Mel Giedroyc: 11/4
Jay Blades: 5/2
Moira Stuart: 20/1

How does the voting system work?

Strictly Come Dancing results are calculated through a mix of audience vote and panel scores.

The four judges give points out of 10, with a maximum of 40. This is then placed on a leaderboard.

The BBC site claims: "These ranks are converted into points, with the highest scoring couple ranked first receiving a number of points equal to the number of couples."

A similar point system is used for the public vote – via online and phone services – which is then added to the points from the judges.

In the result of any tie in score – Head Judge Shirley Ballas – decides who to save from participating in the dance-off.

She also has the ultimate say in which of the bottom two couples stays, if the judges don't reach a unanimous decision.

The scores from the judges on the first show and the public vote will be combined 50-50 and announced in the results show.

When is Strictly next on TV?

Strictly continues on Saturday, December 4, 2021 at 6.55pm.

The results show will air the following day at 7.20pm on Sunday, December 5, 2021.

The final is on December 18, 2021.

You can also catch any missed episodes on the BBC iPlayer.

Source: Read Full Article