Spider-Man No Way Home trailer rumoured to be arriving very soon – Here's when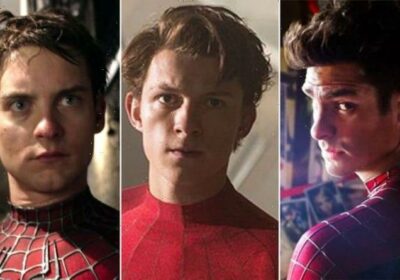 Tom Holland reveals he has received the Spider-Man 3 script
When you subscribe we will use the information you provide to send you these newsletters. Sometimes they'll include recommendations for other related newsletters or services we offer. Our Privacy Notice explains more about how we use your data, and your rights. You can unsubscribe at any time.
There are four MCU movies hitting cinemas this year and the trailers for Black Widow, Shang-Chi and the Legend of the Ten Rings and Eternals having already released. However, Marvel fans are still awaiting the teaser for perhaps the most highly anticipated of all these blockbusters in Spider-Man No Way Home. The Tom Holland threequel, which co-stars Benedict Cumberbatch as Doctor Strange, is heavily rumoured to be a multiverse movie featuring previous Peter Parkers Tobey Maguire and Andrew Garfield alongside a whole host of Sony movie villains.
In fact, Alfred Molina has already confessed that his Doc Ock from Spider-Man 2 is in the movie.
As for the Spider-Man No Way Home trailer, one of the latest rumours is that it will in fact drop tomorrow on Tuesday, June 1st.
After all, it will be Holland's 25th birthday and the Shang-Chi trailer landed on Simu Liu's 32nd birthday last month.
Aside from that, Comic Book Savage has confidently asserted on Instagram: "My friend who works at a local movie theatre just confirmed they got the No Way Home Teaser Trailer!!!!!!! It's 100% dropping Tuesday."
Fans have also pointed out that Jamie Foxx, who is expected to reprise his Electro from The Amazing Spider-Man 2 in No Way Home, follows this account.
Meanwhile, The DisInsider's Skyler Shuler asked a friend working in the cinema industry too.
They texted him back saying: "One sec I gotta pull up the projections for the week. So it looks like we have it."
The scooper clarified on Twitter: " I asked a friend who is high up at a theatre chain if they've received it and I was told it looks like they are this week."
Shuler added: "I never said a trailer this week, again, I asked a friend high up at theatre chain if they have it he said yes. We are likely getting the trailer in 2 weeks w/ Peter Rabbit."
Peter Rabbit 2: The Runaway, a fellow Sony movie to Spider-Man Far From Home which is already out in the UK, hits US cinemas on June 11.
Considering both claims, it's certainly possible that the trailer could arrive online tomorrow before hitting cinemas a few days or a couple of weeks later.
Of course, none of this is confirmed and should be taken with a pinch of salt, but no doubt the most dedicated Marvel fans will be looking out for a potential Spider-Man No Way Home trailer from tomorrow.
DON'T MISS
Eternals movie: How their cosmic energy may set up Fantastic Four [ETERNALS]
Ant-Man and the Wasp Quantumania: Return of big Marvel villain leaked? [ANT-MAN 3]
Captain America: 'Anthony Mackie will feature in Black Panther 2' [CAPTAIN AMERICA]
Asked if there would be a big cameo in the first Spider-Man No Way Home trailer, Shuler replied: "I think so, might not be Tobey or Andrew, they aren't not going to tease something or someone."
In terms of the latest rumours, aside from the two previous Peter Parkers, it's claimed that Willem Dafoe's Green Goblin from the original Maguire Spider-Man movie is returning to lead a multiverse Sinister Six.
This scoop comes courtesy of Collider's The Sneider Cut podcast, in which the host said: "I had heard that No Way Home was not in reference to Spider-Man but to the villains.
"That the villains are coming out of the alternate dimensions…they don't have a way to get home."
Sneider added: "So the villains that I'd heard…[other than Molina's Doc Ock and Jamie Foxx's Electro]…
"I'm pretty sure that Willem Dafoe's Green Goblin will be the main villain in this film, so that's three."
While the other three baddies he's heard will make up the Sinister Six were Sandman, Rhino and Lizard.
Spider-Man No Way Home is released in UK cinemas on December 17, 2021.
Source: Read Full Article